A room with a view is found in this offshore cruiser with a spacious deck saloon
I live in the Pacific Northwest where we get more than our fair share of rain. I understand the appeal of a raised-saloon boat. Drop the hook in a remote harbor and sit inside dry, warm and comfy. Put on some nice music such as Mahler's 5th Symphony and watch the rain come down. What could be better? Are there downsides to a raised-saloon design? Perhaps. It depends on your priorities. You could want better vision forward from the cockpit but with twin wheels well outboard you should be able to see around the large raised house. Windage? Not sure you buy a cruising boat like this and worry about windage. Let's see how designer Bill Dixon handles these issues on this new Moody model.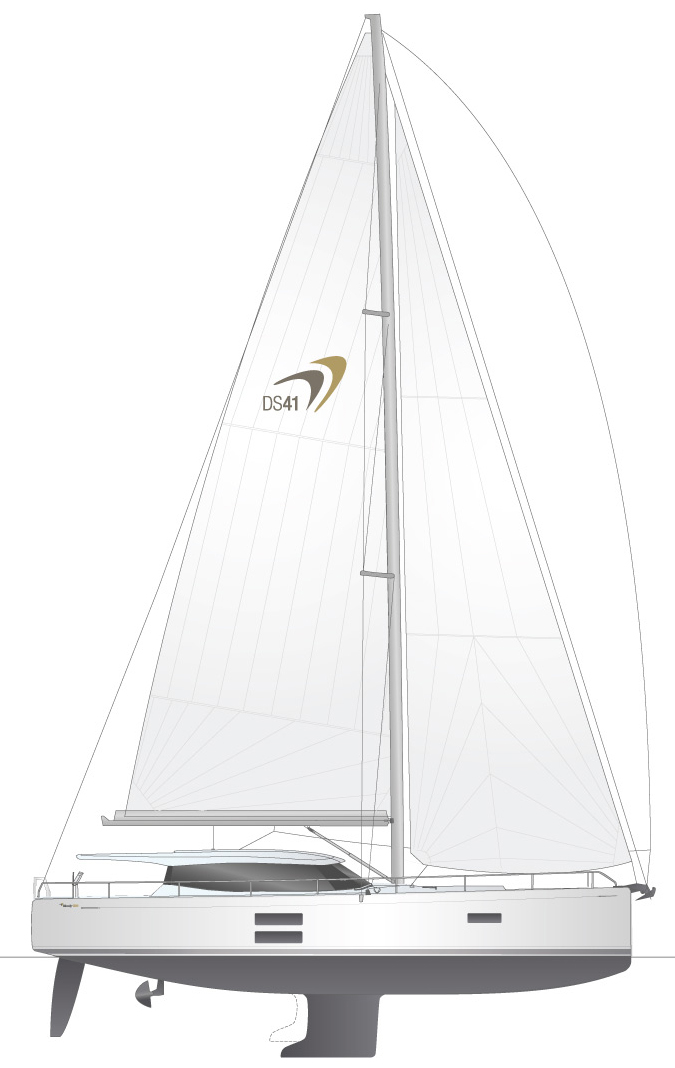 This is not a light boat. The approximate displacement is 34,612 pounds for a D/L of 293. Today I'd say that D/L qualifies this boat as a "heavy" boat. But that displacement has its rewards. It gives you lots of volume and allows that flush deck forward while maintaining headroom below. Combine that with high freeboard and you get a very roomy boat.
The L/B is 2.99. It's an inch beamier than my old standard the Valiant 40. But the beam is carried aft with almost no taper to the deck plan view. If you added 20 inches of bow overhang you could have gotten rid of that short, anchor roller projection. But today plumb stems are fashionable.
There is a single, deep spade rudder deep enough to maintain its bite when the boat is heeled. Draft is a modest 6 feet 1 inch. Again, there is a chine aft but Dixon has taken the curse off it with a small radius. Given there are no accommodations aft, I might have softened those aft sections for a prettier shape with less wetted surface. Not that wetted surface means much on a cruiser like this.
The biggest challenge when you raise the saloon is to not lose the volume outboard in way of the raised house. Your usable interior volume will be defined by the width of the raised house. Dixon's solution to this problem is to almost eliminate the side decks. I can hear someone saying, "Everything's a compromise Bob."
You can choose from a two-head layout or a single-head layout. The drawing for the single-head layout does not indicate what you can do with the volume gained by eliminating that portside head. Maybe a workshop or office kind of space. There are twin single berths to starboard forward and a nice head with a big shower stall. The owner's cabin features a big centerline double berth that you can access from the sides. There is a fair sized fo'c'sle forward of this spacious cabin. But the main saloon is the focus of this layout.
The control station is forward to port with a small flat area for a chart table. It's plenty big enough for your laptop. To starboard is a U-shaped dinette big enough to seat five people. I can't tell if the dinette is raised but I would presume that you can sit at the table and look out the windows.
The rig is short—it's almost a motorsailer with a SA/D 13.45. One benefit of the wide cabintrunk is that the self-tacking track for the working jib is really wide. I like this. So many of those tracks are too narrow and require barber hauling any time you bear off if you want good jib trim. The mainsheet block is fixed on top of the cabintop.
This is a good looking boat. It carries the high freeboard well. There are solid rail lifelines and really deep bulwarks that terminate forward at a raised portion of the deck for the ground tackle. There is an unusual built-in seat detail forward for those times you want to get away from your friends in the cockpit aft. The house top is extended aft almost covering the entire cockpit. This makes for a perfect place when you want to enjoy a pipe without sitting in the rain. The helm position aft is raised above the cockpit level to the deck level to help with visibility. There is a large fold down swim step. Say what you will about boats with fat fannies but they do allow for big and utilitarian swim steps.
This is an unusual design that offers a lot of benefits that you don't get with a low cabintrunk design. I think Dixon has done a very good job of integrating all the shape to produce a harmonious looking boat. Not an easy challenge in a 41-foot boat.
---
LOA 41'1"; LWL 37'6"; Beam 13'9"; Draft 7', shoal 6'1"; Displ. 24,692 lb.; Ballast 6,900 lb.; Auxiliary 57 hp.; Fuel 56 gal.; Water 125 gal.; L/B 2.99; D/L 293; SA/D 13.45
---
Our best estimate of the sailaway price: $800,000




Hanse Yachts, North and South America

44 Merrimac St.

Newburyport, MA 01950

978-239-6568