Performance cruiser
Here is a sleek Italian looking boat built by Cantiere del Pardo for its Grand Soleil series. This is a team design with the hull, rig and appendages by Botin and Carkeek, the interior by Mauro Sculli and the deck styling by Attivo Creative. Botin and Carkeek will be a new name to many United States cruisers but over the last seven or so years they have created a number of very fast European racing boats, namely in the IMS and IRC classes. In going with Botin and Carkeek for the hull design, Cantiere del Pardo was ensuring good performance for its new model.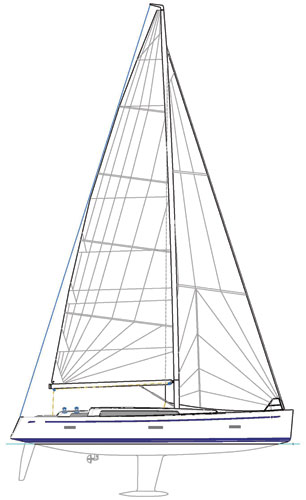 The brief given to B&C for the hull was for a boat that could do well under a variety of rating rules. The D/L is 161, which is light for a cruising boat but certainly in the optimal range for an IRC boat. Beam is on the broad side of medium with an L/B of 3.27. The hull carries its beam aft and photos show the leeward transom corner digging in at a moderate heel angle. You can have an IRC optimized keel or a more moderate draft keel for cruising. The specs list draft at 8 feet, 4 inches with a T-fin and bulb configuration, and I assume this is the IRC keel. The sailplan drawing shows the hull profile with a very distinct knuckle around station No. 2 fairing abruptly up to another knuckle at the forefoot, well above the DWL. Interesting.

The interior by Mauro Sculli uses the well-proven basic layout for aft cockpit boats of this size. There is an owner's cabin forward with a large double berth and head with a generously proportioned shower stall. The saloon features a large dinette that converts to another double berth. You sit facing outboard at the nav table. There is a second head aft of the nav station. The galley is big and looks just fine to me. Mirror-image quarter cabins also have double berths and large hanging lockers. The interior is finished in oak. The placement of the engine box between the two staterooms should make for excellent engine access.

There are two rigs available for the 46. The cruising rig-they call it the "performance mast"-uses a 130-percent overlap genoa for a total sail area, using the specs numbers, of 1,405 square feet and an SA/D of 27.71. The other rig, called the "racing mast," uses a 110-percent jib for a total sail area of 1,374 square feet and an SA/D of 27.1. So, there is actually less sail area for the racing mast model with less area in the jib and more area in the mainsail. This is a way of making the rig dimensions more IRC friendly. Either way it's a big, aggressive rig for a boat with this comfortable interior. I like the way the genoa furler is buried in the foredeck.

I like this deck design by Attivo Creative. There are bulwarks running full length. They are low and not your Grandpa's bulwarks, but they are wide enough for the stanchions to be mounted on, freeing up the side decks of clutter. The cabintrunk is well sculpted with flush hatches and a "flush spray hood." I scratched my head over that one for a bit, but what it is, is actually a recess in the top of the cabintrunk. I think you can mount your cruising dodger here. There is quite a bit of clear deck space aft of the twin wheels and the door in the transom opens to make a broad boarding platform.

With its proven design pedigree and Italian styling this dual-purpose boat should have wide appeal.
---
LOA 47'7"; LOD 46'3"; LWL 40'; Beam 14'2"; Draft 8'4"; Displacement 23,100 lbs.; Ballast 7,700 lbs.; Sail area 1,374 sq. ft.; SA/D 27.1; D/L 161; L/B 3.27; Auxiliary Volvo D2 55-hp; Fuel 104 gals.; Water 104 gals.
Grand Soleil, Cantiere Del Pardo Srl, Via Fratelli Lumière 34, 47100 Forlì, Italy, 39-0543-782-404, www.grandsoleil.net. In the U.S., contact Mareblu Nautical, 1829 Baltimore-Annapolis Blvd., Annapolis, MD 21409, (410) 757-9401,
www.mareblu.net
.
---
OBE: $529,000
Our Best Estimate of the sailaway price