This large family cruiser has all the bells and whistles for Catalina fans
I received a very nice design package from Gerry Douglas, head designer at Catalina Yachts. I think I may have reviewed more Catalina models than any other manufacturer in the many years I have been writing these reviews. I owned a Catalina 27 when I met my wife and I taught her to sail on that boat. So I have a bit of an affinity for the Catalina line. These designs have always represented to me the ideal boat for family cruising. If you cruise the San Juan Islands in the Pacific Northwest you will see more Catalinas than any other kind of boat.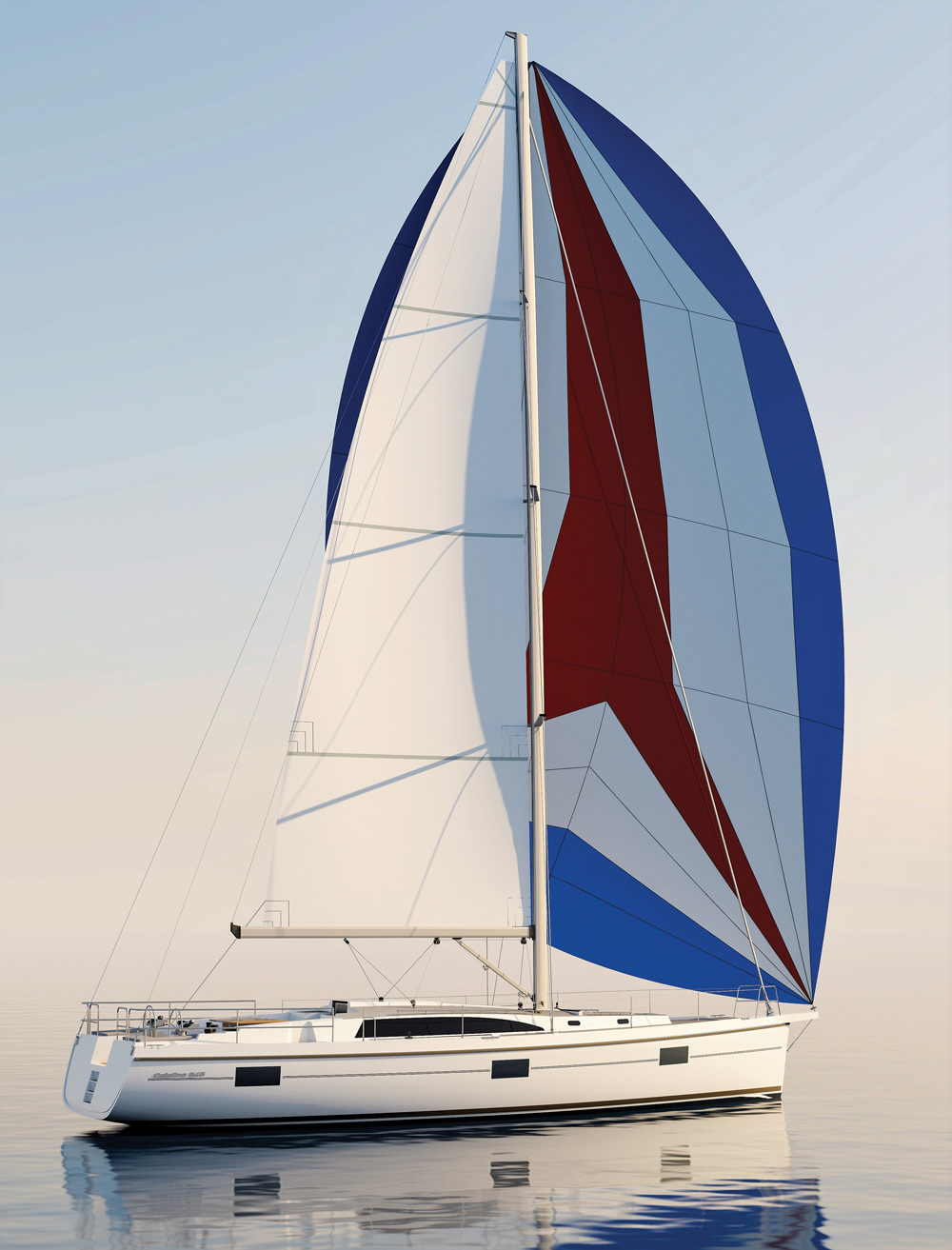 This new 545 model looks to me like a bit of a departure for Catalina. I see European influences in the styling of the new boat, although Gerry had his American audience firmly in mind when designing this boat.
This is a good looking hull. It is very moderate in the proportions we have come to expect these days. The D/L is 147 and the L/B is 3.43. The stern is wide and there are no chines. The sections start slightly V-ed and go tangent at centerline by station 5 and flatten out by the time they get to the transom. Overhangs are minimal and there is no camber to the transom. Draft is 6 feet 6 inches with 13,600 pounds of external lead ballast giving a ballast-to-displacement ratio of 32%. There is a long nacelle that captures the prop shaft, eliminating the need for a shaft bracket.
This is really a big boat below. Even with watertight bulkheads forward and aft there is a lot of room for accommodations. The standard layout includes aft quarter staterooms port and starboard, one with a double on one side. The other has two single berths that can be joined to make a double. There is a head with shower stall aft. You can access this head from the main cabin or the port quarter cabin.
The galley is long and features a lot of counter space. Access to the port quarter cabin is through the galley. There is a dumbwaiter to bring drinks and food up to the cockpit. In the main cabin there is a nav station to starboard with a large chart table. A comfy settee is to starboard and there is an L-shaped dinette settee to port.
The forward stateroom is huge and offers four different arrangements. The standard forward arrangement has a centerline double berth and head with shower to starboard. This stays the same for the other optional layouts. The standard layout has a settee to port with a moveable coffee table and huge hanging locker. Or you can have a walk-in closet with copious hanging lockers and space for a washer-dryer. I can't imagine taking that many clothes with me for cruising. "Which blazer will I wear tonight?" Or you can have a small study cabin to port with a nice settee or you can have a fourth cabin with upper and lower single berths. For my money the standard layout works best. Gerry designed the boat for a family whose owners like to have private time while the kids spend time in the saloon.
This is a very good deck layout with a big cockpit and wide side decks. There are molded-in, high bulwarks for safety. The broad stern allows the twin wheels to be well outboard and still offer wide-open access to the boarding area. The cockpit seats are long enough for some comfortable napping. There is a center console for cockpit dining. I like the way the coaming is cut away to make it easier to climb in and out of the cockpit. All lines run under the deck and lead aft to the two winches directly forward of the wheels.
The rig drawing appears to show an in-mast furling mainsail. The mainsheet is so far forward that I'm not sure you even need a vang except to hold the boom up. Remember the days when the vang was to hold the boom down? The working jib is self-tacking. With a SA/D of 17.3 you are going to need a code 0 headsail for better boatspeed in light air. Hard on the wind in light air, this rig will be a bit anemic unless you add an overlapping genoa that sheets to the jib track up against the cabintrunk. This rig gives the option of performance or convenience. For true boat speed in light air, there are 147 gallons of diesel fuel.
The Catalina 545 is the queen of the Catalina 5 Series. Gerry worked long and hard to create a boat that had all the bells and whistles his customers demanded. It may be the perfect boat for that huge fanbase that Catalina enjoys.
---
LOA 56'2"; LWL 50'6"; Beam 15'6"; Draft 6'6"; Displ. 42,500 lb.; Ballast 13,600 lb.; Sail area 1,317 sq. ft.; Water 201 Gal. Fuel 147 gal.; Auxiliary 110-hp Yanmar turbo; L/B 3.43; D/L 147; SA/D 17.3
Our best estimate of the sailaway cost: $525,000
Catalina Yachts
7200 Bryan Dairy Rd.
Largo, FL 33777
727-544-6681