Rare birds and sweet sailers in a megafleet of has-beens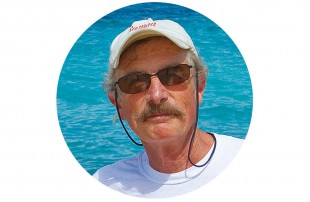 I never could get the hang of birdwatching, which is all about seeing and identifying avians and making copious notes about the sightings in something called a life list. I did once manage to recognize a resplendent quetzal in Costa Rica, but since this may be the gaudiest and most distinctive bird in the world, that was nothing to brag about.
I am fairly adept, however, at a hobby that has some similarities—ghost watching. I mean watching for and identifying members of the ghost fleet, my term for the enduring fiberglass sailboats that were made decades ago by builders that are no longer in business.
Just the other day, I spotted and identified an Alberg 35, a specimen built almost 60 years ago. This was a rather rare sighting because it was a yawl-rigged Alberg 35. Most of them were sloops. The yawl I encountered, with the stout aluminum masts and spruce roller-furling main boom, teak cockpit coamings and Dorade ventilators that were standard features, was very much in original form, all in all an exceptionally fine representation of a proud ghost fleet member.
No one knows how big the ghost fleet is, but it could easily number in the hundreds of thousands, as more than 1,000 different models were produced by at least 75 builders in the two or three decades following that eureka moment in the late 1950s when it dawned that mass production of sailboats was practical.
The ghost fleet is huge, and growing, because fiberglass boats, with a modicum of care, can last pretty much forever.
The existence of the ghost fleet has long been the bane of the contemporary alive-and-kicking sailboat building industry—so many used boats on the market that can be bought for a fraction of the cost of new models. A boatbuilder I knew joked that someone had to discover a fiberglass-eating worm that, like the teredos that shorten the lives of wooden vessels, could feed on plastic boats.
I take a more sanguine view. Many people who buy ghost fleet boats aren't potential customers for new boats because they can't afford them. Old used boats bring new people into sailing and give them the opportunity to learn to love it and, one day, become new-boat buyers.
"There is only one reason to buy an old boat, and that is price." I read that in The Boats I've Loved, a book by yacht designer Chuck Paine that features the author's pithy commentary along with a display of some of the handsome traditional sailboats that sprang from his drafting table and computer.
Paine endorses old sailboats as good values. "If originally well built of single-skin (as opposed to cored) fiberglass, the hull at least can be sanded down and repainted and will be something like 90% as strong as the day it was born."
Many owners of ghost-fleet boats don't bother with such cosmetic hull improvements. Molded of solid fiberglass with thick gelcoat, these hulls look their age with dull and crazed topsides, but can perform like they did when they exuded that intoxicating new-boat, chemical-stew aroma.
Still, these ghost-fleeters are generally projects. Like human body parts, essential elements fail with age. Paine writes, "Electrical systems are usually the first thing to go. If you had any sense, you'd rip it all out and use kerosene lamps."
Ghost fleet boats can be pretty basic—many still get by with ancient Atomic 4 gasoline engines for auxiliary power—but are usually not so primitive as to be without electric running and cabin lights.
In spite of their ever-present maintenance needs, these old boats have something going for them beyond their low sticker prices. Many of them are sweet sailers.
This is especially true of the oldest members of the ghost fleet, boats built before designers understood that any shape, no matter how contrary to traditional sailboat design, was possible with fiberglass. Early fiberglass boats were derivations of wood boat designs, with softly curving, slack bilges, long overhangs, rudders and keels joined in a single mass and hefty displacement. Unlike the flat-hulled, hard-bilged, fin-keeled, separated-rudder boats popular today (which I happen to admire), first-generation fiberglass boats are forgiving and seakindly.
No, alacrity is not one of their assets. But, face it, with the exception of foilers, high-performance multihulls and the most exotic racing monohulls, sailboats are just plain slow by any real-world standard. Ghost-fleet boats are well suited to enjoying sailing at its natural, sedate pace.
As a young aspiring sailboat owner, I witnessed the burst of boatbuilding energy that paved the way for the ghost fleet with a nerdy obsession to learn everything there was to know about the suddenly bountiful array of the plastic boats popping out of molds daily. Thanks to that, I can still win the occasional wager with doubting friends by identifying the make and model of a production sailboat built, say, during the Lyndon Johnson administration.
Unlike birders, I don't have a life list of my sightings, but I have a mental record of the highlights. These include an even dozen different models of the boats Pearson Yachts built in its first 10 years in business starting in 1958, including a particularly rare bird, a 38-foot Invicta, designed by Bill Tripp, the first fiberglass boat to win a Bermuda race trophy, and that legendary pioneer, the Alberg 28, designed by the same Carl Alberg who drew the lines for the aforementioned 35-footer.
My bragging rights also include, to mention just a few stand-outs, seeing on the water and identifying a Columbia Sabre, an odd and unattractive attempt circa 1963 to make a cruising boat out of a 5.5-Meter one-design racer; a Westerly Centaur 26-footer with twin keels; and a Bermuda 30 built in China by Cheoy Lee with no known designer, perhaps derived from a discarded mold or one made from another builder's 30-footer.
My virtual life list of boats also includes the Buccaneer 27, but then, of course, almost everyone remembers seeing one of these products of the powerboat builder Bayliner. Often cited as one of the ugliest sailboats ever made, the Buccaneer was introduced in 1975 and is notable for its extreme high-freeboard hull with a humped sheerline topped by an outsized cabinhouse and stacked rows of large rectangular portholes in the hull and cabin. It can also be recognized by its fat buttocks supporting an enormous outboard rudder.
Granted, the Buccaneer isn't pretty, but, come on, let's give it a little respect. After all, it's a certified member of that great sailing resource, the ghost fleet.