Think you can escape the pandemic on a sailboat? Good luck.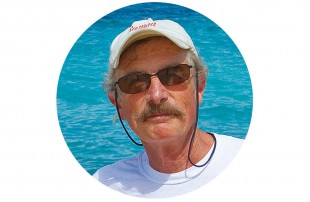 When the coronavirus started taking over the dry-land world, I started planning my escape. It would be on sailboat, of course.
The First Mate and I would depart these troubled shores on a sturdy sailing vessel and live our dreams of voyaging on distant seas until the scourge on land was conquered.
For our means of escape, I chose a Deerfoot 62. Covid-19 didn't exist when Steve Dashew conceived the boat in the late 1970s, but the Deerfoot is ideally suited for pandemic sailing.
It is built battleship-strong of welded aluminum, but designed to be handled by a couple and sustain them for long sojourns at sea. Its 50,000-pound displacement can accommodate a vast tonnage of stores, more than 500 gallons of fuel for a powerful diesel and a generator, tankage for a like amount of water plus a watermaker. It has an apartment-size galley and a navigation station big enough to serve as an office.
With its tall cutter rig, long waterline, modest beam and low-wetted-surface underbody, the Deerfoot is a formidable passagemaker. As a bonus, it is built with watertight compartments that might prevent sinking in the event of a collision with a whale, iceberg, shipping container or vessel.
We bought a well-maintained 1980s model berthed in Newport, Rhode Island, spent a week stowing truckloads of provisions and then sailed away on a course of 140 degrees.
Our escape plan included stops at various ports of call, not to go ashore (unless the virus had abated), but to anchor in protected waters for an occasional hiatus from 24/7 ocean sailing. Bermuda would be first.
But Bermuda didn't want us. The island and its anchorages were closed, locked down, with not even brief stopovers allowed except in emergencies. So we turned south, bound for the Caribbean with a plan to drop anchor after a two-week passage to the waters of our familiar cruising destinations in the Leeward and Windward Islands.
But they didn't want us either. Saba, Statia, St. Kitts, Nevis and the BVI, among others, were locked down. Some islands required sailing visitors to agree to 14-day quarantines and testing. Frustrated, we modified the plan again. We would transit the Panama Canal and sail to South Pacific landfalls we had dreamed about for years. Tahiti, here we come.
But the islands of our dreams rejected us too. French Polynesia was closed to cruisers, as were Vanuatu, Tonga and others.
By this point, it was not just a matter of finding a quiet anchorage to take a break. We needed fuel and fresh provisions, not to mention wine. The message was clear—our plan wasn't working and it was time to lay up the boat and go home to face the Covid music. But where could we leave the faithful Deerfoot? Where could we find an airline departure port? Australia and New Zealand were locked down and not accepting visitors.
And so we sailed on, facing the reality that we were in danger of breaking Bernard Moitessier's record of 10 months of nonstop sea wandering, as we subsisted on ramen noodles and a horde of barnacles that populated the boat bottom.
OK, your suspicions are confirmed: Everything to this point is fantasy. None of it happened. It didn't happen to me, that is. But other sailors have experienced similar tribulations.
Cruising sailors have been thwarted by the pandemic at many turns, shunned by ports, denied needed services and even put in peril, as in the case of long-term cruisers in the Caribbean during hurricane season who needed to get their boats into hurricane holes or on the hard.
Sailing in all of its forms has been impacted, with many public docking facilities and marinas closed and sailboat races canceled.
Great Lakes racing sailors were denied the experience that is for many their most rewarding expression of sailing challenge and enjoyment when the Chicago to Mackinac race was called off.
As a never-miss-the-Mac sailor, the loss of this annual adventure left a sad void in my summer. And yet it was one of the best moments of my summer when I was notified the race had been canceled. It saved me from facing a lose-lose choice if the race had been held: enter the race and endanger my crew and perhaps contribute to the spread of the virus or be a bystander as others enjoyed a sailing competition playing out over the entire length of a gorgeous inland sea.
The Chicago Yacht Club Mackinac Committee worked through the spring assessing the issues and numerous complications involved in holding the race before doing the right thing for exactly the right reason.
The committee decided that bringing thousands of sailors together in the city of Chicago and sending them in small boats (where there is no option except to live together for several days) to a small island with a miniature downtown that teems with closely packed visitors would be an irresponsible defiance of all that is known about controlling the spread of the coronavirus. Yacht club race management has never looked better.
Canceling sailing events has been the norm in the year of the pandemic on American waters and abroad. An outlier was the Bayview Mackinac Race.
Race organizers set a course contrary to the Covid cancellation trend early on. Numerous emails to likely participants started with a firm declaration that "the race is NOT cancelled" and ended with the cheerleading counsel to "focus on the positive. We are racing and very few others are this season."
If nothing else, the Bayview folks can claim credit for persistence. They stayed the course in spite of relentless headwinds. Canada closed its waters to foreigners, so the standard course from Port Huron, Michigan, to Mackinac Island could not be sailed. The state of Michigan refused to allow the race fleet to berth in the island marina. A number of popular island bars and restaurants closed in response to the virus threat. If there was a message here, the race organizers didn't get it.
It wasn't that they sugarcoated the risk. One email pointed out that Michigan had one of the highest Covid fatality rates in the U.S. and noted, "The disease can be lethal to many." Race participants were advised to avoid sharing winch handles, "hot berthing" and going to the head without sanitizing it after each use. (I'm not an epidemiologist, but I'm guessing that touching a winch handle used by another crew member was the least of the risks the racers had to face.)
Meanwhile, members of the extended race committee entourage that usually gathers on the island could stay safe at home. There was no RC trailer, gun or searchlight at the finish line. In fact, there was no finish line, except a virtual one—a compass bearing to cross, as recorded by the participants and the YB tracking system.
The race was held as scheduled, starting on July 11. Ninety-nine boats, about a third of the usual fleet, took part.
I've heard it said that some of the disciplines forced by the pandemic will endure after it goes away as part of a "new normal." Having seen the normal squalor of my boat's bathroom facilities after long-distance races, the Bayview pandemic sailing advice about head use has a certain appeal.