Get your boat shipshape for the year with our tips for annual maintenance
Keep it safe
All the safety gear carried on a boat is no good if it's broken or unavailable because it never made it back on board or it's stored in an inaccessible spot. Take a methodical approach to doing a safety inventory. Start with the safety gear stored on deck, checking Man Overboard Modules to make sure they are securely fastened to the pulpit and checking repacking dates. The same goes for life rafts, be they stored on deck or down below. Pay attention to repacking dates and understand how to properly launch and use a life raft should that be required (see SAILING's July/August 2016 Technique for instruction on how to use a life raft). If you store the life raft belowdecks you may want to do a test to see how quickly you could get it on deck in an emergency.
Check your supply of life jackets as well. Make sure you have enough for the maximum number of people who will be on board at any given time and check the sizing so you know you'll have one to accommodate every possible guest or ask them to bring their own. Inflatable life jackets should be inspected and the CO2 cartridges replaced if necessary. If you're going to be replacing the CO2 cartridges, you may want to take the opportunity to jump in a pool with one on to get a feel for how it inflates (or doesn't inflate, in which case you'll be especially thankful you planned to do the maintenance anyway).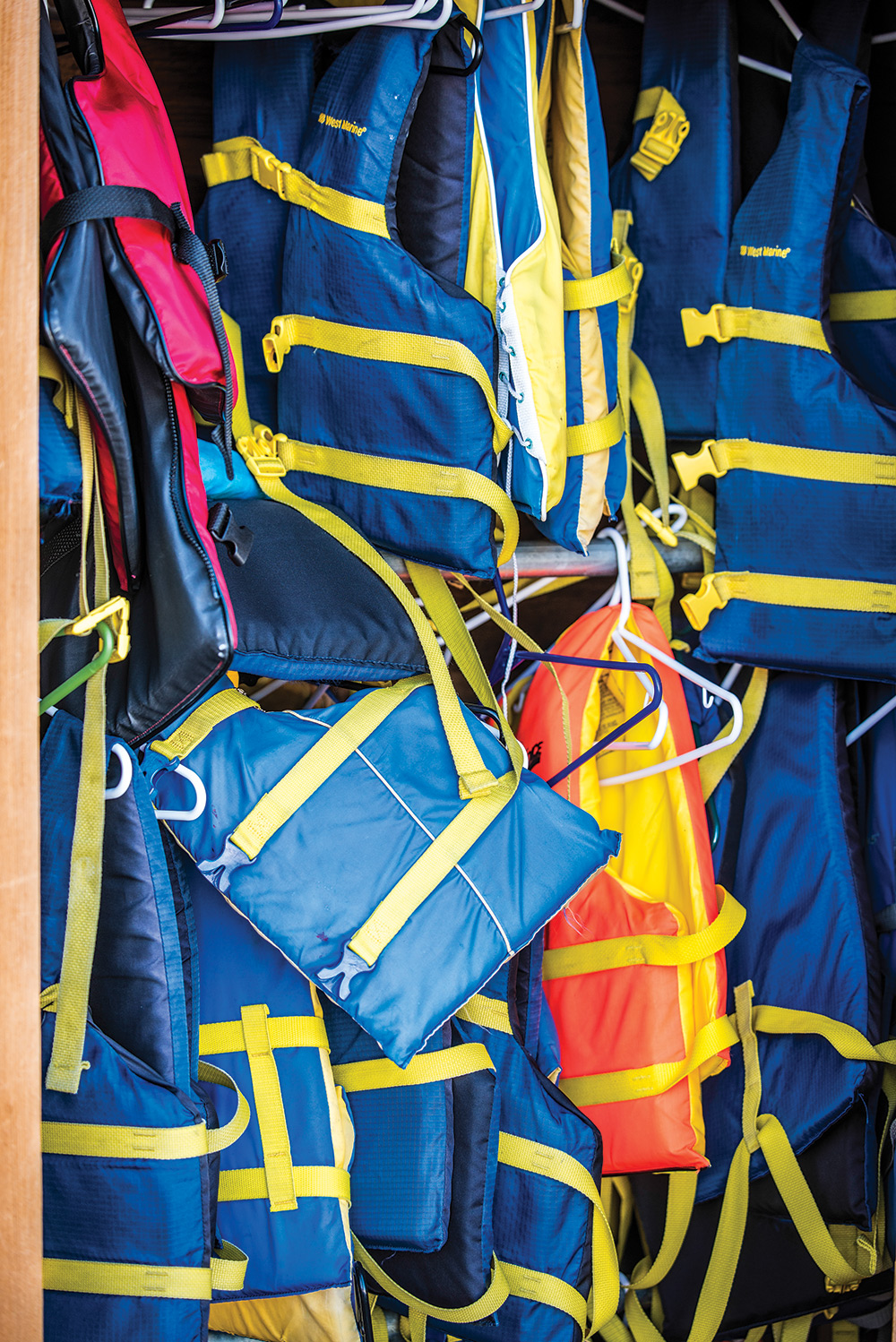 Paul Todd / Outside Images photo
Harnesses, tethers and jacklines may not be frequently used, but check for them and take note of where they are stored so you'll be able to access them easily should the need arise. Inspect the stitching and check for UV and mold damage, which can weaken fibers. Check flares for expiration dates and give redundant handheld electronic backups such as VHF radios a test to make sure they still work. Replace the batteries in these and replenish the spares stash to make sure there are batteries for all of these devices as well as onboard flashlights. Locate where the man overboard spotlight is stored if you do any night sailing. Check the fire extinguishers throughout the boat and add some if necessary. SAILING Contributing Editor John Kretschmer keeps 13 fire extinguishers on his 47-foot boat.
It's a good idea to carry two anchors and at least one of those should be assembled with the anchor rode on and ready to be used. Check that all is well with anchor and rode and that it is securely stowed. Lastly, empty out the contents of the first aid kit and take stock of what needs replacing, what is missing and medications that have expired. Make sure a first aid manual is included.
This safety inventory is an excellent time to make a diagram of where all safety gear is stored. Laminate it and mount it on a bulkhead or another easily accessible location so that everyone on the boat can easily see the location of the gear in an emergency.