A man who loved sailing above all gains stature in a new book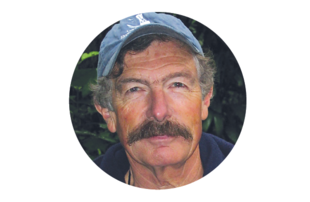 Admit it. When you read Sailing Alone Around the World you pictured the author as sort of an eccentric geezer.
That's understandable. Joshua Slocum was unemployed, broke and estranged from his second wife when he set off, wearing the dark business suit and fedora that was his standard attire, to sail alone around the world in a clunky-looking boat named Spray that had lain on a beach for years aging to a decrepit state before he patched it up.
A newspaper of the time referred to him as a "crank" in a headline. Another called him a "kinky salt." Even after he completed his epic circumnavigation, the feat and the book he wrote about it were considered by some to be unlikely overachievements by a person in his circumstances.
One influential critic was still at it more than five decades after Slocum and Spray were lost at sea. Howard I. Chapelle, the much respected curator of transportation at the Smithsonian Institution, wrote in 1965 that the words in Slocum's book "are not his but are a ghostwriter's, for the captain was hardly literate." Chapelle went so far as to imply that the circumnavigation itself was suspect by describing Spray as "a damned bucket."
It took 122 years—Spray began sailing around the world on April 24, 1895—but the doubts about Slocum, his voyage and his book are finally gone, blown away by a new biography, the brilliant, impeccably researched A Man for All Oceans by Stan Grayson.
Grayson has created a compelling and wholly credible word portrait that reveals Joshua Slocum as a man of high character and high intelligence, well read and, yes, literate, physically and mentally strong, courageous and supremely skilled in his beloved life's work, which was to sail.
The book makes clear that Slocum is more than a hero to sailors, that he is worthy of a place in history as an icon of rugged individualism who despite humble origins and daunting setbacks forged remarkable achievements with little more than his own enduring resourcefulness.
So filled with adventure was Slocum's life that little in his 46,000-mile singlehanded voyage was more difficult or threatening than what he had experienced as the captain of sailing ships in the waning years of the age of sail.
Slocum sailed away from a hard life in Nova Scotia at the age of 16 to start a career at sea with, Grayson writes, "a brilliant mind and a sturdy physique."
He excelled, sailing on 17 vessels during his half-century-long seafaring career, voyaging hundreds of thousands of ocean miles, many of them as master and owner. By his mid-20s, he had risen from rookie seaman to captain of a 93-ton schooner. He would soon be commanding square-riggers, including Northern Light, the majestic clipper ship that represented the apex of his sailing life.
Slocum called Northern Light the "finest American sailing vessel afloat." The 233-footer, as sleek and beautiful as a cargo-carrying vessel could possibly be, had spacious quarters for her master, which were home for Slocum, his wife Virginia and their small children.
The ship was so impressive that when it docked in New York the Slocums were treated by the New York Herald as celebrities worthy of mention in its social column. A reporter, perhaps a bit smitten by the glamorous, stylishly dressed Virginia, enthused about the vessel's "commodious apartment furnished like a parlor," the piano, Oriental rugs, oil paintings and library with more than 500 books.
The captain's accommodations may have been civilized, but life onboard Northern Light sometimes was not. With engine-powered ships displacing sailing vessels at a fast pace, skilled sailors were hard to find, and Slocum often had to fill out his crews with ruffians, even criminals. When mutineers threatened him and his family on Northern Light, Slocum faced them down with a revolver and Virginia behind him with a pistol in each hand.
It was one of many confrontations with unruly crewmen in Slocum's life at sea. In one, he shot a man dead. Grayson repeatedly refers to the "big fist" with which Slocum settled most disputes.
Slocum was as fearless in these encounters as he was in the menacing encounters with nature in his ocean roaming, relying on skills perfected on those many ships and many seas. As Grayson puts it, "He was simply a magnificent seaman and boat handler."
If he had a weakness as a sailor, it was the one that afflicts many people who are exceptionally good at what they do and know it—hubris. Highly skilled modern-day sailors probably relate to Slocum's impulses to show off his expertise, as when, with Virginia at his side, he sailed his 100-foot square-rigged bark Amethyst between three Royal Navy vessels and a merchant ship anchored in Hong Kong with inches to spare before picking the perfect spot to round up and drop the anchor.
Slocum later wrote an apology to the admiral for failing to salute the British warships as he passed. The admiral replied, "Any man who can sail a ship under full sail through a passageway too dangerous to contemplate need not apologize," and then invited the captain and "the lady who stood beside you" to join him on his ship.
Not all of Slocum's exercises in hubris ended so happily. Never one to be unnerved by rough weather, he was wont to leave port in appalling conditions, putting his ship, his crew and, when they were aboard, his family squarely, and perhaps unnecessarily, in harm's way.
Even on small sailboats, his unshakable confidence in his sailing abilities could get him in trouble. On his self-built 35-foot Liberdade, with only his new wife Hettie (the death of Virginia at a young age was a tragedy Slocum never got over) and 7-year-old son as crew, Grayson writes, "Slocum carried more sail than was prudent" and watched two of the lug-rigged boat's three masts go over the side.
If Northern Light was the pinnacle of Slocum's seafaring career, Liberdade was the nadir. Slocum built the boat out of desperation as the only way to get home to the U.S. from Brazil after his 130-foot bark Aquidneck was driven ashore in foul conditions and wrecked, leaving Slocum penniless without a livelihood or home.
The disaster coincided with the end of the commercial sailing era, and back in New England Slocum found himself in a condition much like that of Spray before he became her owner—a derelict on the beach.
Grayson keeps his account of the circumnavigation that rejuvenated Slocum's life concise, but he does provide a wealth of fresh perspective on Spray and the book about her voyage that thoroughly debunks doubters like Chapelle and his ilk.
Grayson, whose own writing shines with journalistic polish, admires the writing skills of his subject, praising Slocum's "wordsmithing" and the "clarity that comes from economy."
Readers will learn much about Joshua Slocum they didn't know in A Man for All Oceans and they will be reminded of something everyone who read Slocum's book could sense: The man simply loved sailing.
"Whatever its threat, Slocum believed the sea was to be sailed over," Grayson writes, "and he celebrated the pleasure of sailing over the great oceans."