Famed lensman Onne van der Wal set a deadline for the mostly DIY refit of a classic cruiser fit for the family
Tenley's wish list for the boat wasn't long, van der Wal said. She wanted hot water. The boat already had two water tanks of about 35 gallons each, so he added a six-gallon hot water heater. Old water lines were swapped out for new PEX plumbing lines, and lines for hot water were run to the shower in the head and a mixing valve in the galley. He found a new sink that was the same size as the old one so it was an easy swap, and new taps were added. He also added a deck shower.
Although van der Wal did much of the work himself, he was constantly talking about the project with skilled boat hands who shared their knowledge and helped him solve problems as they arose.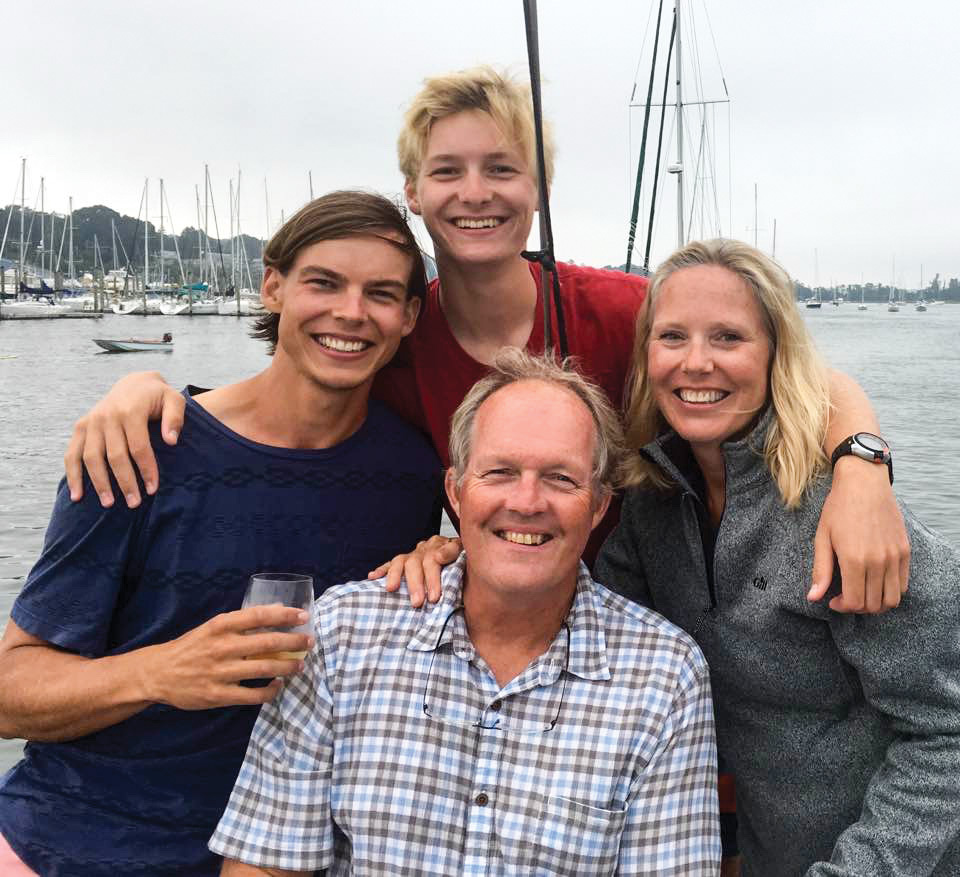 Onne van der Wal photo
"I went to Jamestown Distributors constantly," he said. "I'd go with my list of things I was working on and found one guy there who was a real source of information. I'd just pick people's brains left, right and center. Sometimes I'd end up spending a whole morning there just talking about the coupling or shaft. That's how I educated myself."
Anytime he was working on a complicated system, van der Wal would start with a diagram to make sure everything was where it should be and to help keep track of the project.
The diagram was key in designing an improved electronics system, he said. The instruments that came on the boat were a mishmash of units of various ages, which van der Wal sold on eBay. He replaced them with a Raymarine system including a chartplotter, multifunction display with autopilot controlled from down below, as well as a new VHF radio, AIS and radar. On deck he replaced the binnacle and mounted another chartplotter on the pedestal that mirrors the one down below. A VHF repeater solved the problem of never having the radio nearby. Van der Wal also installed a multifunction display in the forepeak so he can monitor depth and windspeed without getting out of the bunk.
"It's really great when you're in an anchorage," he said. "It was easy to install and I can dim it all the way down."
Prior to taking on the electronics project, van der Wal worked with a Raymarine agent on the layout. "We spent an hour talking about the layout and how the whole system was to be wired. He made a very simple sketch. The whole system works from one wire that serves as the backbone and everything else plugs into that backbone. It's an absolutely brilliant system that supples power and data."
Although van der Wal opted for a complete overhaul of the electronics, some parts of the refit involved simply replacing the old gear using the same design. The rigging fell under this category. Although the mast itself was in good shape, all the standing and running rigging needed to be replaced.
He had the swages done by Southern Spars Rig Pro in Newport, but he replaced the Windex and installed a new Raymarine masthead unit and new tricolor, anchor and steaming lights. Originally all of the wiring hung loose in the mast, but van der Wal fashioned a novel wire harness that would contain all the electrical wires plus a heavy duty 3/8th inch VHF wire.