A charter through the Greek islands reveals ancient history and Mediterranean beauty
Poros is on a narrow passage next to the mainland, so don't be surprised when huge ferries slide past just feet away from your mooring. It was pleasant dining in the cockpit in the evening as tourists and locals strolled the quay, and we had a frappe (a chilled Greek coffee) for dessert at one of the tavernas that set up tables on the waterfront. Later, I went ashore to nearby Café Remezzo, which offers hot showers for three Euros, which brings up a point about our boat.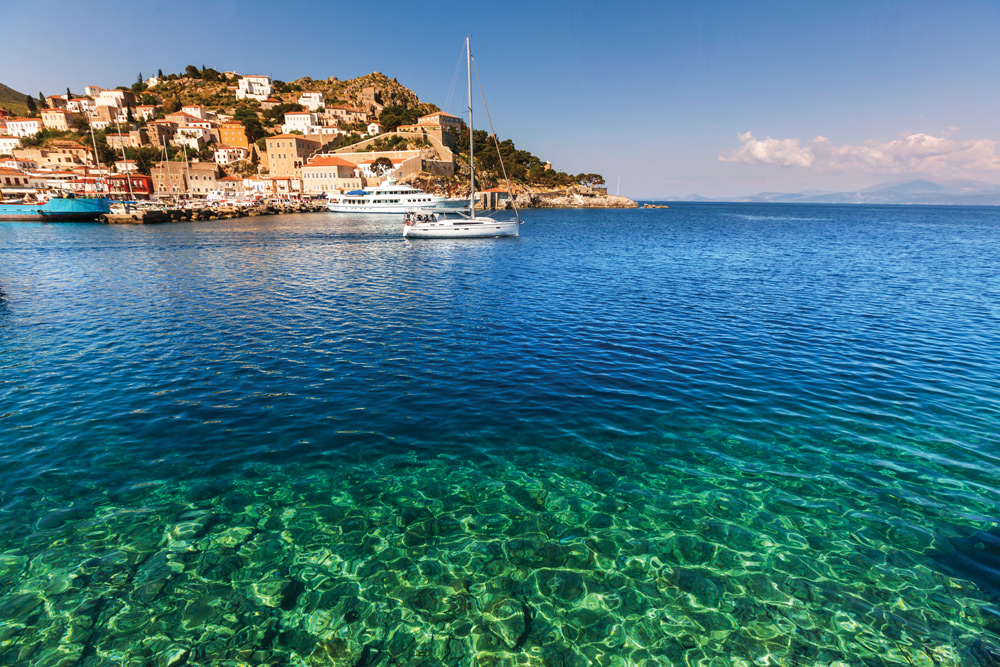 European boats, like our Jeanneau, are built for European tastes. Americans may find the showers are smaller and
staterooms are a bit tight. Our boat was impeccably maintained and, though two seasons old, seemed brand new, but American charterers need to keep an open mind when it comes to space. Our yacht had a double berth forward with limited dressing area, Thrassos staked out the twin cabin to starboard, and we all shared the smallish head. Full disclosure: this particular yacht is now retired and the new Jeanneaus and Beneteaus offer far more accommodations.
From Poros we cruised another dozen miles to Hydra, which has remained almost the same since Greek triremes moored in its amphitheater-shaped harbor. Hydra is memorable for blindingly whitewashed homes (Greek white with blue doors) climbing a hillside colored by bougainvillea, but it is also the nautical equivalent of a Greyhound bus station with streams of ferries arriving every few minutes to spew teenagers and tourists.
If you've seen the film "Boy On a Dolphin" you've seen Hydra, since it was filmed there. In case you don't remember the film, it introduced Sophia Loren to American filmgoers and, for some of us who were teenagers at the time, the image of Loren in a wet and thin shirt as a Greek sponge diver remains engraved in our memories.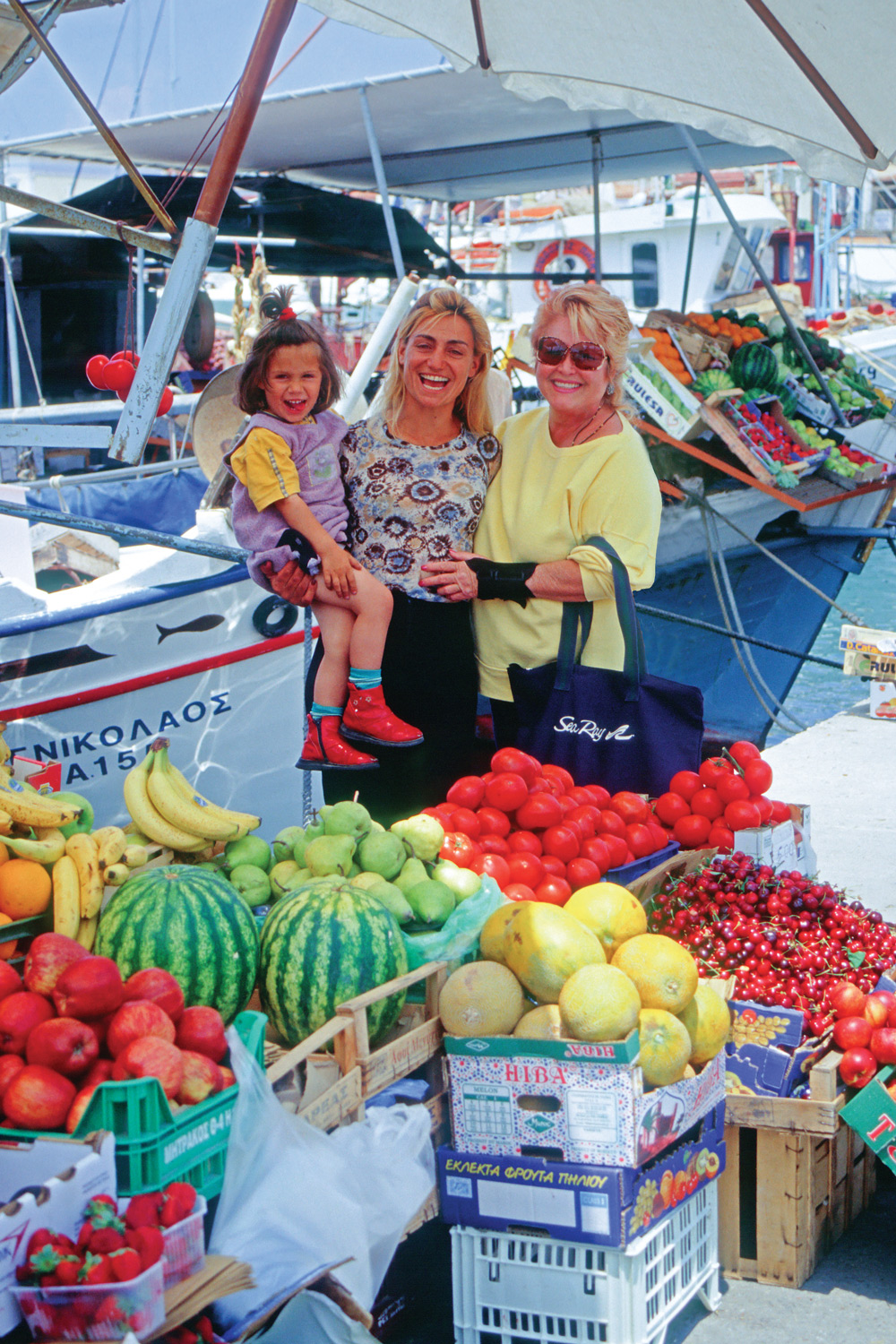 No cars or motorscooters are allowed on Hydra, so all deliveries are by donkey convoys that meander along the quay where you'll also see Pan, the bearded Greco-American who is the unofficial harbormaster. If you spend the night, be sure to walk to the western point to watch the spectacular sunsets from the small restaurants while savoring an aperitif. In the morning, Kostis Bakery on the waterfront has to-die-for chocolate-filled croissants.
When it comes to island dining, seafood, including octopus, reigns king. Dolmades are spicy meats in grape leaves, tzatziki is garlic-laced cucumber yogurt, and olives come in hundreds of varieties. If you dare, wash it down with retsina (white wine mixed with paint remover), and ouzo is diluted with water and sipped.
From Hydra we sailed west 17 miles to Spetses, detouring to explore a quiet bay at Dokos, where Jacques Cousteau found a 3,000-year-old sunken ship with its cargo intact. From there, we moved to another cove (Thrassos swore us to secrecy about its location) where the water was so clear we could see the bottom more than 60-feet below.
Spetses also has no cars but motorscooters are rife on the pebble mosaic promenade and streets. Known for a female admiral who helped rout the Turks, Spetses is covered with pine trees and the town is dotted with large homes from the trading days when prosperous ship owners called the island home. Moor far back at a quay in Baltiza and you'll be surrounded by shipyards still building fishing vessels of pungent pine.
From Spetses, we retraced our wake to Poros, where we discovered that Greece is all about time. A Greek morning lasts until one, then lunch and a nap until late afternoon, and some restaurants don't open until 9 p.m. for dinner. Our first visit to Poros was on a weekday but, when choosing your quayside mooring, remember that the clubs on weekends are noisy until dawn.
For relief, Epidavros on the mainland is just the opposite: you moor next to a quiet park and enjoy blessed silence at night. Don't miss Epidavros Theater (see sidebar).
Heading back toward Athens on our last day, we stopped at Aegina Town, where strings of octopus hang outside restaurants to entice diners. Aside from being close to Athens, Aegina is where Zorba The Greek was written, and it is famed for its pistachios.
---