Thousands of reasons the money barrier to owning a sailboat is a myth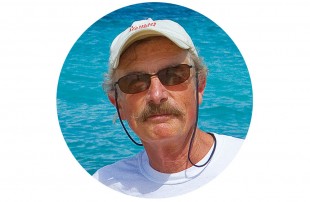 A white yachting hat sporting an anchor badge on the crown and faux admiral's scrambled eggs on the visor, blue yachting blazer with polished brass buttons, pleated Breton red pants adorned with dozens of tiny sailboats, pristine leather Topsiders with tassels.
Bet you haven't seen a sailor wearing a getup like that for a while, or ever.
Yet that image sort of fits the common perception of sailing as a pastime reserved for the rich.
The image is silly, but the perception contains a kernel of truth. I have sailed in a number of races in which one or more of the boats was owned by a billionaire. (Not a bad thing—I enjoy the view when an 80-plus-footer whooshes past and like it that my payroll for professional crewmembers is zero while the megarich guy has to distribute big checks at the end of the race.)
It is true too that even at a more down-to-earth level of sailing you have to be fairly well off to afford some of the gorgeous new sailboats on the market (which are worth every penny).
Still, the wealthy yachtsman is an obsolete stereotype that obscures the fact that money is really not that much of a barrier to owning a sailboat.
It is thanks mainly to the genius who invented glass reinforced plastic, otherwise known as fiberglass, that I can write that. Mass production of plastic boats that can last virtually forever has generated an enormous stock of used sailboats available at prices that decline by the year.
But before and even during the fiberglass era, folks without much of a bank account found ways to realize their dream of owning a sailboat. Remember, Joshua Slocum was all but broke when he bought a worn-out boat for a few bucks and by hand turned it into a vessel sound enough to carry him around the world and into history.
These days, you can still come across boats that sailing dreamers built in their backyards with a few hundred dollars worth of cement and chicken wire. While some of the craft made of these materials actually look a bit like concrete structures, well built ferrocement boats are strong and enduring.
Stories of garage-built wood boats that grew to the point where the garage had to be destroyed to launch the boat are legend. Even considering the cost of the garage, builders of these homemade boats beat the high cost of sailboat ownership with carpentry skills and sweat equity.
My friend Dennis was able to become the owner of a handsome, sturdy 35-foot cruising sailboat on a phy ed teacher's salary. He found it as a bare, welded steel hull lying amid the detritus of a boatyard, where it had been abandoned by its amateur builders after it failed the test of staying upright in a trial launch. It turtled due to a ballast miscalculation.
The hull, designed by Bruce Roberts, was less than perfectly fair, but made of 3/16-inch steel plate, it was battleship-strong. By the time Dennis, a handy fellow with woodworking tools, fitted it with a cabin and cockpit made of teak and mahogany and added a rig featuring a mast salvaged from a wrecked schooner, it was a proper yacht.
On the day it was launched, a gang of friends assembled at the dock next to a fish-processing plant. We were there to celebrate—an impressive gallonage of fermented malt beverage was on ice—but first to work. After the boat was lowered into the harbor with just enough ballast to avoid the disaster of the hull builders' trial launch, a bucket brigade was organized to complete the ballasting by transporting pails of scrap ball bearings to be poured into the bilge. That took awhile—there were 7,000 pounds of steel balls. Secured in the hull by concrete poured over rebar, they made for one mighty stiff boat.
Efforts like these are one way to own an affordable sailboat. Another way is to just buy a boat. How about a 1980 Pearson 40 for $12,000? It's one of the thousands of used fiberglass sailboats on the market for prices in the late-model used-car range.
Sound first-generation fiberglass boats from the 1960s are still available, but some remarkable values can be found among the plethora of boats built in the late 1970s and the following decade. The condition of these nearly 30-year-old plastic vessels varies, but the pedigrees of many of them are gold-plated.
Imagine owning a boat from the drafting table of the man many consider the greatest yacht designer of the last century, Olin Stephens. His firm, Sparkman & Stephens, was the house designer for Tartan Yachts for many years. Tartan 30s, 34s and 37s bearing the S&S mark are abundant on the used market.
Like Bob Perry boats? Check out the Island 28s on brokerage lists. This Perry-designed sloop was a sensation during its 1975-1980 production span, with more than 400 built, and it remains a sweet sailing little yacht.
Bruce King had a knack for making his production designs exceptionally fast sailers even though they were loaded with cruising amenities. A good example is the Ericson 35, whose tall double-spreader rig set it apart from competitors when it was introduced. You can buy one for less than $20,000.
Boats like these help make my point that the money barrier to sailing is a myth, but they have more to offer than affordability. For one thing, many are delightful to sail.
Fiberglass composite construction has come a long way, and today's production sailboats are lighter and faster than their forebears. Yet with their flattish bottoms and skinny keels they can be twitchy in a seaway, likely to pound upwind and cranky in a beam sea.
The older boats, with their rounded bilges and broader keels or even internal ballasted hulls, have that wonderful characteristic that offshore sailors have prized for time immemorial—seakindliness.
I love the aggressive look of the new high-performance boats—those plumb bows, hard chines, sharp angles. But the older boats are more aesthetically pleasing with their soft lines designed to go through the water, rather than rise and plane on it like some new designs. They look more at home in the water in the manner of a sea creature. It figures that the origins of displacement sailboat design were derived from the shape of fish.
If you want to race, a used boat can be your ticket to the podium. The PHRF handicap system is kind to older boats. With a few good sails and a smooth bottom, the used boat you bought for a song can be more than a match for the new boats in your yacht club fleet.
There is a reason, of course, that these boats are cheap: They're old and used, some used hard. They need work. (You can count on it that the must-do list for that 12-grand Pearson 40 is daunting.) Look at this as a plus that enhances opportunities to spend quality time with your pride and joy.
A faded Mount Gay hat, greasy T-shirt, frayed cut-off shorts, decomposing boats shoes, all splotched with bottom paint.
That's yachting attire for real sailors.