One-design classes built around camaraderie offer great competition and even better friendships
Whistle while you Thistle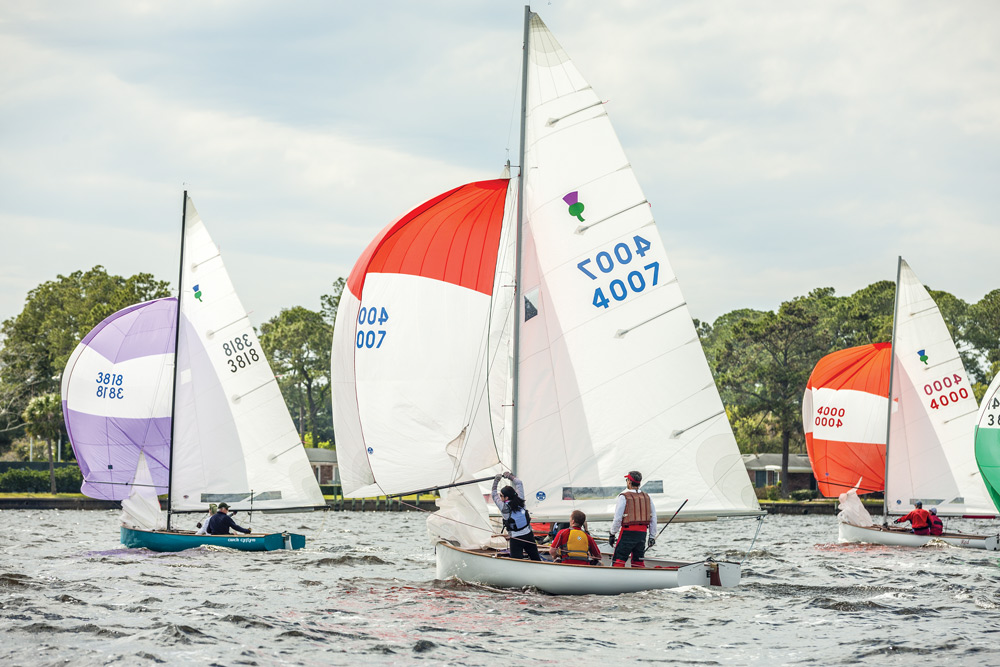 J.H. Peterson
The 17-foot three-person dinghy has 191 square feet of sail with a 220-square-foot spinnaker. Designed by Sandy Douglass in 1945, the boat planes easily in 12 knots of breeze yet will also glide effortlessly in light air. The class attracts top sailors and also enjoys family camaraderie and often crews are comprised of family members. The Thistle is ideal for junior sailors and many regattas encourage youth participation with reduced fees for junior members.
One of the more active fleets is at the Atlanta Yacht Club, which holds it Dixie Regatta every year. One way this fleet has encouraged participation was to create the Rally, an event where less experienced sailors and newcomers have an opportunity to climb aboard, pull the strings and take the helm of a Thistle. By the end of the 2017, more than 50 people were regularly showing up for Rally days and it added two boats to its fleet.
One way the class stays connected is through its magazine The Bagpipe, which has been published since 1945. Packed with articles, it covers everything from regatta reports to articles on boat tuning.
There are many older wooden Thistles on the market, but a newer fiberglass boat in race-ready condition can be found for around $10,000.
Visit www.thistleclass.com for more information.