A young couple brought their baby on a charter to the British Virgin Islands, now they return with a rambunctious 7-year-old young sailor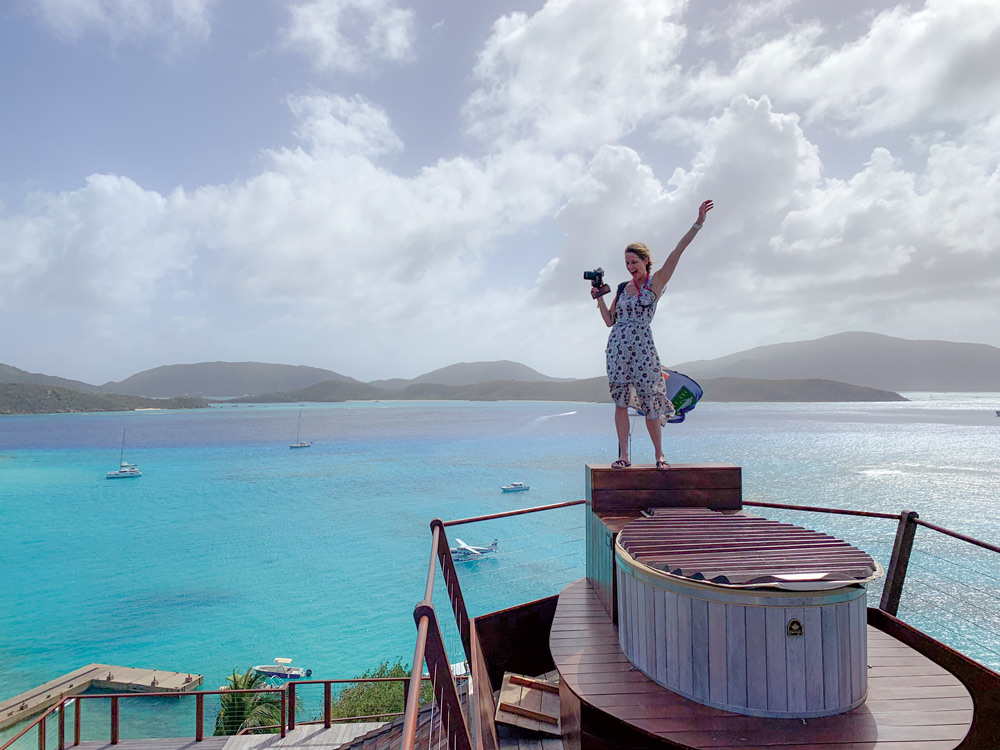 Unfortunately, we didn't end up meeting with Sir Richard during our visit as he was busy working with a group on climate change. But we did get a tour of his island that's a combination of an exclusive resort and spa, a nature preserve, a think tank and watersports paradise that's unlike anyplace else on Earth. We marveled at Necker's large resident flamingo flock and various sustainability projects, but the highlight of our visit was getting to feed Necker's ridiculously cute lemurs that Richard is trying to help bounce back from the edge of extinction. And the 360-degree view from the top of Necker's Great House may just be the best view in the entire Caribbean.
As anyone who has ever cruised with kids knows that frequent beach, snorkel and swim stops are essential. And unlike many charterers who gravitate to the party atmosphere of the Soggy Dollar and Foxy's on Jost Van Dyke, we were looking for a less active beach to spend our last couple of nights aboard. We knew Guana Island's White Bay would be exactly what we were looking for. And since we had stayed at the exclusive resort on Guana before (the entire 850-acre island is privately owned), I was able to arrange a tour so our little one could see how their innovative "orchard" produces many of the fruits and vegetables their chef serves the guests.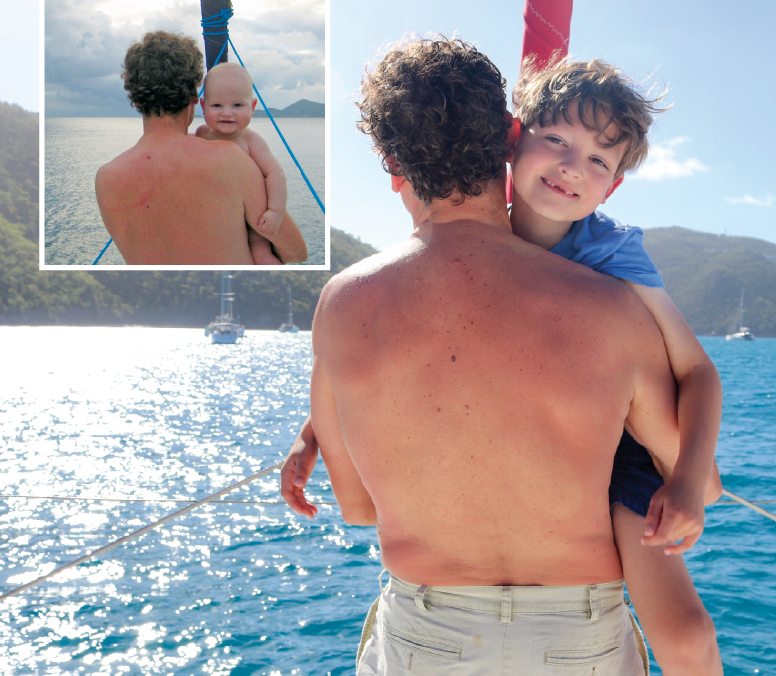 We loved learning about island agriculture, sustainability and farm-to-table cooking. And we were grateful to be reminded of our simple connections to the earth and each other when we tasted the fresh-picked produce that Vernon and Jamal grow with such care. But after a while, the boy just wanted to swim. And so did we. And that's where the tears of gratitude started to come back into play.
Our sunglasses-sporting, pink-visor-wearing, two-front-teeth-missing dingy captain drove us back to the boat with style and swagger. The trade winds that had been honking all week subsided a bit. We plunged into the water off the back of the boat like the charter pros we were becoming. And then we loaded up for some serious beach time on what may be one of the softest, whitest and most soothing beaches in the BVI.
Sam was off like a rocket as soon as we hit the beach as he'd spotted some kids off another boat digging a hole.
"I'm going to see if I can help," he said as he walked up the beach.
"Have fun," was all we needed to say. Kids need other kids, especially on a sailing charter.
There wasn't a cloud in the sky. The sun was hot but hardly oppressive, especially since it was 5 degrees back home in New England, and refreshing dips were a regular occurrence. The view from the beach provided some of the best yacht watching I've seen anywhere. The 250-footer Pi that we saw in North Sound was there. The crew and guests from the superyacht Vibrant Curiosity were frequently shuttling between the 280-footer and the beach. And the majestic 137-foot-long sailing yacht Rebecca dropped anchor while we were there as well.
Surprisingly enough, I managed to hold back the tears, even on our last official dingy ride back from the beach. Refreshed and energized after a calm night's sleep, the last 10 miles we had to cover on our final morning to get back to the base were bittersweet. The wave of gratitude I felt for the role that sailing has played in my life, and now in the life of my family was humbling. In my opinion, a sailing vacation in the BVI may just be the best family adventure there is. Where else can a young family learn teamwork, respect for the environment and practical skills that build confidence and self-esteem in such beautiful and
restorative place?
Our little one who was only 6 months old when he first sailed in the BVI is now a bona fide veteran. And we all cried a little when it was finally time to go home.
For more information on this charter, visit: www.sunsail.com or call 888-514-9778.