Practical purists are sailing the world engine-free and finding a list of reasons why cruising sans iron genny is the way to go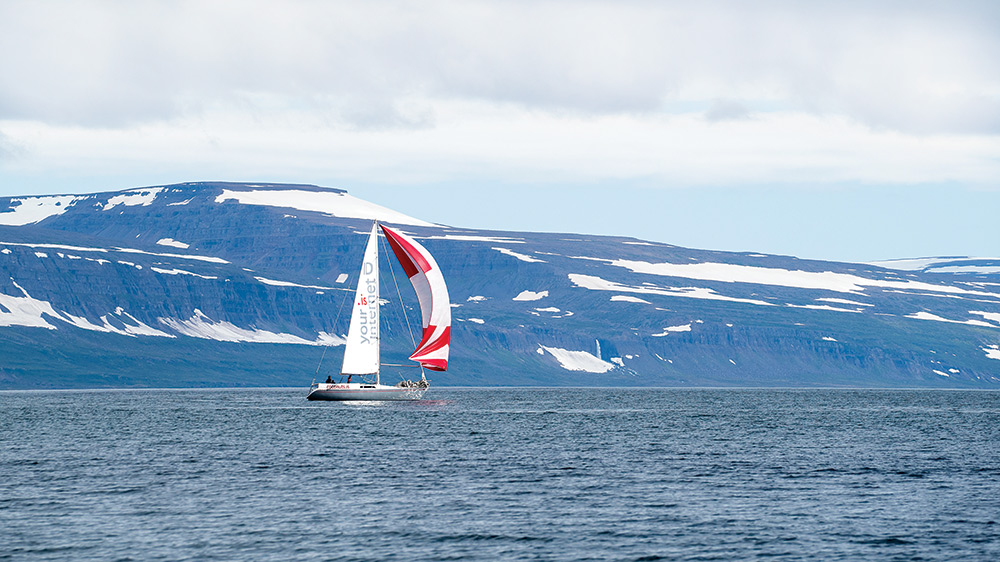 Haukur Sigurdsson photo
When a cruising tale starts with the words, "We had no engine and ... ," it usually means a disaster story is about to follow. Most sailors get a knot in their stomach at the thought of losing an engine while trying to anchor somewhere new, entering a busy harbor at night or attempting to dock their boat. Those are the panic-inducing moments that we prepare for but secretly hope never happen. There are some sailors though who go through these scenarios on purpose. Sailing without an engine is not a new idea, but it's one that is catching on slowly but surely with long-term cruisers all around the world.
Lin and Larry Pardey gained fame in the sailing world for choosing the go-small, go-now attitude and cruising the world under sail alone. That was back in the days when phones were stuck to walls, cameras had film and cruising sailboats were much simpler on the whole. Now in the age of navigating by iPad, posting Facebook updates all across the Pacific and blogging your way around the world, cruising boats are becoming more high-tech and conveniences are the norm. Cruising long distances without an engine seems to fly in the face of more, better, faster.
Romance and reality
Jay and Natasha Gonzalez have sailed engine-free for seven years with their four children Sol, 11; Luna, 9; Caribe, 4; and Artico, 1.They have cruised throughout the Caribbean and Central America, and up the East Coast of the United States. They staged themselves in Rhode Island for several months to prepare for their ocean crossing. Natasha credits their ability to go cruising as a young family to the fact that they decided on a simple boat without an engine.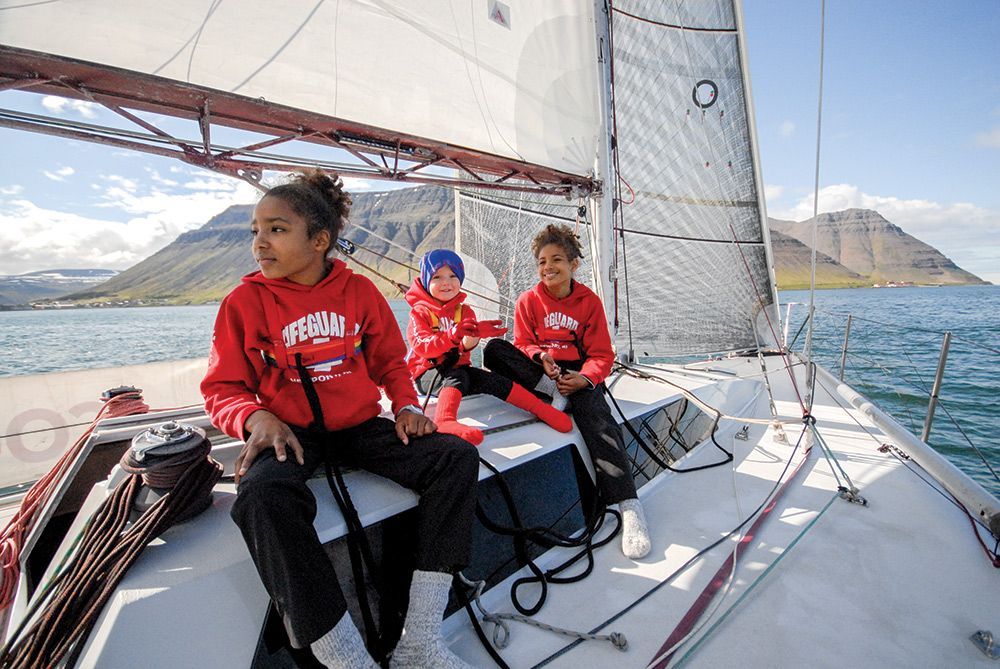 Haukur Sigurdsson photo
"For me it was a natural evolution because I sailed smaller boats," said Jay, who just completed a transatlantic passage via Iceland on a Frers 40. "Then on the bigger boats I sailed, the engines never worked, but I kept going. It seems normal to sail around in a sailboat."
An engine is not the only thing the family gave up in order to start sailing immediately.
"We also don't have a fridge on board," Natasha said. "Basically, it's what we could afford. We didn't want to wait around for years. It's a choice we made to sail now rather than to have luxuries."
And there is a practical aspect to keeping sailing simple, Jay said: less timely and costly maintenance.
"It's not just the engine, it's the fuel pumps, the alternators, all of the things that other cruisers end up sitting in port for a whole season or more waiting for parts and missing out on sailing," he said. "I don't do engine maintenance, so this makes sense for us"
After sailing 50,000 miles around the world without an engine, Kevin Boothby agrees.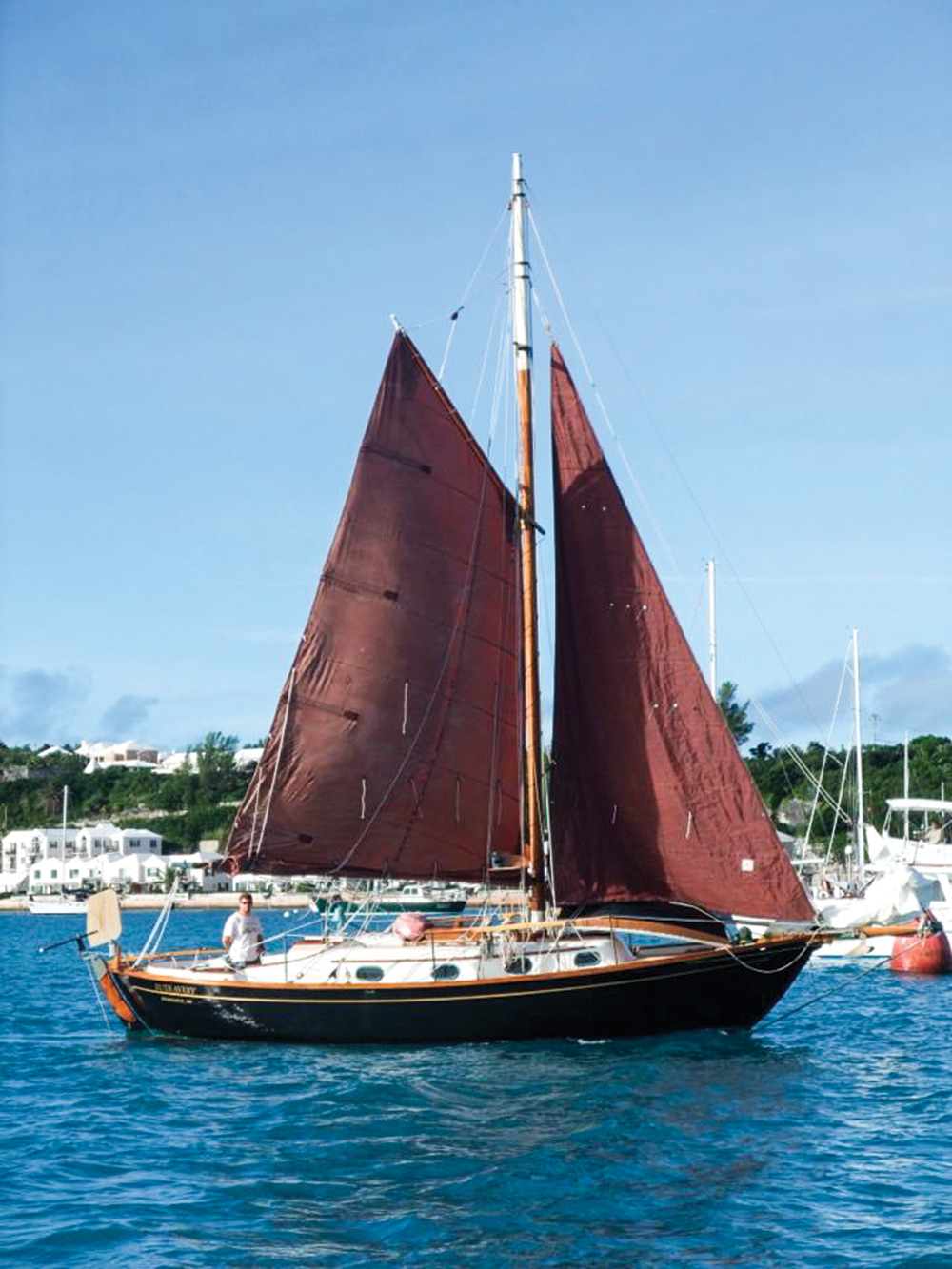 "There is a Thoreauvian element to it, living a life intimately connected to natural forces, and I still do believe there is something to be said for this," he said. "Nowadays it's more a matter of priorities than anything else. I am used to getting around without a diesel, and it would cost a princely sum to install one. I have more important things to spend my money and time on."
Boothby sails a Southern Cross 31 and can be found these days sailing the blue waters between Maine and the Virgin Islands. The gaff-rigged boat was originally designed to hold an auxiliary engine, but the engine compartment remains empty. He bought the boat in 2001 and set off on a three-year engineless circumnavigation. Back in the day he read classic sailing and adventuring books and was attracted to the rugged romance of voyaging under sail alone.
"I devoured the writings of Alan Villiers, Sterling Hayden, Bernard Moitessier and, as I got more cerebral, Joseph Conrad. I, of course, also read several of Lin and Larry Pardey's books and Sailing Alone Around the World by Joshua Slocum. Yes, all these people inspired me to sail engineless."
Petrea McCarthy has been sailing engineless in and around Australia since 1998. She's owned three boats without engines, singlehanding most of the time. Her Norwalk Islands Sharpie 31 Talisman sailed her throughout the Queensland coast for more than a decade, but McCarthy admits her motivation was less romantic and more pragmatic.
"When I built the first one, I did not have the money for an engine and managed fine without one. The next boat I built had a lovely little diesel, but lack of engine use caused problems, and I got sick of paying for mechanics and parts so I took it out," McCarthy said. "Talisman came with a 15-horsepower, 4-stroke outboard in a well, and it never functioned properly. This was partly due to the motor and partly the installation. I also hated the way it vibrated the boat. By then I was pretty much anti-engine so I sold it and was much happier without."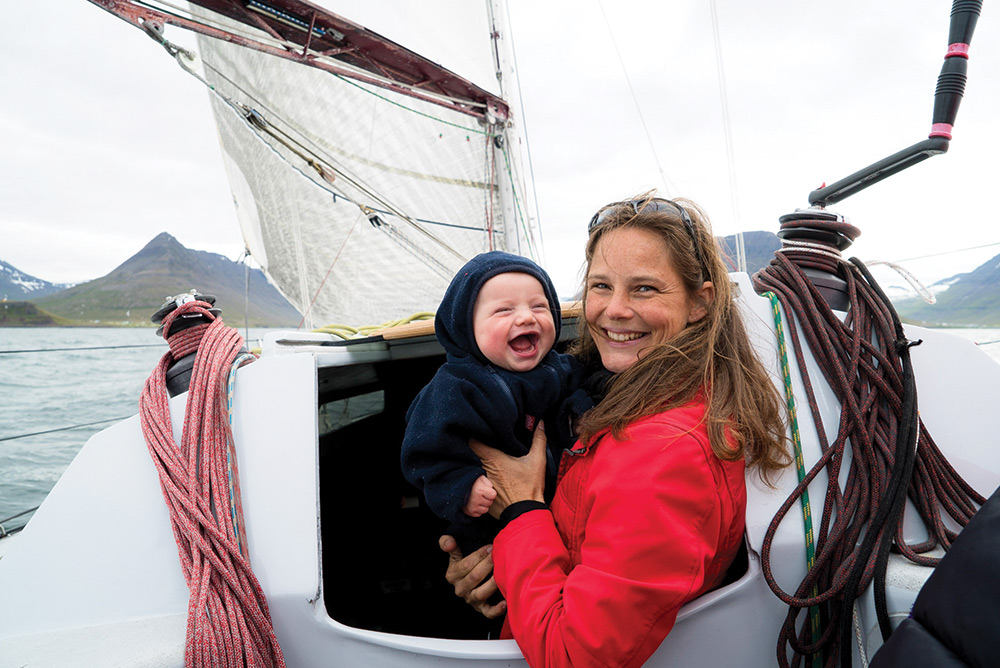 Haukur Sigurdsson photo
Tools of the trade
The one critical tool for any engineless sailor is of course wind, and the patience to find it. Sailing without power back-up means studying the tides and weather more closely than most cruising sailors.
"I would often leave port on the morning land breeze, knowing it would die and there would be a period of calm before the day's breeze filled in. Most cruisers would sit at anchor, and then motor out after breakfast, continuing to motor all morning until the sea breeze came," McCarthy said. "Sitting becalmed for a while is no hardship; there is always something to do on board while waiting for wind."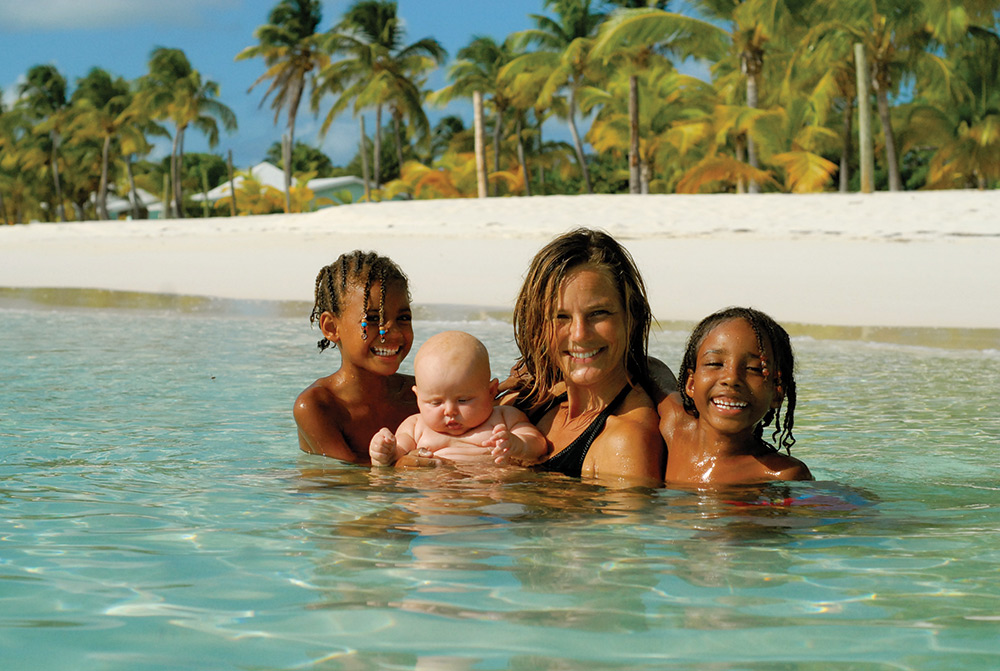 Most cruisers know that schedules for travel by boat are like writing messages in the sand at low tide. It's an ever changing thing. This is even more the case for those voyaging under sail alone.
"We have to be flexible with any schedule and time because we really rely on good wind. We can't say we need to be anywhere by a certain date," Natasha said.
Another more tangible tool for engineless sailors is a good set of sculling oars. They can be used to make way when there is no wind, to maneuver to an anchoring spot, or even into a marina. "We have 20-foot-long sculling oars and oarlocks on the transom. When there is no wind, we can scull around if needed," says Jay of their boat Messenger. "They were given to us by a family in Martinique who also sailed without an engine."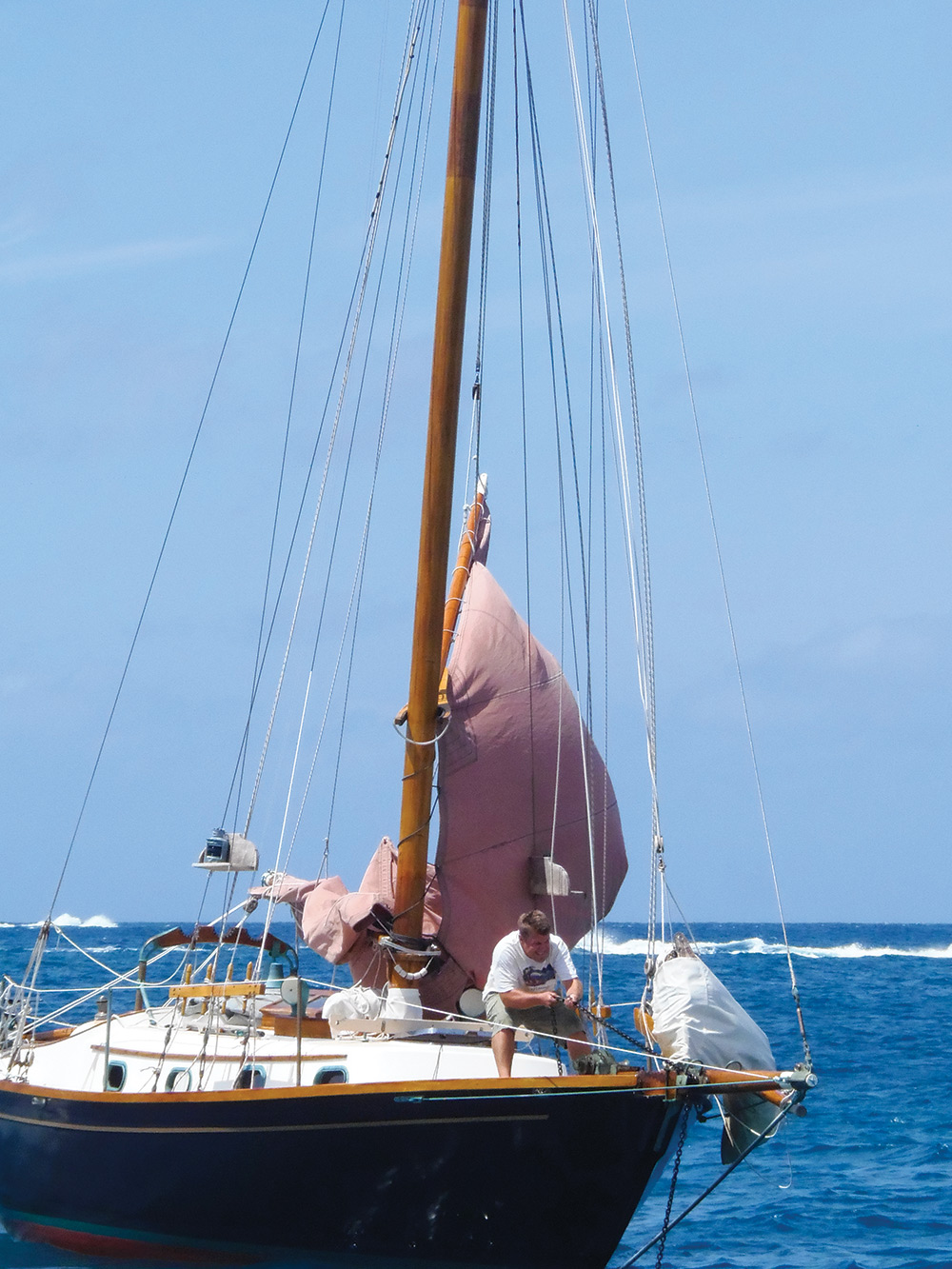 Boothby agrees that sculling oars are a must, among other tools.
"A 14-foot sculling oar comes in handy in close quarters, assuming little or no wind. You can also use it to row the boat around onto the other tack in extreme short tacking situations," he said. "Other than that, I carry a 35-pound fisherman anchor that does not require any chain and so it can be easily run out in a dinghy, and a 200- and a 300-foot warp. Apart from maneuvering it can also save your bacon should the anchor start to drag in a squall."
The Gonzalezes also keep a light anchor to use as "brakes" in tricky situations. They also count their trusty, hand-crank sewing machine as critical equipment. Sail repairs cannot wait until the next port when it's your only means of propulsion, so maintaining them is a top priority. "We've had to sew sails in storms with 20 foot waves," Jay said.
Quietly inspiring
Slipping silently into a busy harbor and dropping anchor under sail will certainly turn a few heads. Some are watching in admiration, while others are waiting to see what will go wrong. Boothby said that when you're good at it, nobody notices much.
The Gonzalezes have found many friends through sharing their experiences cruising without an engine. But Natasha is quick to point out they aren't evangelizing for their style of sailing.
"I am not trying to convert people, but we want to make people think about it," she said.
"I would like to inspire people to know that they can do it," Jay added. "The amount of miles we have under our belt and the number of boats we meet, we see about 10% are sailing and so many are motoring, even in perfect wind. Incredible. We're moving, maybe not fast, but we're moving. What's the rush? Part of the enjoyment is the passage."
Boothby also emphasizes that he's not trying to create a movement or convince masses of cruisers to give up their trusty diesels.
"Having an engine is a safer and more practical way to go about cruising. These days diesel engines are very reliable; your sailing rig is subject to catastrophic breakages too," he said. "That said, if you want to really hone your sailing skills and try going without for a while, go for it!"
The nice thing about cruising without an engine is that it costs nothing to give it a try. It's just a choice that any sailor can make to not reach for the ignition and try going without when the wind dies or when entering an anchorage. Building the skills and confidence can happen any time. Sailing your sailboat is a simple idea, it's all about the journey.
---
Several photos in this article were taken by photographer Haukur Sigurdsson. To see more of his work, go to his
website
.