When I hear "nesting dinghy" I cringe. I think of an ugly, two piece box that has a shape controlled by crude geometry. But when my buddy Kim and I walked into Russell Brown's shop in Port Townsend, Washington, I knew I was looking at a masterpiece of design and build. I could see the lust for this boat in Kim's eyes. I was lusting too. So there we stood lusting while Russell calmly explained the boat. Russell is the son of famed catamaran designer Jim Brown and Russell is the consummate craftsman and creative thinker.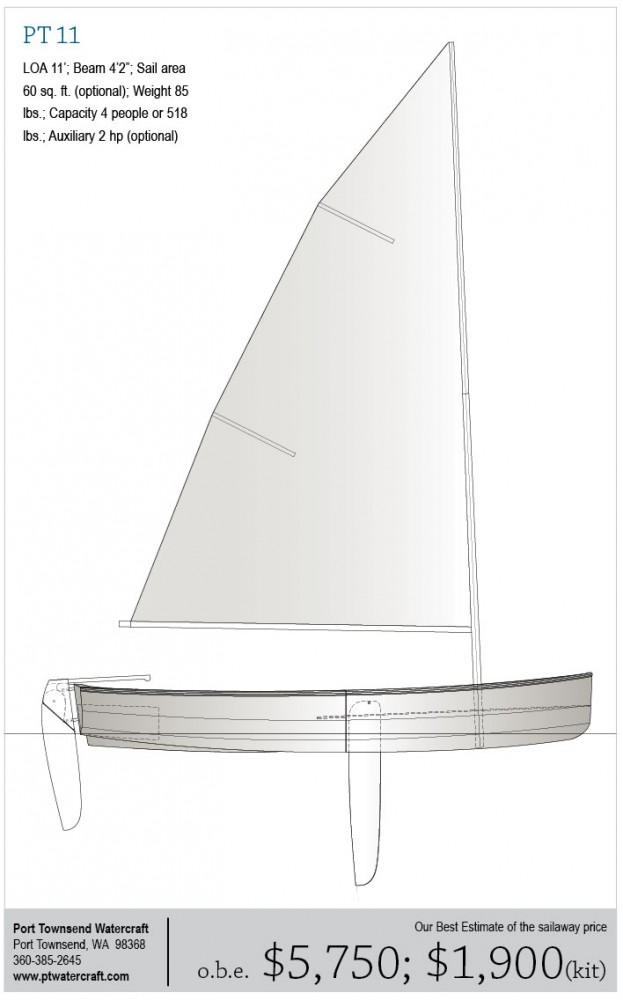 Russell began this project with some prototype work. He wanted a nester that would sail well and row well with a shape that was not a slave to the pragmatic considerations. The hull looks like a performance, planning dinghy. The sheer is sweet. The bow knuckle is seductive and the overall proportions of the PT 11 are very attractive. Nester or not, this is a very good-looking boat.

You can break the boat down into two halves with a total nested length of just over 6 feet. The height of the nested dink is 1 foot 9 inches and nested beam is 46 inches. You can put this nested dink on your cabintop easily. The halves are light and you can assemble the boat in the water. In fact in the water assembly is recommended. Two large, custom fastenings just below the caprail are all that you need to join the halves.

I haven't sailed the PT 11. I went up to test sail it but the wind did not cooperate. The sailing rig weighs 13 pounds. I have seen videos of the boat sailing and it really scoots. I went for a row. The PT 11 rows like a dream. It's so satisfying to row a good boat. You feel your energy directly and efficiently transferred into the boat with the result being speed. I enjoyed my row and my dog Ruby enjoyed it to. There is no doubt that I would enjoy sailing this boat. My only problem with the boat is that it is so beautiful that I hate the thought of chucking a crab pot in the stern and dragging the boat over the rocks at my beach. Russell says, "It's just a dinghy." I see it as a work of art.

I could go on and on about this boat. Maybe it's best that I shut up and leave more space for my editors to put in photos of this marvelous little boat.