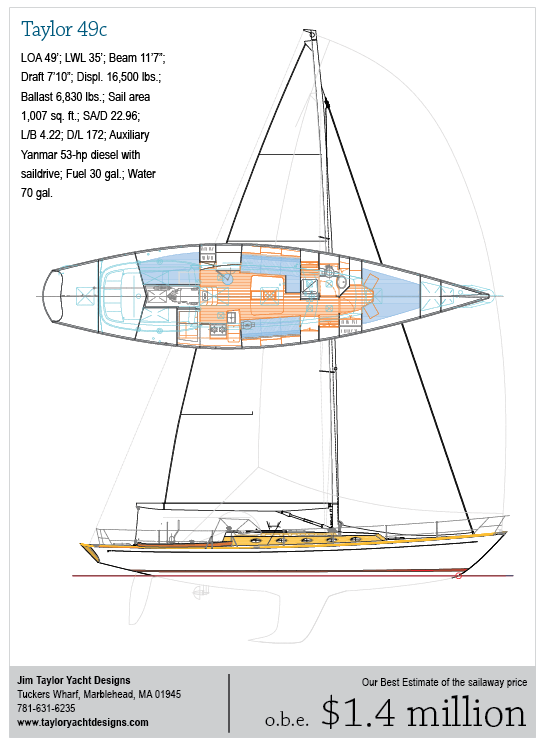 Now for the dessert. This new Jim Taylor design is a good example of my idea of "classic proportions," but I'm limited by my jingoistic North American taste in yachts, and I'm not sure there is much I can do about that. I'm not even sure there is anything I want to do about that. Built by the prestigious Brooklin Boatyard, the 49c will be a real eye popper in any harbor. Jim is one of those designers with the eye for a yare boat. Yare is an old yachting term that essentially means everything about the boat is right on. I'd be inclined to call this boat a daysailer, and that will be its prime purpose, but it is far too much of a boat to be limited by that label.
I am rubbing my hands together now because I have an actual set of hull lines for this design. They are masterfully produced and show a boat with eye-appealing contours. It's a very simple hull form, but there are a lot of subtle shape changes that make it a very interesting hull. The D/L is moderate at 172, so it's no lightweight. The L/B is a modest 4.22, so it's a skinny boat. I am just coming off my Sliver project and in love with skinny boats. They tend to have wonderful, benign, nondemanding manners. Keeping with the classic theme the ends are long and shapely. The DWL is only 35 feet. The midsection is very arclike with some flare to the topsides resulting in a relatively narrow BWL. Draft is 7 feet 10 inches. This boat will be raced occasionally, and I'm sure it will scoot right along. With that nice, big spade rudder aft, I'm sure the helm feel will be very light.
The interior layout features a lot of elbow room. Nothing is squeezed in. There is a comfortable V-berth forward and a double quarterberth aft. The near symmetrical saloon will be the perfect place for a friendly, post-race gam. The cabintrunk stops at the aft end of the V-berth. Jim could have extended it forward but that would have spoiled the look. I love a long foredeck.
I like the look of a skinny boat when the headstay is pulled back off the stem. It has the look of an old meter boat or Skerry cruiser. The boom extends well beyond the end of the tack so that the sheet can lead down aft of the cockpit. The SA/D is 22.96, and that is enough to keep this boat moving well in light air with nonoverlapping headsails. The working jib shown is self-tacking and leads to a track that spans the top of the cabintrunk. Just in case they are needed, there are jib tracks on the deck. It's very helpful to be able to move that jib lead outboard when you are not hard on the wind. I would have liked to see those tracks run farther forward for reaching leads.
The gap between the stem and the forestay means that an asymmetrical chute can be carried comfortably without a bowsprit. No more crouching on the bow in terror as the spinnaker pole comes flying at you as you prepare for one more flawless dip-pole jibe and some serious dental work. The youth of today will never know that thrill or pain. Note that the mainsheet traveler spans the entire aft deck. The rig is carbon.
Construction features a cold-molded wood-epoxy hull with tongue and groove Alaska cedar planking each side of diagonal, lightweight, western red cedar veneers. Stem, keelson and ring frames are all laminated Alaska cedar. Laminated keel floors are capped with unidirectional carbon. The interior is finished Herreshoff-style with off white painted surfaces trimmed in varnished solid trim. You can stop drooling now.
I think the best compliment you could pay this boat if you saw it under sail would be to say, "Look at that beautiful old boat. It sure is in great condition. And it sure is fast."
Nice work, Jim.