Classic-looking on the outside, this cruiser is a modern design built for bluewater sailing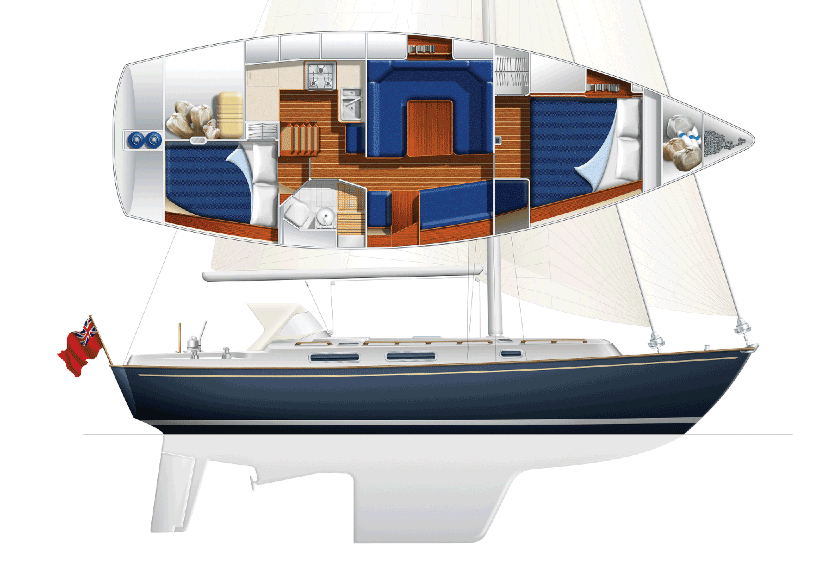 I have been a fan of the Rustler series for years. They are so English. The company's style is in contrast to what my buddy Tom calls the "Euro bloated tennis shoe" look. The new Rustler 37 was designed by Stephen Jones. He is a very good designer—a bit of a renegade— but Jones has produced some very nice boats over the last 35 years.
To my eye, this new Jones-designed Rustler model lacks some of the grace and finesse I've come to expect from this series. My hope would be that what I am seeing is just a function of the artists renderings that I have and in person the design would come to life in a more graceful way.
The D/L is 331. It's a beamy boat with an L/B of 3. I'd like to see about 2 inches less freeboard and more spring to the sheer. You could argue that my changes would result in less interior volume but that reduction in volume would be tiny. I don't have any hull lines for this design but by the gentle curve of the forefoot I'll presume the entry sections are shaped and there is some deadrise to the midsection.
The draft is 6 feet 3 inches and the keel is a moderate-aspect-ratio fin with 7,000 pounds of internal lead ballast. What I like about this design is how different it is from the typical modern European production models. The hull form, as far as I can tell, has nothing in common with the ultra-wide-stern, plumb-bow, flat-bottom models we are seeing now. I think this boat has been designed to offer more comfort offshore.
The interior is laid out for two couples with a V-berth double forward and a double quarterberth aft. That aft double is a bit confined and may not be easy to access. The head is aft, adjacent to the galley, and includes a shower space.
The galley is very nice. It's a real wraparound shape with plenty of space for a big icebox. There is a small seat at the inboard end of the galley counter that I think is there to provide some room and access for the engine that is tucked into the top of the keel. You could have done the same thing by extending the counter, at an angle, inboard. But this would have made accessing the engine a bit tougher.
There is a forward-facing nav station and a short settee to starboard. The U-shaped dinette looks big and comfortable.
It's unusual and encouraging to see a real fo'c'sle on a modern boat. It shoves the forward bulkhead aft far enough that the V-berth is rather wide forward. The drawings show the pillow forward on this berth. There is a small wet locker aft of the companionway steps. The argument rages on about the difference between a cutter and a sloop. To make it easy, let's say a cutter is a sloop that carries two headsails—a jib and a staysail. The benefit of this rig is the ability to roll up your jib in a breeze and carry on under staysail and main. The next step is to reef the main and a reefed main and staysail can be a very effective rig. I'm not sure why the clew is so high on this staysail. You could barely reach it from the deck when the boat is heeled over. Sailmakers rarely pay attention to the designer's drawings anyway. The double spreaders are in line and there are fore and aft lower shrouds. You don't see those much anymore in these days of swept spreaders and fractional rigs. The forward lower shroud chainplates appear to be on the side of the cabintrunk allowing the staysail to sheet outboard of the forward lowers. The SA/D for this boat is 18.64.
To my eye this is a practical and well-thought-out serious cruiser.
---
LOA 37'; LWL 29'9"; Beam 12'4"; Draft 6'3"; Displ.
19,500 lbs.; Ballast 7,000 lbs.; Sail area 844 sq.
ft.; SA/D 18.64; L/B 3; D/L 331; Auxiliary 37.5-hp
Nanni N4.38; Fuel 60 gal.; Water 100 gal.
---
Rustler Yachts
Maritime Buildings, Falmouth Rd., Falmouth, Cornwall, TR10 8AD
+44 (0) 1326 310120
www.rustleryachts.com
---
Our best estimate of the sailaway price
$410,000