Interior volume and a great layout define this family cruiser
My Danish friend Tom came up with the "bloated tennis shoe" description for some kinds of yacht styling. He recently described a boat to me as looking like "the box the boat came in."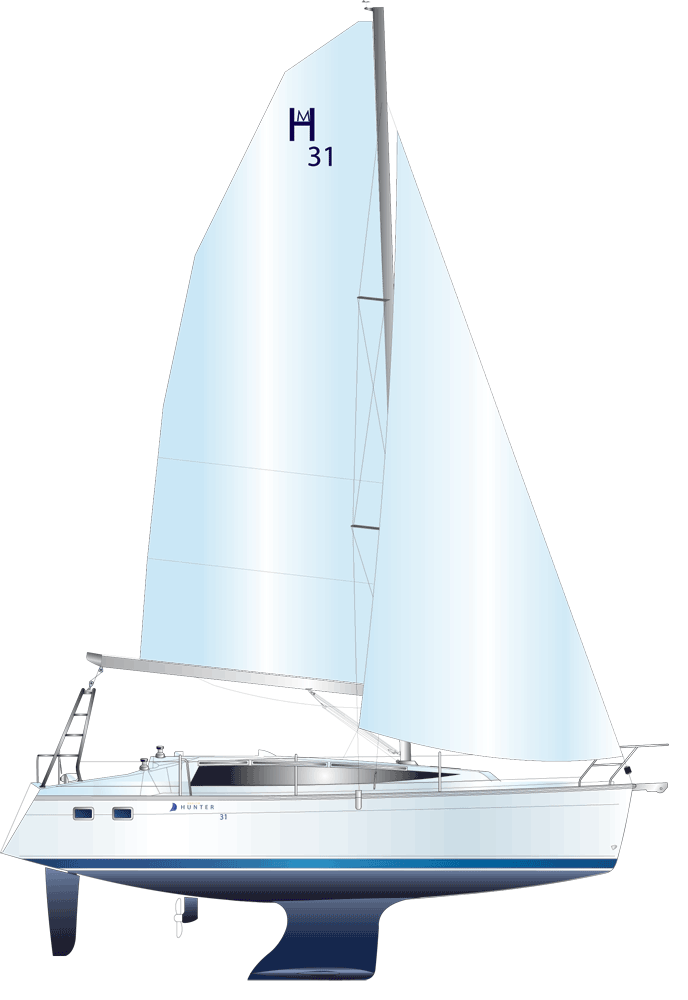 We are at a time when builders are trying to maximize interior volume for a given LOA. This gives them a sales advantage over the competition. "Look, mine has room for double doilies."
It's not a bad trend if interior volume is what you are after. The new Marlow-Hunter 31 has an interior that would have been impressive even on a 40-footer 30 years ago. For a lot of buyers, interior comfort trumps performance. But in the hands of a skilled designer, performance can still be attained. Maybe not race boat performance, but respectable cruising boat performance is possible.
The 31 is a very beamy boat with an L/B of 2.7 and the maximum beam is carried almost all the way to the transom. But that's not unusual today and it makes for good form stability at modest heel angles. The bow area on deck is quite full, but if this hull form is in keeping with the newer Marlow-Hunter models, the entry at the DWL will be fine enough to get the boat to weather. You can choose from two drafts. The shoal-draft model draws 4 feet 5 inches and displaces 11,600 pounds for a D/L of 186. The deep-draft model draws 5 feet 5 inches and displaces 12,000 pounds. The freeboard is on the high side but that's to help with interior volume.

The first thing that strikes me when I look at this layout is how much cabin sole there is in the ends. This indicates to me a hull form with a hard turn to the bilge to get volume where you can use it for cabin sole. You could also do this with a chine. There is lots of room in this layout. The head is generous, and the galley is more than adequate.
There are two large hanging lockers in the forward cabin. The V-berth looks wide at the foot. My only concern would be getting in and out of that double berth aft. But it could be fun. There is even a locker to hang your foul weather gear. It is hard to find fault with this layout for a cruising boat. There is not a lot of stowage volume for gear but I'm not sure that's important on this kind of boat.
Two winches flank the companionway and two winches are all the way aft on the transom top. The mainsheet is on an arch so the cockpit is completely clear of any running gear. It's a huge cockpit. The rig itself is typical of Marlow-Hunter rigs with the highly swept spreaders and diamond shrouds. This rig does not need a backstay, so the roach of the main can be extended to get lots of sail area up high where it will do the most good. The SA/D using the 12,000-pound displacement is 17.73.
I think this would be a great boat to introduce a young family to the joys of sailing and cruising.
---
LOA 32'4"; LWL 30'8"; Beam 11'10"; Draft 4'5" (shoal) 5'5" (deep); Displ. 11,600 lbs. (shoal), 12,000 lbs. (deep); Ballast 3,459 lbs. (shoal), 3,579 lbs. (deep); Sail area 1,123 sq. ft.; SA/D 17.73; D/L 186; L/B 2.7; Auxiliary 21-hp diesel saildrive; Fuel 25 gal.; Water 30 gal.
Marlow-Hunter Route 441, Alachua, FL 32616 386-462-3077 www.marlow-hunter.com
Our best estimate of the sailaway price $182,000