Sport meets cruiser and the result is a performance offering from J/Boats that will appeal to a range of sailors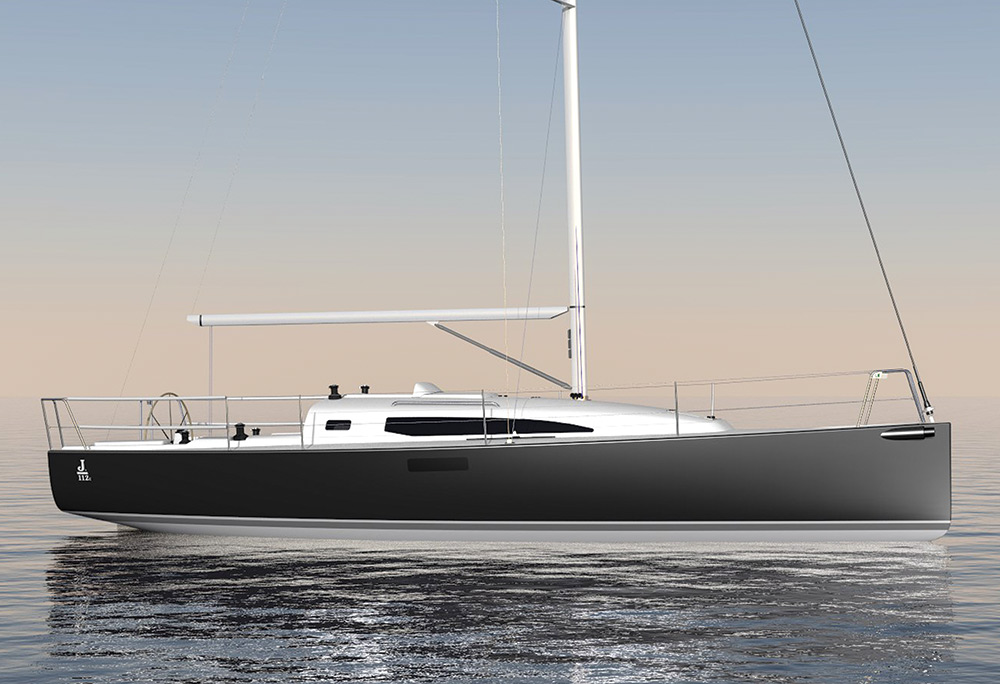 Here is the latest J/Boats entry into the cruising boat field. I'm going to assume the design is a collaborative in-house effort like the other J/Boats. Many thanks to J/Boats for providing me with actual design drawings. I have said this before in the reviews but the cruising boats that J/Boats has produced have always managed to echo my own thoughts on what the perfect cruising boat would be for me. They combine comfort, efficiency and style into a total design package that I find very appealing. It would work for me.
There are no surprises in the hull form that I can see. Freeboard is moderate. There is a subtle and attractive spring to the sheerline. The L/B is low at 3.05. The D/L is textbook 2016 moderate at 157.5. Draft is 6 feet 9 inches and I'd call that modest by today's standards, but it's a foot more than I had on Ricky Nelson, my own 36-footer. I still believe that draft is the key to upwind speed. The stern is not overly broad and that contributes to the good looks of this model. To my eye this is a good-looking hull.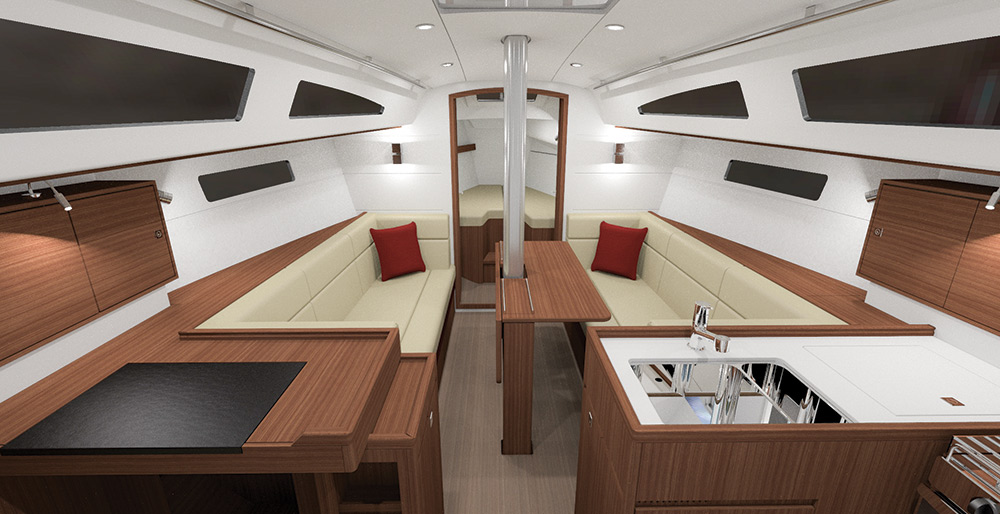 I think 36 feet is the perfect length for me. You get some directional stability over smaller boats and the layout can begin to provide some elbow room. Not sure what the headroom is on this boat but it looks like it's less than 6 feet 4 inches. This might be why the cabintrunk looks so trim. The interior layout is good. It's not novel or tricky and there are no angled bulkheads. When I study the layout drawing I ask what interior elements show signs of compromise. OK, I'd probably always say "I'd like a bigger galley." That's a given. But this galley looks fine.
There is counter space on both sides and I like that. I can live with a two-burner stove. The head is big. You could probably break it up into two areas with compartmentalized head and shower, but this would give you two tight areas instead of one big area. This is better. I like the access aft from the head. Not sure why you would need it but I suppose at some time it would be handy. I like the nav station. I'd sit there and eat my dinner if I were sailing by myself. The big double quarterberth looks more spacious than the V-berth double. I'm not sure where I would sleep. Sleeping forward feels right to me. Sleeping aft puts me close to the companionway. I'd have to give both berths a tryout. I like the two big hanging lockers. The layout may be very orthogonal but to my eye it would work very well.
You can see how the cockpit is just about the same layout as it would be in a racing boat this size. The race boat would probably have a tiller. This cockpit has deep seat backs forward and the coaming cuts away aft to provide a comfortable place for the helmsman to sit outboard. You do lose some lazarette stowage with the wide open transom. But I think you would very quickly come to appreciate the open transom if you were getting on and off a dink. I like the wide traveler on the cockpit sole where it can easily be controlled by the helmsman. The side decks are generous and include adjustable jib cars for the short LP headsails. There is a small well in the bow, hopefully big enough for some light ground tackle. It's a very good deck.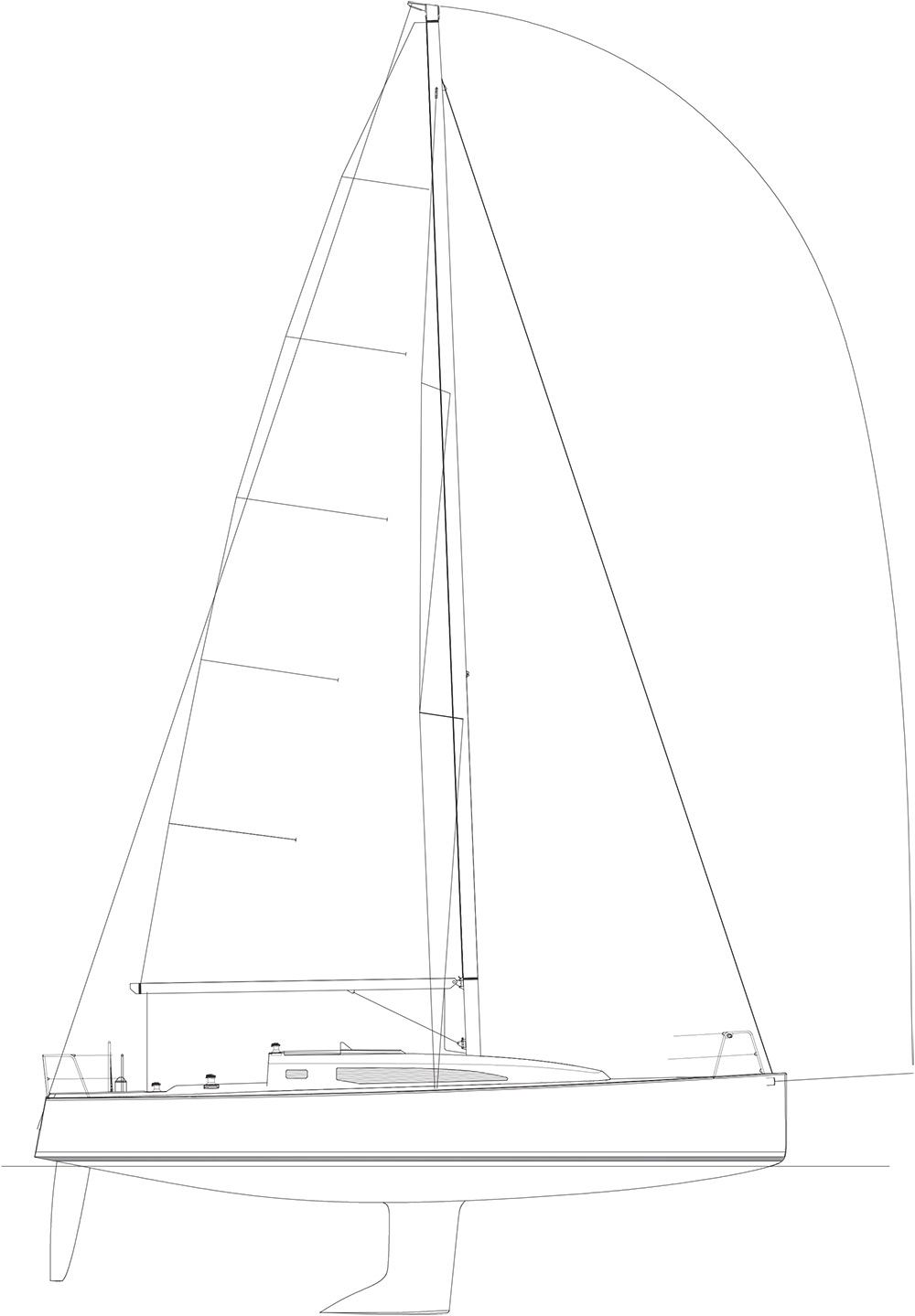 The rig features an aluminum mast and boom, discontinuous rod rigging, hydraulic backstay adjuster and a retractable carbon fiber bowsprit. The spreaders are swept 21 degrees with chainplates at the rail. With the cockpit sole-mounted traveler the mainsheet is end-boom style for the best mechanical advantage. The vang is a rigid style with cascade purchase for adjustment. The SA/D is 22.11 using J/Boats "total sail area" figure. The headsail looks to be about 105% LP. This will be an easy boat to sail effectively shorthanded. I'd think this boat would make a good PHRF racer for the family.
Hull construction features a balsa core using unidirectional and biaxial glass with vinylester resin on the outer hull layer. This sounds to me like they are using polyester resin on the inside skins. The infusion system is used to optimize strength-to-weight ratios. The auxiliary is a Volvo D1-30 diesel with saildrive.
This is a boat I would be comfortable owning.
---
LOA 36'; LWL 31'9"; Beam 11'10"; Draft 6'11"; Displ. 11,300 lbs.; Sail area 696 sq. ft.; Auxiliary 30 hp; SA/D 22.11; D/L 157.5; L/B 3.05; Fuel 18.5 gal; Water 53 gal.
Our best estimate of the sailaway price: $325,000
J/Boats Inc.
557 Thames St.
Newport, RI 02840
401-846-8410