New cruiser includes a bevy of creature comforts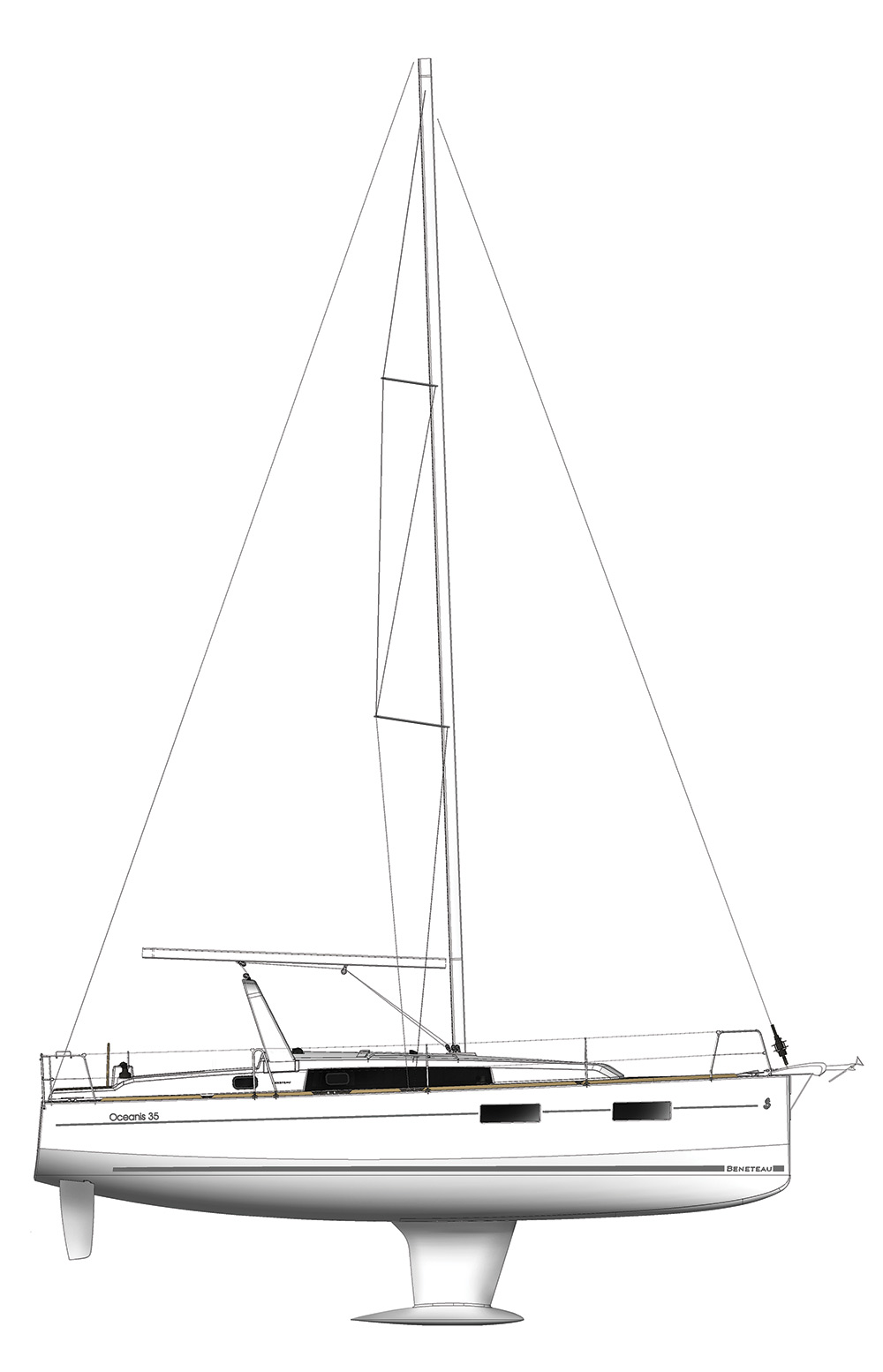 This new Oceanis model from Beneteau makes a very good contrast to the J112E. The biggest difference is that J/112E might be more appealing to the skipper inclined to do some racing while the Oceanis might appeal more to the cruising family.
The Oceanis 35.1 was designed by Finot-Conq with an interior by Nauta Design. The 35.1 shows high freeboard and almost no spring to the sheer. In plan view the hull is very different from the J/122E. Note how the max beam is carried to the stern with very minimal taper. This is a broad stern on a boat with an L/B of 2.81. You can choose from three different draft options: standard draft is 6 feet 1 inch, shallow draft is 4 feet 9 inches and the centerboard option gives you board-down draft of 7 feet 7 inches and board-up draft of 3 feet 9 inches. The D/L is 169 for this hull that shows a chine well above the DWL aft.
The 35.1 comes with four interior layout options. You can have two sleeping cabins and a longitudinal galley on the starboard side or two sleeping cabin with a small L-shaped galley aft. Or you can go with three sleeping cabins and your choice of galley designs.
The wide stern makes for a big cockpit. There are twin wheels and the transom hinges down to form a large swim platform. The cabintrunk is large and creates a feeling of space below.
The rig is ideal for family cruising. The SA/D is 17.67. This boat will not be easily overpowered and you would not have to reef very often. Spreaders are highly swept on this design. You have the option of a mainsheet coming off a padeye on the cockpit sole or an arch spanning the cockpit. I'd go with the arch and get the mainsheet out of the cockpit entirely and take advantage of the large open area.
If you like the European approach to family cruisers you will like this boat.
---
LOA 34'3"; LWL 31'10"; Beam 12'2"; Draft 6'1", 4'9" (shallow draft), 7'7" (centerboard down) to 3'9" (centerboard up); Displ. 12,195 lbs.; Ballast 3,436 lbs.; Sail area 585 sq. ft.; Auxiliary 20 to 30 hp; SA/D 17.67; D/L 169; L/B 2.81; Fuel capacity 34 gal.; Water capacity 34 gal.
Our best estimate of the sailaway price: $150,665
Beneteau America
105 Eastern Ave.
Annapolis, MD 21403
410-990-0270