Carbon construction sets this classy catamaran apart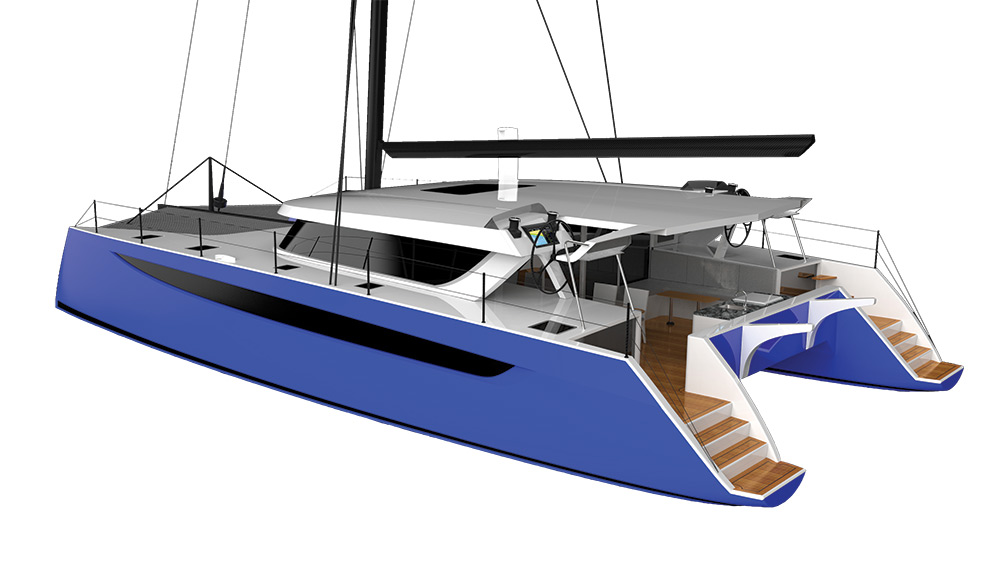 This is the new Hudson Marine cat built in Xiamen, China. Xiamen is where my Flying Tiger boats were built. It is quite the yacht building center now. This new cat is aimed at high performance with an all carbon fiber build, deep daggerboards and a huge rig.
The hull shows distinct wave piercing bows that should provide less resistance when the bow is buried. They list a lightship displacement and a "max load" displacement. I take both of those with a grain of salt so I just averaged them and came up with 35,273 pounds so I'll use that for the D/L of 97.28. The L/B using max beam is 2 and if I use the beam of an individual hull I get 7.82. Max beam is well aft. I follow Gino Morelli on Facebook and he sailed the first boat and claims it is very fast. Given the pedigree I would not argue with that. Bridgedeck clearance is 2 feet 11 inches The specs list "BWL in hull" as 4 feet 11 inches and if I use that for L/B I get 11.07 indicating a very narrow boat. Narrow is fast.
You can choose from two main deck layouts and two hull layouts. In the hulls you can have two staterooms in one hull and one stateroom in the other. Or you can have two staterooms in either hull. Each stateroom has its own head but when you have two staterooms you share the shower. Obviously if you go for one stateroom in one hull you get a very spacious stateroom. To my eye it's almost awkwardly large with spaces that are difficult to use. It's basically a tube.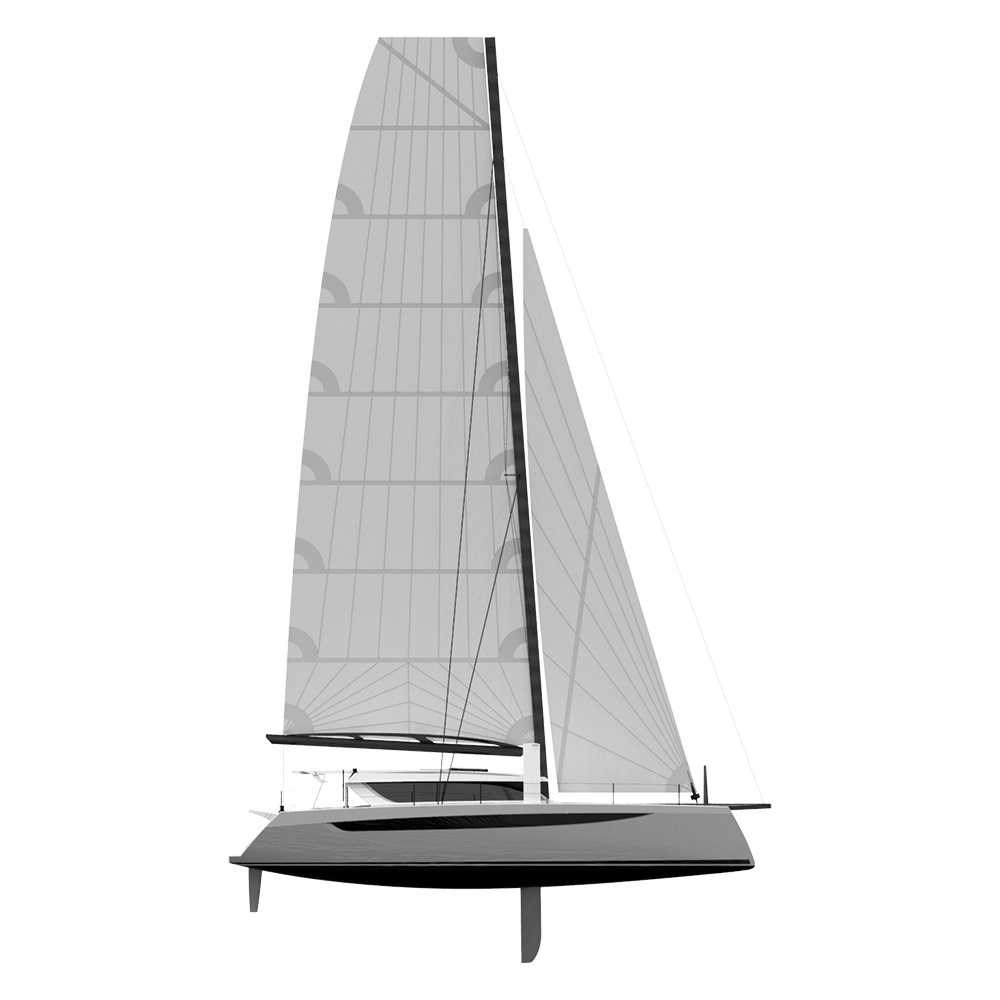 On the main deck the option is whether you want an inside steering station or are happy with another settee and only on-deck steering. If you go with the inside steering layout there are doors port and starboard of the steering station that lead to a small cockpit immediately aft of the mast. I like this feature. If I had to pick on one thing in the layout it is that with eight people on board there is not room at the dinette for eight to sit. But I live in the rainy Pacific Northwest and I suspect this boat will head for warmer waters where the entire group will dine in the cockpit where there is lots of space.
This is a big rig. Even using my average displacement the SA/D come out to 31.18. There is 1,343 square feet in the mainsail alone. The spars are carbon and the main boom is a V-boom type with slotted wings to catch the sail. As you would expect, the cockpit area is huge and perfect for entertaining. The aft steering stations, port and starboard, are perched above the side decks and to my eye look too exposed. I'm not sure what it would feel like to sit up there. The mainsheet traveler spans the aft beam.
No question, this big cat will keep you very comfortable while you scream along at high speeds, upwind and down.
---
LOA 54'6"; LWL 54'6"; Beam 27'3"; Draft 4'11" (board up) to 10'10" (board down); Displ. 31,967 lbs. (light) to 38,580 (max) lbs.; Sail area 2,096 sq. ft.; auxiliary twin Yanmar 57-hp with SD60 saildrive.; SA/D 31.18; D/L 97.28; L/B 2.0; Fuel capacity 160 gal.; Water capacity 104 gal.
Our best estimate of the sailaway price: $2.5 million
Hudson Yacht and Marine Co. Ltd.
Ju Jiang Village, Shi Jing,
Nan An, Quan Zhou,
Fu Jian Province,
362343, China
+86 186 5929 2492