Performance cruiserr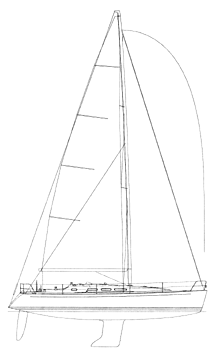 A swift boat sporting some pretty lines.
Here's a beautiful-looking design from Strahlmann Yacht Design in Finland and built by Finngulf Yachts. There isn't an ugly line on this entire design. It's a dual-purpose 41-footer, so by definition it will involve compromise. While I usually view compromise as a negative quality let's take a look at this design in depth and see if the compromises are balanced and justified.
This design has a beautiful, sweeping sheerline and short ends. Beam is moderate and the stern is broad. The stem profile shows a tiny bit of convexity to it rather than the usual dead-straight line. This indicates the waterlines forward are a wee bit fuller than the straight stem type. The D/L is 168.4. Keel and rudder are exactly what you would expect for a boat intended for family racing. There are options for three different keels of 7 feet, 2 inches; 6 feet, 5 inches; and 6 feet draft. Have you noticed that the America's Cup boats all show keels with leading edge fillets at the hull, but I have not yet seen a trailing edge fillet at the hull? All in all, aesthetics aside this is a very normal looking hull.
There are two interior layouts with the only difference being the way the port side aft is treated. You can have mirror image staterooms aft with large double quarterberths. Or you can expand the head on the port side and gain a huge lazaretto. The galley is adequate with a rather small cold box outboard of the sinks. There are plenty of hanging lockers but the wet locker located in the head looks too small. You need air circulation to even approximate any dryness to wet foulies and most wet lockers are too small. I like the main cabin with its opposing settees and aft facing chart table. I know navigating facing aft bothers some of you but I would not want to trust a navigator who felt that this was a serious challenge to his accuracy. It's a good layout.
The deck plan shows a carefully sculpted cabintrunk and a big T-shaped cockpit. The mainsheet traveler goes across the cockpit seats but it's far enough aft to still allow a decent dodger for shelter forward in the cockpit. The wheel is really big and requires a well in the cockpit sole to keep the upper perimeter at an ergonomically acceptable height. Big wheels are nice. There is a big, wide contoured helm seat that spans the breadth of the cockpit at coaming top level. This allows you to sit well outboard where you can see the entire luff of the genoa, if you are interested.
There is a deep anchor well in the bow in this design. Genoa tracks are kept off the side decks with a small molded-in riser. The chainplates are inboard enough to keep the side decks perfectly clear. There are only two hatches in addition to the companionway hatch. I'd like to see opening hatches over the aft staterooms and another one over the galley. There's something about the smell of burnt pancakes. Ventilation can be critical when cruising even in colder areas.
The rig is fractional with double spreaders swept 17.5 degrees. Running backstays are shown on the sailplan. SA/D is 20.76. This is enough power to keep the racers happy without intimidating the cruiser too much.
This is a beautifully crafted design. Clearly Mr. Strahlmann loves his work. I am anxious to see the 41 in person.