Water-ballasted speedster offers performance and comfort with a small crew
The new J/121 is an extension of the formula used for the J/70. The idea was to develop a fast 40-footer that could be cruised or raced with a small crew, meaning five or fewer people. Racing would be organized with strict one-design rules and the J/Boats people have a lot of experience and success with this format. I see the boat as good all around and particularly a fun cruising boat for mom and dad. The designers at J/Boats seem to have a knack of drawing the perfect boat for Bob. This is most definitely a boat I could enjoy. Look at it: It's beautiful, clean, unaffected and well proportioned. What's not to like?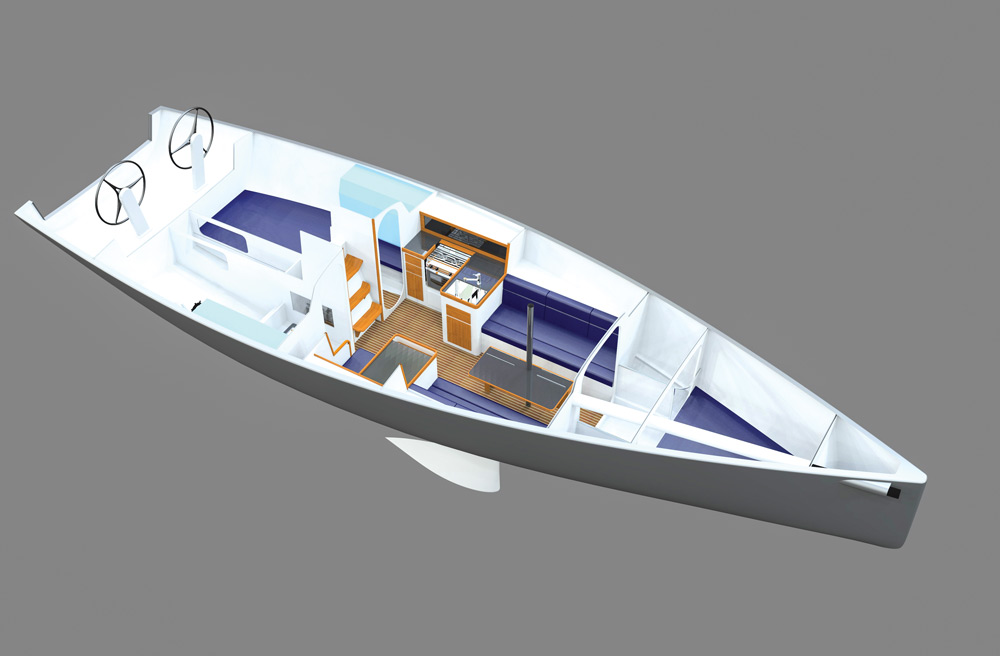 It's a moderately beamy hull with an L/B of 3.22 and a D/L of 114. I'd call it "low medium light." The forefoot knuckle just kisses the waterline with the boat at rest. Aft there is enough overhang to keep the transom from dragging in light to medium air. Draft is 7 feet 9 inches with an L-configured fin and bulb with a 40% ballast ratio. This will be aided by a water-ballast assist system that puts the equivalent of four big guys on the rail. Using the water ballast, the boat should be stiff and powerful. The freeboard is on the low side and there is a subtle spring to the sheer. Note the lack of transom camber; it's just a dead flat transom. But to have given it camber would have reduced the sailing length when heeled. Camber may be pretty but it's not fast.




To my eye the focus on the deck layout was on racing efficiency. I like the twin wheels located aft of the cockpit sole-mounted traveler. The two wheels allow you to get well outboard when driving so you get a good view of all the headsail telltales. The traveler is far enough aft to allow for a good-sized dodger for cruising. There are foot bensons for helmsman and crew. The halyard winches are pretty far from the wheels but when cruising you would be using an autopilot so I'm not sure it even matters. Electric primary and secondary winches are optional and also class-legal for racing. The side decks and foredeck are very clear, in part due to the placement of the chainplates on the rail. There is a lot of vacant volume aft, but I don't see any hatches in the cockpit that would allow access to those areas. Nothing is perfect. The water-ballast system and hydraulics are controlled from the cockpit.




I like the layout. If I were cruising this boat I might have my wife along, but probably not. I'd have my dog for sure, maybe even my new dog. Yes, the Perrys are getting a pup to keep Ruby company. So, it's me and dog/dogs. This layout would work perfectly. There is an option for removable V-berths, so you could cruise with six if you wanted a crowd. The head is big with lots of elbow room. The galley is modest but adequate. The nav table is huge. There is a double quarterberth to port. This is a very simple and effective layout.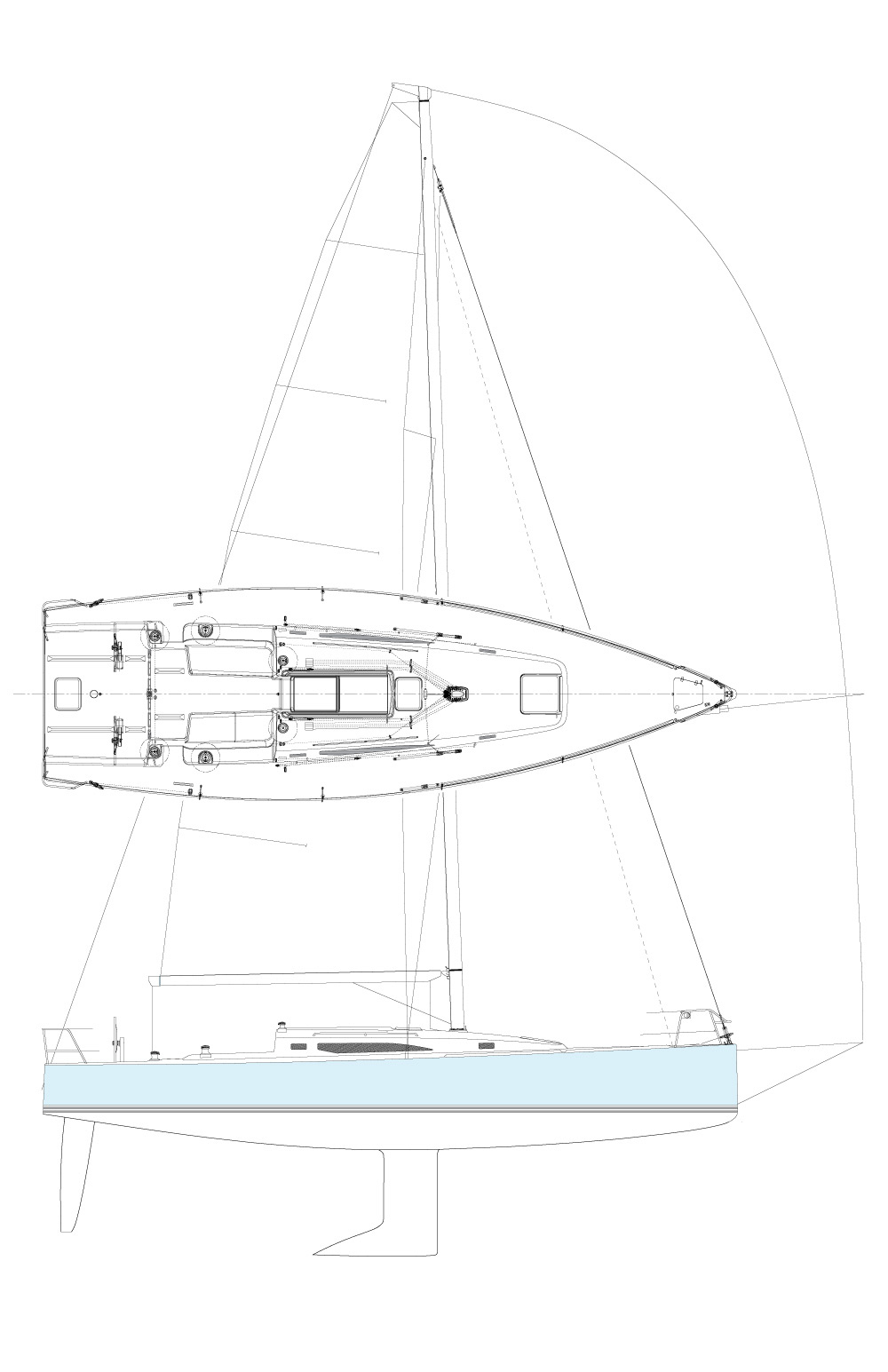 The carbon fiber fractional rig is pretty normal except that there is a provision to carry a smaller jib inside the working headsail. This would be good for heavy air or just loafing along. A genniker or asymmetrical chute will be flown from a retractable sprit. The spreaders are swept 29 degrees and the SA/D is 24.83.
The hull and deck are vacuum infused layups with E-glass fabrics and balsa core in the hull and Corecell foam in the deck. The auxiliary engine is a Yanmar 3YM 30ACE 29 horsepower diesel.
I'm very big on simplicity and efficiency. I want a boat that can go to weather well with little effort. I want a big cockpit. I want a very handsome boat. The new 1-2-1 ticks off all those boxes for me.
---
LOA 40'; LWL 36'2"; Beam 12'4"; Draft 7'9"; Displ. 11,900 lbs.; Ballast 4,800 lbs.; Sail area 809 sq. ft.; SA/D 24.83; D/L 114; L/B 3.22; Auxiliary Yanmar 29-hp; Fuel 25 gal.; Water 40 gal.
---
Our best estimate of the sailaway price:
---
J/Boats
557 Thames St.
Newport, RI 02840
401-846-8410
---