Farr's cruising design with performance features for the foiling-focused
Here is a high-performance cruising boat from the Farr office in Annapolis. As the promotional material says, "We are entering the age of foil-assisted sailing."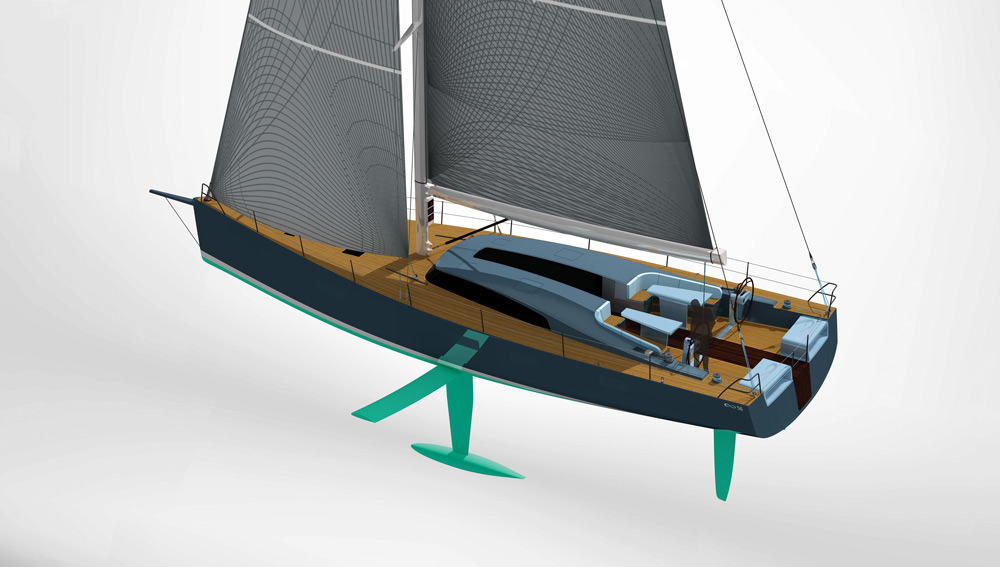 Many thanks to the Farr office for providing me with a full set of hull lines, as there is a lot to look at. Max beam is brought all the way aft. There is a chine aft. There are twin rudders and a lifting keel with a 7,150-pound T-bulb. Pretty normal stuff these days. By the way, the hull is beautiful with a very subtle hollow to the waterline forward and no deadrise anywhere. But let's get to this foil thingy that sticks out from the side of the boat increasing max beam to more than 24 feet!
This foil system was developed in conjunction with Dynamic Stability Systems. I am going to presume it's one foil that slides from side to side almost parallel with the water surface and not one foil per side. Given that the boat has a raised saloon, I'd say the foil slides into the boat just under the raised saloon sole about 20 inches aft of the trailing edge of the lifting keel. The chord length of the foil is almost equal to that of the fin keel. This foil will provide lift and stability to the boat that will increase at higher speeds. This allows ballast to be reduced and along with that, overall displacement. This boat has a D/L of only 85.28 and that's the lowest I have ever seen for a bonafide cruising boat. This will give you good speed in light air and, theoretically at least, phenomenal speed when it blows. Draft with keel up is 8 feet 2 inches and keel down is 13 feet 1 inch. I am wondering how the feel of the helm changes when the foil is deployed.

I look at the Farr layout and I think it's quite nice. I like the way the designers used the lifting keel trunk to tuck the galley into a dedicated space adjacent to the mast. This will make a super galley. The staterooms are spacious and each has its own head with shower stall. The nav station is forward across from the galley. The saloon is really spacious and I mean really spacious. I think it's too spacious for a boat promoted as an offshore cruising boat. A small island-type seat inboard of the dinette would help. It looks like there is a pilot berth outboard to starboard.




As you would expect, the rig is big with a SA/D of 27.92. That's quite high for a cruising boat. It's a fractional rig with provisions for an inner forestay where you can set a heavy weather jib. The main is a square-top type so running backstays are required. This is a very nicely styled boat, not overdone. The contours are subtle and I like the way the house sides splay as they go aft to border the broad cockpit with its twin dining tables and twin wheels.




Construction features pre-preg carbon fiber and foam in the hull with a combination of Nomex and foam cores in the deck and interior panels to insure the lightest weight. "Pre-preg" means carbon fiber that is pre-impregnated with the epoxy resin before it is laid up. Stored cold, this is a temperature sensitive, thermo-setting resin, meaning you heat it up to catalyze it. This is the way to go for the ultimate in lightweight construction.




It will be fun to look back at this project in five years. Nice work, Farr office.
---
LOA 58'6"; LWL 52'5"; Beam 16'5"; Draft 8'2" to 13'1"; Displ. 27,558 lbs.; Ballast 7,165 lbs.; Sail area 1,798 sq. ft.; SA/D 27.92 ; D/L 85.28; L/B 3.57; Auxiliary hybrid electric system 15-kw electric motor with regeneration and a 24-kw lithium ion battery storage or 150-hp Volvo; Fuel 250 gal.; Water 237 gal.
---
Our best estimate of the sailaway price: $2.1 million
---
Farr Yacht Design, Ltd.
613 Third Street, Suite 20
Annapolis, MD 21403
410-267-0780
---