This lightweight trimaran has speed in a pocket-cruising package
Astus Boats out of France has a niche market. It has been very successful building a series of small, collapsible, very lightweight trimarans. These are the kinds of boats you could easily tow behind a small car like my Subaru.
Its newest model is the 20.5 and it was designed by VPLP design in collaboration with Jean-Hubert Pommois. The idea is that you can have a high-performance racing/cruising trimaran in a very small package. The company offers two versions. One is an infusion-method-built version displacing 880 pounds. The other version is a noninfusion laminate displacing 990 pounds. Various other options are available to let you tailor your little tri to just your specs.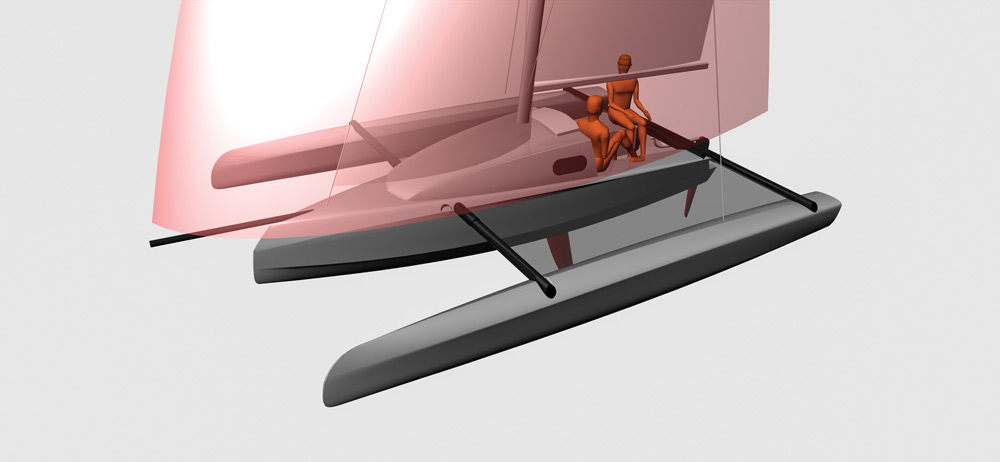 Using the infusion-built version, the D/L is 54.22. If you go noninfusion the D/L rises to 61.02. That is still very light. Beam with the arms collapsed, (they appear not to fold) is 8.13 feet. Amas in place, the beam max is 14 feet 9 inches. The main hull is flared, the marketing material calls it "tulipped" to give more volume below while retaining a narrow BWL. The bow profile shows negative rake with the tip nipped off for styling points. Draft with the board down is 4 feet 1 inch and with the board up it's 1 foot.
It's not for me to tell you what you can cruise on, but I am too tall to be comfortable below on this boat. The renderings show two people laying down. I'm a bit skeptical. There is a small sitting area that would work for one person but two people would require some gymnastics that I'd rather not describe, SAILING being a family magazine. Of course you can cruise this boat. Go right ahead.
The rig is big with a SA/D for the infusion, "sport" model at 39.78. That should scoot you right along. Even if you go with the "Leisure" model you get a SA/D of 34.63 and that's still a lot of sail area. The biggest difference is the "sport" model has a square-topped mainsail. There is a carbon rig option.
I can see blasting around my bay on this little trimaran. I could give my pal Doug and his Farrier 27 a race.
---
LOA 19.5'; LWL 19.4'; Beam 14'9",collapsed 8'1"; Draft board down 4'1", board up 1'; Displ. 880 lbs.; Sail area 219 sq. ft. ; Sail area sport 247 sq. ft.; SA/D 34.63; SA/D sport 39.78; D/L 54.22; L/B ; Auxiliary 4.5-hp outboard; Fuel n/a; Water n/a
Our best estimate of the sailaway price: $42,500
---
WindRider International
5544 Malibu Dr.
Edina, MN 55436
612-338-2170