With walk-around decks and an innovative interior this new cruiser has started a comfort revolution
Here is a new model for the Sun Odyssey line by Jeanneau. By now the look should be familiar to you. There are minimal overhangs, high freeboard, flat sheer, a chine aft and an artfully contoured, sleek, low-windage deck. But there is one significant departure, the side decks extend aft to the transom so you can easily walk from stem to stern.
I don't have any builder's or designers' comments, but it's pretty clear that this design is intended for family cruising or the charter market. Design credit is given to Philippe Briand, Piaton Bonet Yacht Design and Jeanneau Design. Not sure how that division of labor was organized and I don't want to guess. I would suspect one group did the basic design, another the interior layout and the other the structure. That is a common arrangement these days.
Lots of beam goes without saying on this type of boat and this one has an L/B of 3.04. The D/L is 1.38 on a DWL of 39 feet 4 inches. I would consider this a light-displacement cruising boat with that D/L. You can choose from a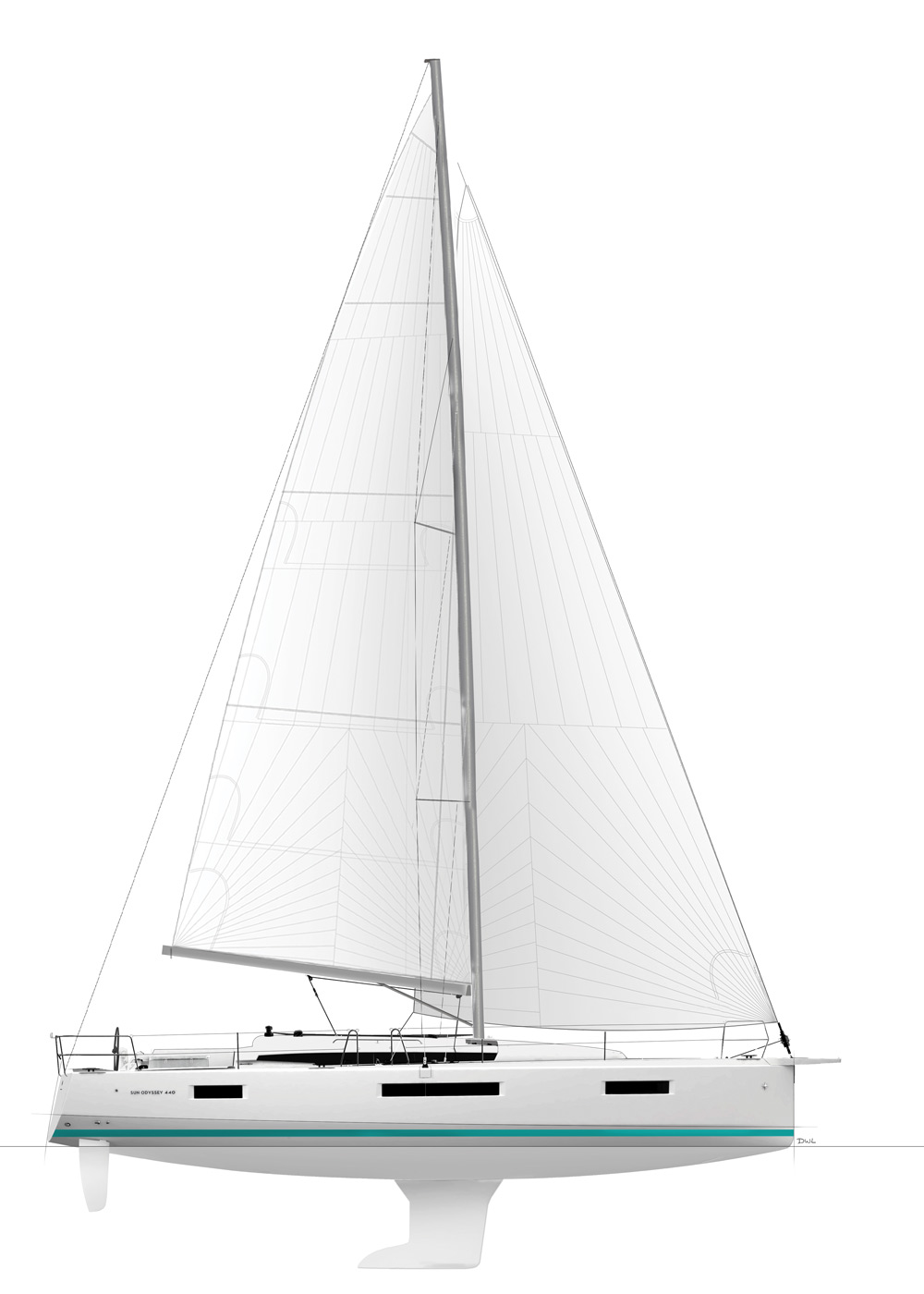 deep-draft model drawing 7 feet 2 inches or a shoal-draft model drawing 5 feet 3 inches. There are twin rudders and the keel shows a near vertical leading edge. We could argue about chines on boats like this and we'd both win. My take is that this chine provides volume aft for accommodations while adding immersed heeled volume for more stability. I like the look of a chine in this case. It's an interesting feature.
You can choose from two-, three- or four-cabin layouts. The four-cabin layout features double berths forward and aft. Obviously these are small sleeping cabins and I would hesitate to call them "staterooms." But they are adequate and each has a hanging locker. There are two heads in all versions, and the aft head has a shower stall. If you go with the two-cabin layout you get a larger double quarter berth and a centerline double berth forward. This layout also adds a workshop and storage cabin on the port side aft of the nav station.
The saloon features a nav station aft and a well-laid-out galley to port. There is a U-shaped dinette to starboard with provision for a seat on centerline. It would be a tight fit for a crew of eight to all sit around this table. How many you sleep may be important but so is how many eat.
The deckplan shows a large cockpit. It goes right to the edge of the top of the transom. This makes full use of the LOA. There are seats forward with a fixed drop-leaf table for dining. There are twin wheels and a gate that opens the transom. With that gate open it will be hard to tell where the swim step ends and the cockpit begins. From there it's an easy walk to the side decks, which flow unimpedied from stem to stern.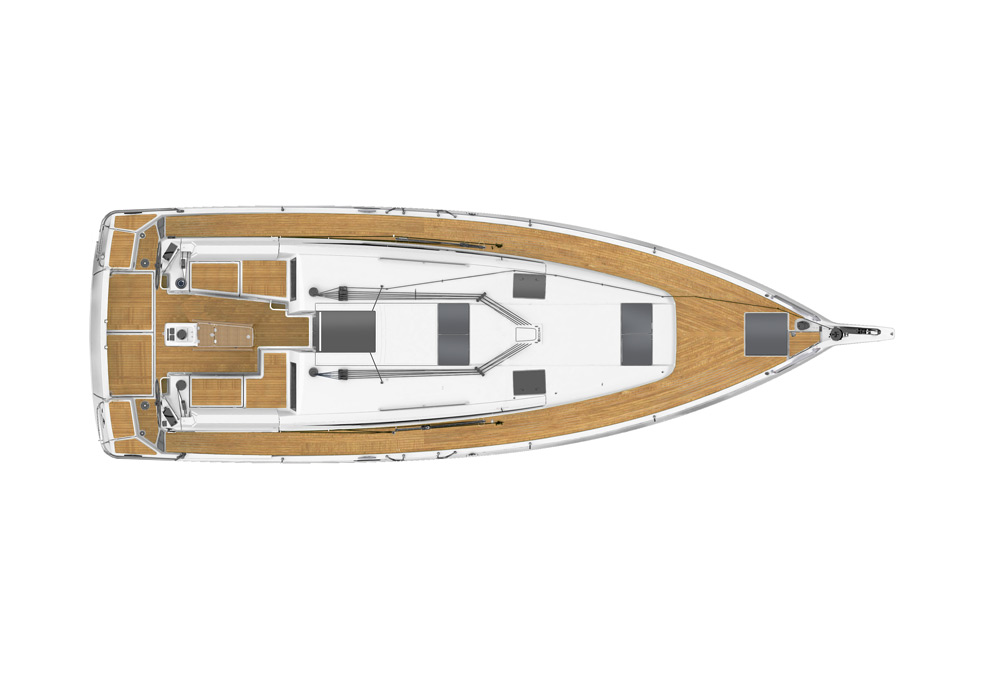 Lines from the mast are lead aft to a bank of clutches port and starboard. Two winches take care of those lines. There is no mainsheet traveler. Headsail sheets dive into the coaming to emerge aft at the winches located near the helms. There appears to be no provision for outboard sheeting of headsails. Chainplates are inboard.
The rig is big for a cruising boat with an SA/D of 21.93. I think with a friendly PHRF rating you would have some fun racing this boat. I'm not keen on the midboom sheeting position, but it is convenient if you want to minimize cutter in the cockpit. Note the angle of the boom. I call this angle "stive." It's unusual to see this much stive. This create lots of headroom in the cockpit when jibing, and to make room for a tall dodger. It also brings the boom lower for easy access to the mainsail. There is a short built-in sprit forward to tack the asymmetrical chute.
It's always interesting to watch design types evolve. This Jeanneau model pushes that evolution forward.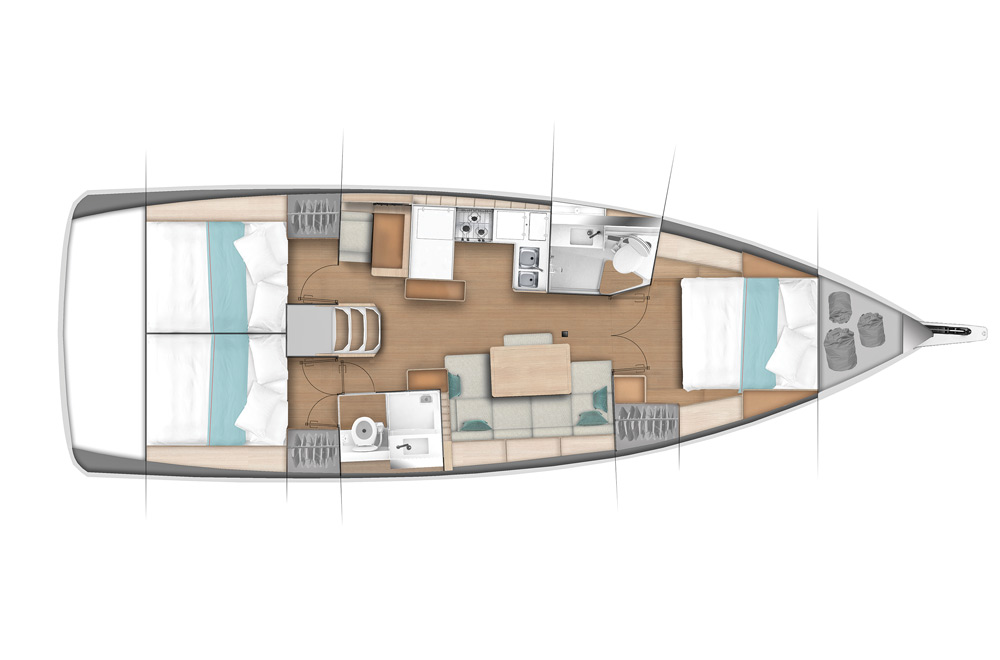 ---
LOA 42'7"; LOA with bowsprit 43'11"; LWL 39'4"; Beam 14'; Draft standard 7'2", shoal 5'2"; Displ. 18,874 lbs.; Ballast standard draft 5,027 lbs., shoal draft 5,886 lbs.; Sail area 972 sq. ft.; SA/D 21.93; D/L 1.38; L/B 3.04; Auxiliary Yanmar 45-hp; Fuel 53 gal.; Water 87 gal.
Our best estimate of the sailaway price: $278,400
---
Jeanneau America
105 Eastern Avenue, Suite 203
Annapolis, MD 21403
(410) 280-9400