With a German Frers pedigree, this offshore cruiser has both speed and comfort
The new Hallberg-Rassy designed by German Frers falls into the "dream boat" category for most of us. Personally I dream of much smaller boats, but if I were to dream about a big boat, I think this H-R model would be a good candidate. What I find particularly interesting is how this company has evolved its models over the years to keep up with current trends while not losing sight of its focus on good-performing, comfortable, offshore-capable boats. I know some of you still prefer full-keel cruising boats, but it is 2018 and we have learned a thing or two about yacht design in the past 40 years.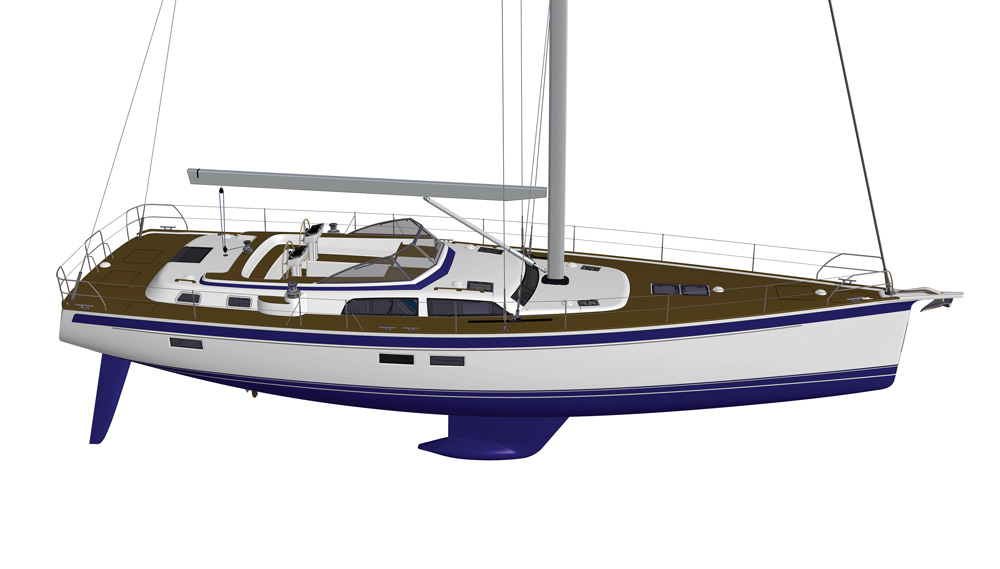 I remember when a cruising boat with a D/L of 260 was considered "too light" to be a serious offshore cruising boat. (That was the Valiant 40, my design.) Today a D/L of 260 would be on the heavy side. The new H-R 57 has a D/L of 174. I got this number by rounding up the listed "empty standard boat" displacement of 61,730 pounds to 65,000 pounds to represent what I think is a more "cruise-ready" displacement.
The L/B is 3.42 and that is textbook "moderate" beam. Beam is carried aft as is typical today. But with a stern that wide you will need twin rudders to make sure you keep enough rudder in the water when well heeled to maintain control. Are these rudders more vulnerable to damage because they are outboard and unprotected? I suppose so but I doubt you would damage both of them at the same time so you could view the twin rudders configuration as giving you a "spare" rudder. I'm sure you could handle the boat just fine with only one of these rudders under most conditions.
Draft is 8 feet in a light-ship condition, and given that this is a Frers design, I think we can safely assume the boat will be a very good performer.
There are two basic layouts. You can have single V-berths and single berths in the aft cabin or you can have a double V-berth and a double berth in the aft cabin. I'm sure any combination of those four variables is available. You can also choose from having the galley in the main cabin to starboard or having the galley in the passageway aft to port. You can also have reading chairs to port in the saloon or a straight settee berth to port. If you go with the galley in the passageway, the nav station goes to starboard and faces aft. It seems to me that there are enough options here to keep everyone satisfied. The galley in the passageway is the bigger of the two so that would be my favorite.
There is a small stateroom forward to starboard with a double berth so you could sleep three couples. There are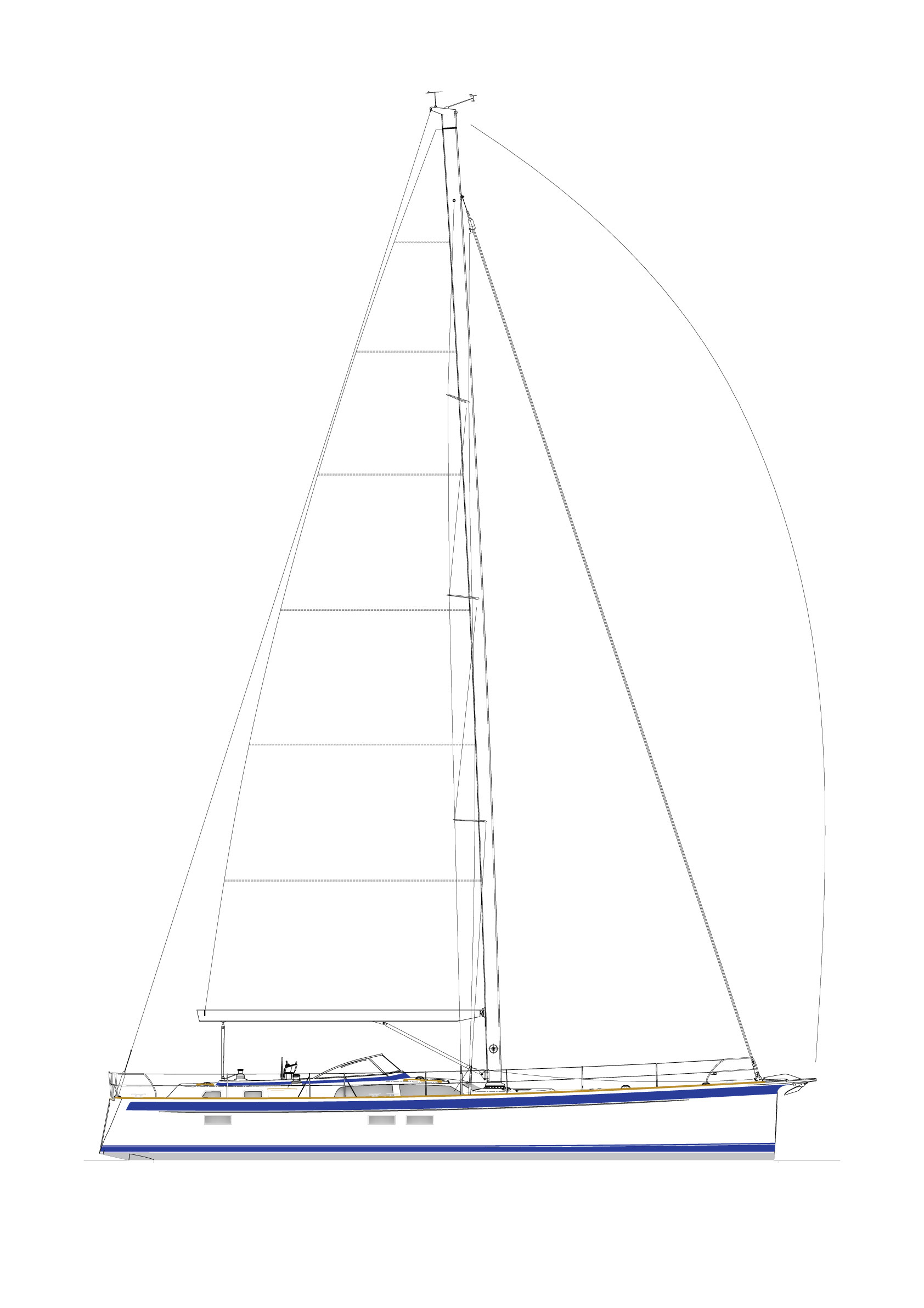 two heads and both have shower stalls. That great beam aft makes for a really spacious aft cabin. If you go with the double berth aft you get a small vanity to starboard and settees flanking the berth. With single berths aft ,the starboard berth is oversized so it would be a very comfortable single berth and maybe a honeymooner's double.
There is lots of open deck space on this 57-footer. It's essentially a flush deck forward configuration with just a low bump forward of the raised cabintrunk. All hatches are the flush type and side decks are generous. The cockpit isn't huge but it's more than adequate. On any center-cockpit boat volume added to the cockpit is volume deducted from the accommodations. This cockpit features twin wheels, fore and aft long seats and a really wide bench seat spanning the cockpit. There is on-deck access to the lazarette stowage area with port and starboard deck lockers outboard.
I like the sailplan. The truncated ends give the boat a business like if not classically beautiful look. The sheerline is almost flat but any more sweep on this sheer would give the boat an odd look. The rig is a fractional, swept three-spreader geometry with the tack of the headstay pulled just aft of the stem. The SA/D is 17.4 using my adjusted displacement. The mainsheet leads to a single-point padeye aft of the cockpit. There is no mainsheet traveler. Cap shroud chainplates are outboard and diagonal shroud chainplates are inboard leaving a wide slot for sheeting the working jib in tight.
By any standard this is an impressive yacht.
---
LOA 57'4"; LWL 55'; Beam 16'9"; Draft 8'; Displ. 61,730 lbs.; Ballast 21,830 lbs.; Sail area 1,755 sq. ft.; SA/D 17.4; D/L 260; L/B 3.2; Auxiliary Volvo Penta 180-hp; Fuel 277 gal.; Water 271 gal.
Our best estimate of the sailaway price: $1.8 million
---
Free State Yachts
Herrington Harbour Marina North
P.O. Box 220
Deale, Maryland 20751
800-871-1333
Swiftsure Yachts
2500 Westlake Ave. N.
Seattle WA 98109
Tel 206 378 1110
info@swiftsureyachts.com

Eastland Yachts Inc.
33A Pratt Street
Essex, CT 06426
Tel: 860-767-8224
Cell: 860-913-7706
eyi@eastlandyachts.com
Hallberg-Rassy Varvs AB
Hallberg-Rassyvägen 1
SE-474 31 Ellös
Sweden
Telephone +46 304 54 800
info@hallberg-rassy.se
---