This new Swedish cruiser has a lot packed into 40 feet
This new Najad is promoted as a "mini superyacht." That sounds ambitious with 39 feet 4 inches of LOA.
The design is from the Farr office with styling by Ken Freivokh. Most of you will be unfamiliar with the work of Freivokh, but he has been around the yacht design world about as long as I have—hundreds of years. I don't know the man but I have seen his work and he is a stylist of great skill with a very diverse output. Let's take a look and see how Najad squeezed "superyacht" features into 40 feet. There is a center-cockpit and an aft cockpit version. We are going to focus on the aft cockpit, as per my editor's wishes.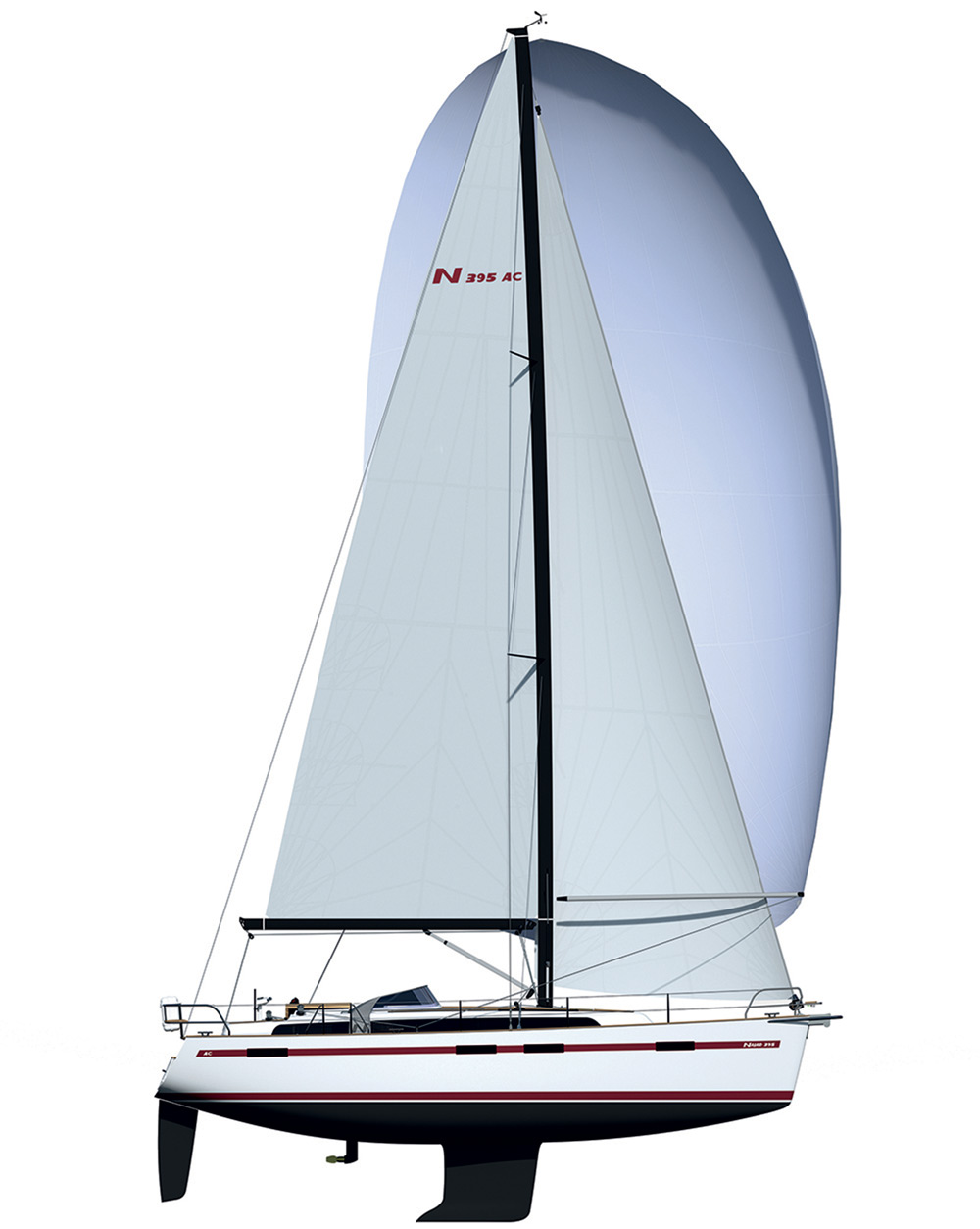 This is not a light boat. Displacement is 21,337 pounds and that gives us a D/L of 204. I'd consider that "medium" displacement for a cruising boat today. There is no way you can fit a lot of accommodations into a hull unless you have volume. You can get volume with freeboard or you can get it with displacement. I'm not keen on copious freeboard.
Beam helps too. The L/B of this design is 2.98 so this is a beamy boat. Beam is carried aft, of course, to get more volume where the aft cabin will be. You could argue the beam aft is for stability but really, I'm pretty sure it's about volume for accommodations.
You can choose between deep draft at 6 feet 10 inches or shoal draft at 5 feet 11 inches. The rudder is a single, deep spade. I'm pretty confident this hull was designed for comfort and not speed. That said, given the Farr pedigree my guess would be that the boat will sail well.
The interior comes with multiple options. You can have a double berth forward or you can have V-berths. You can have two doubles aft or you can have one double aft. You can have a sit down nav desk if you combine the head with the aft cabin. You can have Streisand chairs to starboard in the saloon or opposing settees. You can have another head forward, or just a shower stall or it can be what looks like a "vanity" area. There is bound to be one configuration that suits you. I like the single head aft, one double berth aft, opposing settees and V-berth forward combination. It's very clever how the designers got so many accommodations aft of the companionway. Makes me wonder what the advantage would be with the center-cockpit version.
It's the return of the "Linguine strut" for you longtime readers! When I look at the deck plan that arch over the cockpit really sticks out. The mainsheet traveler is mounted on top of that arch. It's a big cockpit with twin wheels. For a change the cockpit does not go all the way to the transom. This means there will be more stowage space in the lazarette.
People sometimes ask me, "Why twin wheels?" I think the answer is twofold. It opens up the middle of the cockpit for clear access to the swim platform. Also, given the beam aft we see on current boats it allows you to sit on the combing and steer the boat. Imagine how big one wheel would have to be to allow that. There is room in this cockpit for a large drop-leaf table and long cockpit seats. A windshield is standard on this design and it makes a great base for the canvas dodger. I'm ambivalent about the arch. It's kind of one of those "If you can't hide it, highlight it" situations. But it does get the mainsheet out of the cockpit. I'd probably go with a short traveler track across the cockpit sole just ahead of the wheels. Some people would hate it.

The rest of the deck is very clean with flush hatches and stanchion bases on the low toerail and jib tracks on top of the cabintrunk. The transom opens up to hinge down and provide a large swim platform. Access on and off the boat will be easy.
The rig is very standard but ironically the sailplan does not show the arch and shows the mainsheet coming down just aft of the wheels, probably to that short deck aft. Maybe the arch is an option. The SA/D is 19.92 which should give the 395 good speed in light air.
I'm not quite sold on the "mini superyacht" description but this boat has been well laid out for comfort and with enough interior layout options for just about everyone to be happy.
---
LOA 39'4"; LWL 36'; Beam 13'2"; Draft standard 6'10", shallow 5'11"; Displ. 21,337 lbs.; Ballast 9,700 lbs.; Sail area 958 sq. ft.; SA/D 19.92; D/L 204; L/B 2.98; Auxiliary 57-hp Yanmar.; Fuel 98 gal.; Water 98 gal.
Our best estimate of the sailaway price: $425,000
Berthon USA Inc.
40 Mary Street
Newport RI 02840
401-846-8404