Wandart, and the case for sailboat ownership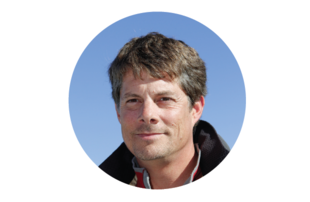 You may be familiar with the concept of the sailing timeshare, that is, fractional sailboat ownership in order to be able to sail for a few weeks a year in an idyllic place like the tropics. A fleet management company handles the maintenance and logistics and the boat returns to base to change hands every couple of weeks. Sailing clubs and builders have begun to explore something similar on a local, hourly scale. Imagine a boat-share—something akin to a city bike-share where you pay only while actually riding—but on sailboats instead of bikes. The main benefit of both the timeshare and the boat-share is that you can have fun without also having the large outlay of cash and time that ownership might demand. Marketers are positing that boat-sharing may be the only way millennials will become sailors, citing their Lyft/AirBnB/app habits.
I'd like to make a case for conventional sailboat ownership, no matter your generation or budget, citing an unconventional example.
Long ago, Art Karnel cobbled together enough cash to open a 10-seat greasy spoon call Lenrak's (Karnel backward) in the first floor of an old three-story cream-city brick building on Third Street in downtown Milwaukee. I visited often in the 1980s, when Art's son Mike would serve up two eggs on toast with bacon and hash-browns for a $1.29.
Art's dream was to sail the world in his retirement and he needed a suitable boat, but didn't have the money. So every afternoon for more than 30 years, Art would close the diner and disappear into a space behind the kitchen to work on his dream, an almost 50-foot wooden yawl that he was building by hand. The long keel was a massive oak timber and the masts were spruce, presumably from northern Wisconsin trees. She was a bluewater double-ender with a lovely shear, center cockpit, walk-in engine room, dedicated crew quarters, staterooms forward, a giant galley and nav station and space to serve extended family in the airy main saloon under a vaulted coachroof.
When she was ready to be splashed, Art rallied a team of carpenters to stabilize and remove the building's structural brick back wall; making a hole 20 feet wide and 18 feet high so that the boat could be twisted around a tight corner into the one-lane back-alley. Then all 50,000 pounds of her began the journey through the heart of downtown Milwaukee to the harbor, inching on casters, pulled by a tractor. It was a days-long spectacle. People brought picnic chairs and lined the walks to watch. The newspaper sent a photographer and featured the story prominently. Masons spent weeks reassembling the wall. If you visit the alley between Third and Fourth at State Street, you can still see the patchwork, though Lenrak's is now a brew pub.
Art christened her the S/V Wandart, presumably for the wandering that he was about to do.
I missed the whole event, and first learned about the Wandart when I found her languishing in a boatyard in about 1986, fading, peeling and drying out. The manager said that any offer would be considered. While knocking about the boat, I was curious to find a framed photo of the familiar Lenrak's lunch counter on a bulkhead (along with a blessing from Milwaukee's civil rights activist priest Father Groppi).
So I visited the diner to ask Mike what had happened. Art never had a chance to sail Wandart. He died suddenly before she was rigged. His son finished the job and sailed her once on Milwaukee Bay to memorialize dad. Mike pointed to the only picture of the Wandart under sail hanging near the register.
Art wasn't looking for fun in those three-plus decades in the backroom of Lenrak's. Art was a freedom-seeker. He knew he would find freedom on a sailboat, so he invested every minute of his spare time making one. I imagine Art's expansive, rambling daydreams while bending, shaping, joining and polishing the wood; the routes he would plan, the exotic places he would see, the family who would join him and the friends he would meet, and the chance to steer his hand-built masterpiece over the horizon.
I love a good two-week charter as much as the next fun-seeking sailor. And boat-shares may be convenient and cheap. But when it comes to knowing the unequaled freedom that comes with your own sailboat, I hope to do it half as well as Art and just a little bit longer.