This new French cruiser has a beautiful deck design and commodious accommodations
I have been aware of the Dufour line of boats for longer than I can remember. I even sailed a Chicago-Mackinac race 44 years ago on a Dufour Arpege. We were the slowest boat in the race. But that's another story. This new Dufour, an Umberto Felci design, is a great example of the extreme proportions that Europeans are using in order to get maximum accommodations into a given LOA.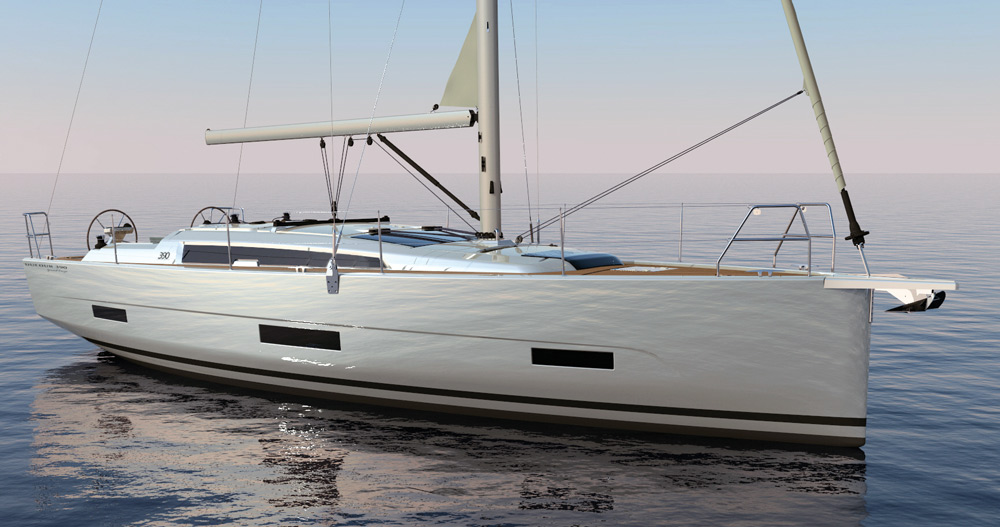 This is a 36-foot 9-inch LOD hull with an LOA of 39 feet 1 inch when you add the bowsprit. The design water length is 34 feet 5 inches for a total of 2 feet 3 inches of overhang and it's all aft. I would suspect that in cruising trim LOD and DWL will be the same. But I'll use the given DWL here for a D/L of 181.
Years ago I got into deep trouble when I reviewed a boat and called it fat. The builder went ballistic. Later I talked to the designer and he said it was fat, but the damage was done. The L/B is 2.8. Fat begins at an L/B of 3. Skinny begins at 4. But beam buys you accommodations and deck space. There is a chine aft and that also buys you interior volume. Draft is 6 feet 3 inches with an L-configured fin keel.
This is a huge layout with lots of elbow room and cabin sole space. There are three layout options combining two or three staterooms, two heads and different galley layouts. My choice would be three staterooms with L-shaped galley. The saloon is certainly big enough for three couples to dine comfortably. Neither of the two heads has a shower stall but I find the older I get the cleaner I think I am. My dogs agree.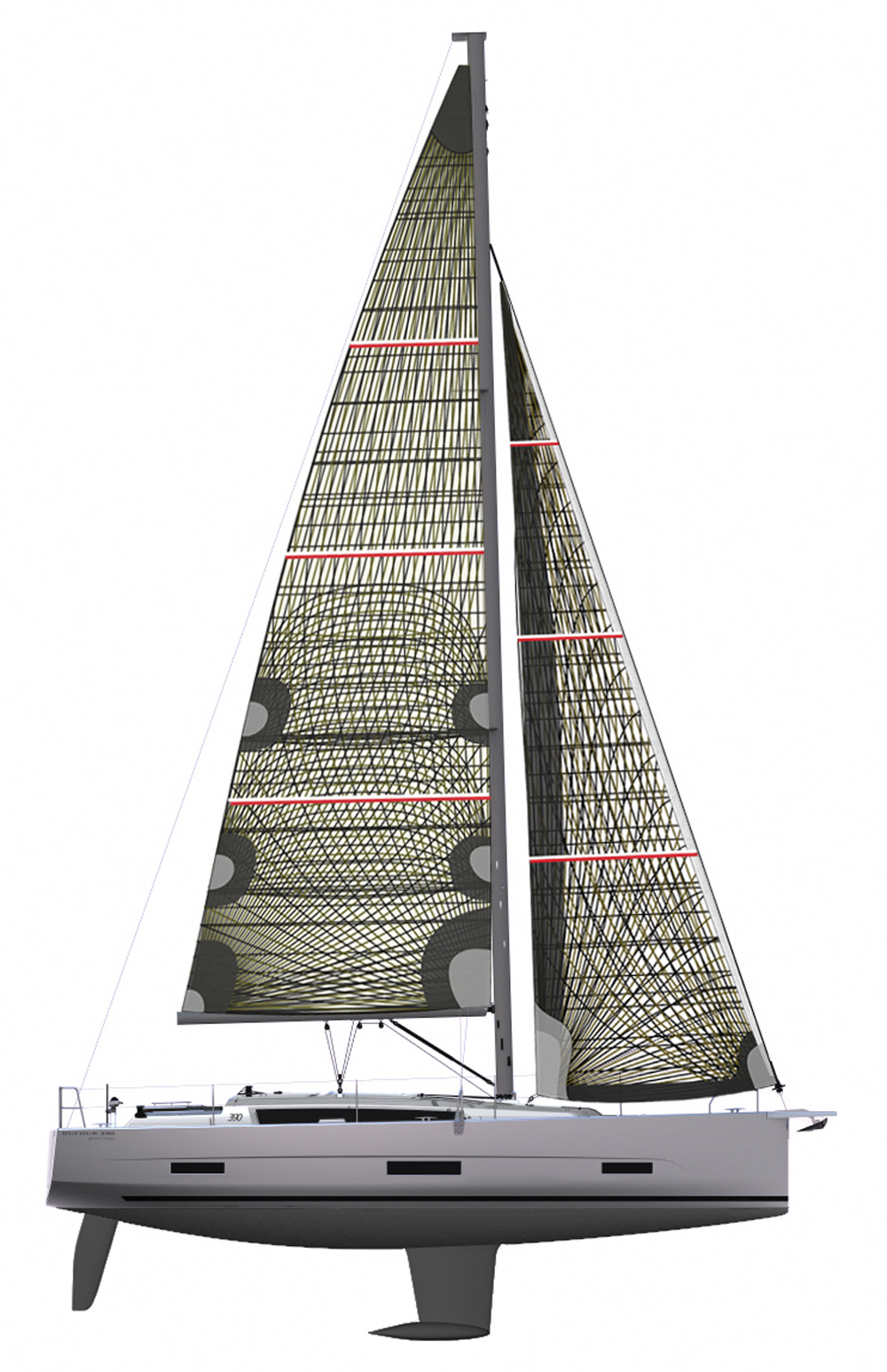 This is a beautiful deck design. I like the way the contours are faceted and well defined. It's a monster cockpit with twin wheels and what I think is a fixed dining table. There are only four winches on the entire boat and lines come aft from the mast base under cover to emerge at the two winches flanking the companionway. Side decks are very clean and unobstructed. The drawings only show a self-tacking headsail so there are no jib tracks on the deck. The transom hinges open to provide a huge boarding platform. All deck hatches are the flush type. Chainplates are outboard. Even I, with size 15 feet, would have trouble stubbing my toes.
The tall, fractional rig gives you a SA/D of 18.87. That's pretty good for light air and if you wanted more horsepower you could set a code zero headsail off the bowsprit. Note how far forward the mainsheet traveler is. It's right at midboom. It's nice to get the mainsheet out of the cockpit but it does increase the load on the mainsheet significantly. It's a very wide traveler and it will work as a vang much of the time. I assume the rigid vang will hold the boom up rather than down.
This new Dufour should have great appeal in the charter market.
---
LOA 39'1"; DWL 34'5"; Beam 13'1"; Draft 6'3"; Displ. 16,515 lbs; Ballast lbs.; Sail area 764 sq. ft.; D/L 181; L/B 2.8; SA/D 18.87; Auxiliary 30-hp; Fuel 53 gal.; Water 95 gal.
Our best estimate of the sailaway price: $215,000
Dufour Yachts North America
(352) 871-0362
---