March 2007

Bluewater cruiser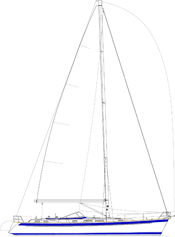 The new Frers-designed Hallberg-Rassy 54 is 54 feet, 11 inches LOA, so we could call it a 55-footer. Now we have added 12 feet of LOA to our cruising boat. This added LOA reduces the look of the freeboard and makes the boat appear sleeker. This design looks very much like the rest of the Frers-designed HR series, i.e. conservative in proportions and relatively free of contour-driven styling tricks. In short, this design is free of eye candy and relies upon overall carefully controlled proportions for its good looks. I would not call it a sexy looking boat but it is handsome.

The hull shape with a D/L of 250 shows a wide transom softened visually by the radiused transom corners that Frers likes to use. I consider a D/L of 250 to be textbook medium displacement. I don't have hull lines for this design so we can't discuss hull shape features in detail. The ends are short with a DWL/LWL ratio of 85 percent. The L/B is 3.56, making this design proportionately the most narrow of this month's boats. I consider 3.5 to be textbook medium for beam too. The ballast-to-displacement ratio is 37 percent. Notice how this number is getting bigger as the boats get bigger. If you take all the gear people seem to find essential for cruising you will find that much of it weighs the same regardless of whether the boat is 38 feet or 54 feet. For instance, I suspect the Malö 37 and the Hallberg-Rassy 54 would both carry a six-man life raft. This cruising gear load is not static but on a smaller boat it becomes a larger percentage of overall displacement. This means the bigger boat can carry that gear and have volume left for more ballast. There was a time when 40 percent B/D was textbook medium. But today with lighter boats and more and more gear and amenities being carried you have to get a D/L over 250 before you can get a 40 percent B/D unless you resort to exotic construction methods to save weight. If a B/D of 37 percent sounds light to you consider for a moment that this means 21,500 pounds of outside lead, with a bulb. I'm certain this design will sail just dandy. Draft is moderate at 7 feet, 6 inches.

The HR54 comes with three layout options and I promise you will be comfortable in whichever one you choose. The three layouts all have three staterooms; it's just a matter of how you want those staterooms configured. There is also the option of a small or large engine room. Go with the large one. Have you ever had too much room in the machinery space? Unfortunately the small engine room version has a nicer galley but both galleys are big and look well-designed to me. The larger engine room version has a nice nav area. You can have the dreaded Streisand chairs in the saloon or a settee berth to port. The aft cabin can be built with a near centerline double berth or you can have a layout with the double pushed off to starboard and a single berth on the port side. I like the way this layout looks but I know people like access to both sides of the berth. If the available options aren't enough to please you it just might be that you need a bigger boat.

The SA/D is 17.38. That's a number that makes sense for this type of boat. In our dreams we all have boats with SA/Ds of 31.04, but in the real world we like to sail almost upright and my mother-in-law hates it when I make her sit on the rail. "The toerail digs into my thighs." That's all I hear all afternoon.

The HR54 will sail with almost any cruising boat in light air and it will carry its sail with dignity when the breeze picks up. It's fun to strap everything down, blade out the main and work the boat into a good 25-knot headwind without having to bleed off horsepower just to maintain control and balance.

Note the headstay is dropped about 19.2 inches below the masthead to make room for the asymmetrical chute. I would not call this a fractional rig. It's cheaper for the mast builder because he doesn't have to weld up a fancy mast crane. This triple-spreader rig has fore and aft lowers. I'm not sure why you would do this and not go with swept spreaders to get some decent fore and aft moment on that lower panel. Maybe it's just lip service to the traditional style of rigging. So many boats, so many questions.

It's a beautiful, big cruising boat.