This French cruiser sets a unique course for offshore sailing
Here is a beautiful new 60-footer from Amel that comes just two years after it introduced the Amel 50. It's a handsome design in the contemporary Euro style from the office of Berret-Racoupeau Yacht Design.
The first thing I notice when I look at the hull is the reverse sheer. There is spring to this sheer, but it springs in a convex curve rather than the more typical concave spring. Reverse sheers have been around since the early 1950s. On a cruising boat like this the reverse sheer buys you interior volume and a lower deck structure for a given headroom target.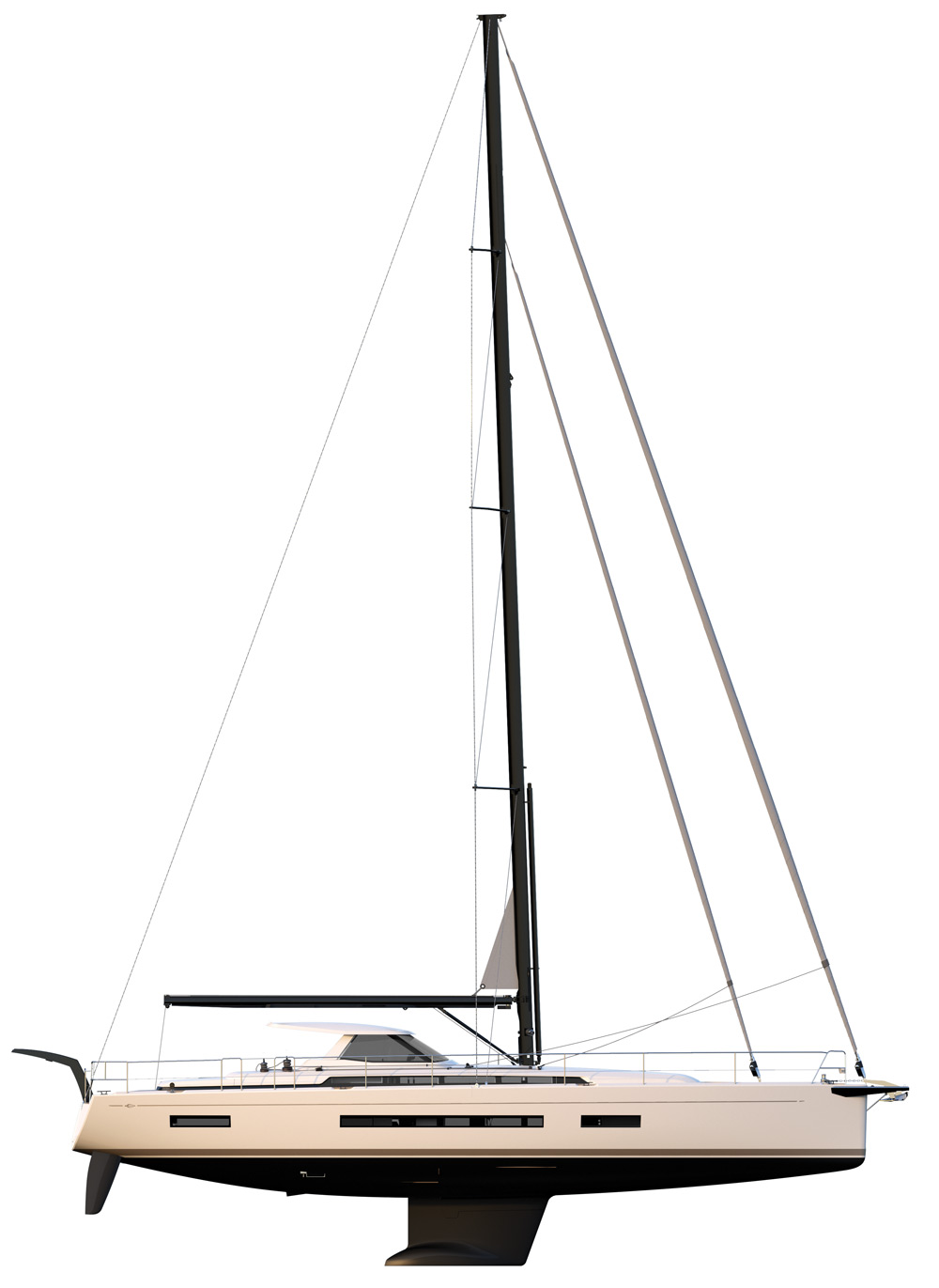 The LOD is 59 feet and L/B is 3.36. When I use the company's displacement figure, I get a D/L of 137, which is low. This makes me think that perhaps that displacement is a bit optimistic. But we'll use it. I can't tell if there are twin rudders or a single rudder, but given the size I see on the profile I assume there are twin rudders.
Draft is 7 feet 9 inches with a moderate-aspect-ratio fin with a bulbed tip. The bow and stern are quite full, creating interior volume. There is a hint of taper to the plan view of the beam as it goes aft but it's still very beamy aft as we have come to expect. There is a tiny bit of rake to the bow. Again, in a cruising boat interior volume takes precedent over boat speed. But given the numbers I'd think the Amel will sail quite well.
The Amel 60 is laid out for three couples and each sleeping area has its own head and shower. Big, rectangular deadlights in the topsides will let in a lot of light and their geometry helps bring down the look of the high freeboard. The owner's cabin aft is interesting in that it shows a small U-shaped dinette off to port. Maybe you feel like a quick game of Monopoly before you hit the sack. The aft head is spacious with a large shower stall.
There is a generous engine room that extends out to port but I can't see how you access this space. Maybe there is a deck hatch over the engine room. The galley on starboard runs along the engine room and extends into the main cabin. Inboard there is a long and narrow counter. I think that is a big freezer aft in the galley. Unfortunately the drawings I get these days are often not the designer's drawings but the marketing department's drawings and very often the details are hard to discern.
In the main cabin there is an L-shape dinette to port with some kind of countertop aft of that. I think part of that counter top may be the nav station. That would make sense. I don't see one anywhere else. There is a centerline bench seat to allow six people to dine in comfort. To starboard there is a comfortable-looking, deep settee. I like deep settees. The mast is deck stepped so only a relatively small diameter post invades the main cabin. Forward of this there are mirror image sleeping cabins with hanging lockers, small seats and access to the forward heads. The fo'cs'le is bigger than you would typically see. No question, you are going to be very comfortable below on this new Amel. The joinerwork is done in American walnut.

The deck plan is a bit unusual in that the cockpit is forward and covered by an attractive hard dodger. There is a single wheel in the cockpit. Aft of the cockpit is a raised cabintrunk to gain the head room needed in the aft cabin.
I'd call this rig a cutter given the position of the mast. The SA/D is 21 using the specs for mainsail and genoa. I'd prefer to have I, J, P and E figures, but you work with what you have. The sailplan shows in-mast furling and a roachless mainsail. That's about all I can tell you about the rig given the paucity of detail Amel provided. But Amel has been building offshore cruising boats for many years. They have a cult like following among cruisers, so I'm certain the rig details are just what they should be.
I'd enjoy using this boat. Being a Pacific Northwest kind of guy, I'm not keen on sitting in the sun and I appreciate protection from the rain. Amel has taken its own path with the configuration of this boat and I like that. We seem to be getting "samed" to death these days. I predict Amel will have success with this luxurious model.
---
LOA 62'4"; LOD 59'; LWL 55'3"; Beam 17'7"; Draft 7'9"; Displ. 52,000 lb.; Ballast 14,440 lb.;
Sail area 1,378 sq. ft.; D/L 137; L/B 3.36; SA/D 21; Water 185 gal.; Fuel 238 gal.; Auxiliary 180-hp
---
Amel
US dealers
McMichael Yachts 877-606-0401
Naos Yachts 310-821-8446
Signature Yachts 206-284-9004