This entry-level family cruiser has packed in everything for fun sailing
Here is a very interesting 30-footer—its actually 29 feet 6 inches—from Beneteau for its Oceanis series. The design is by Finot-Conq with an interior design from the Nauta Design studio.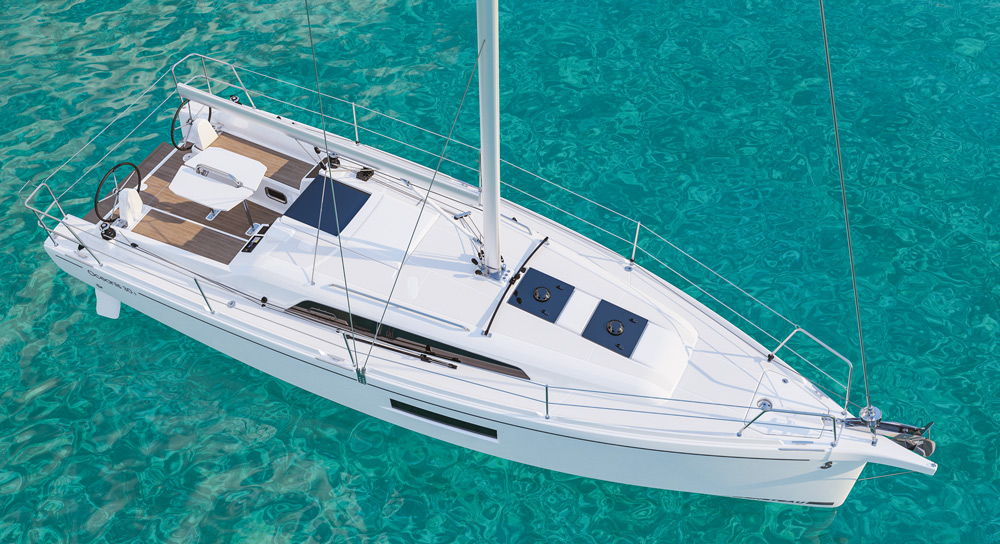 This boat exemplifies the current trend to fill the entire hull with accommodations. A few years back you could not dream of an interior layout like this on a 30-foot boat. Granted, the overall look of the 30.1 is a bit boxy, but that's what you'd expect when the designers are trying to create the biggest box they could in 30 feet. I find it quite good looking in the European contemporary style.
Obviously to get a big box you need beam and the 30.1 has 9-foot 10-inch beam for an L/B of 3. There is no taper to the plan view aft. Max beam is carried to the transom. Again, in order to maximize the box, the transom has no camber. The sheer is a dead straight line, but spring would reduce interior volume. There is a chine aft that provides the interior volume for a big double quarterberth and it adds some stability when immersed.
There is a shoal keel drawing 4 feet 3 inches with a stub keel and 6-foot 2-inch deep keel with a bulbed, short-chord fin. Twin rudders are a big help when you want to reduce draft. Both keels are cast iron. Using the specification's "light displacement" I get a D/L of 171.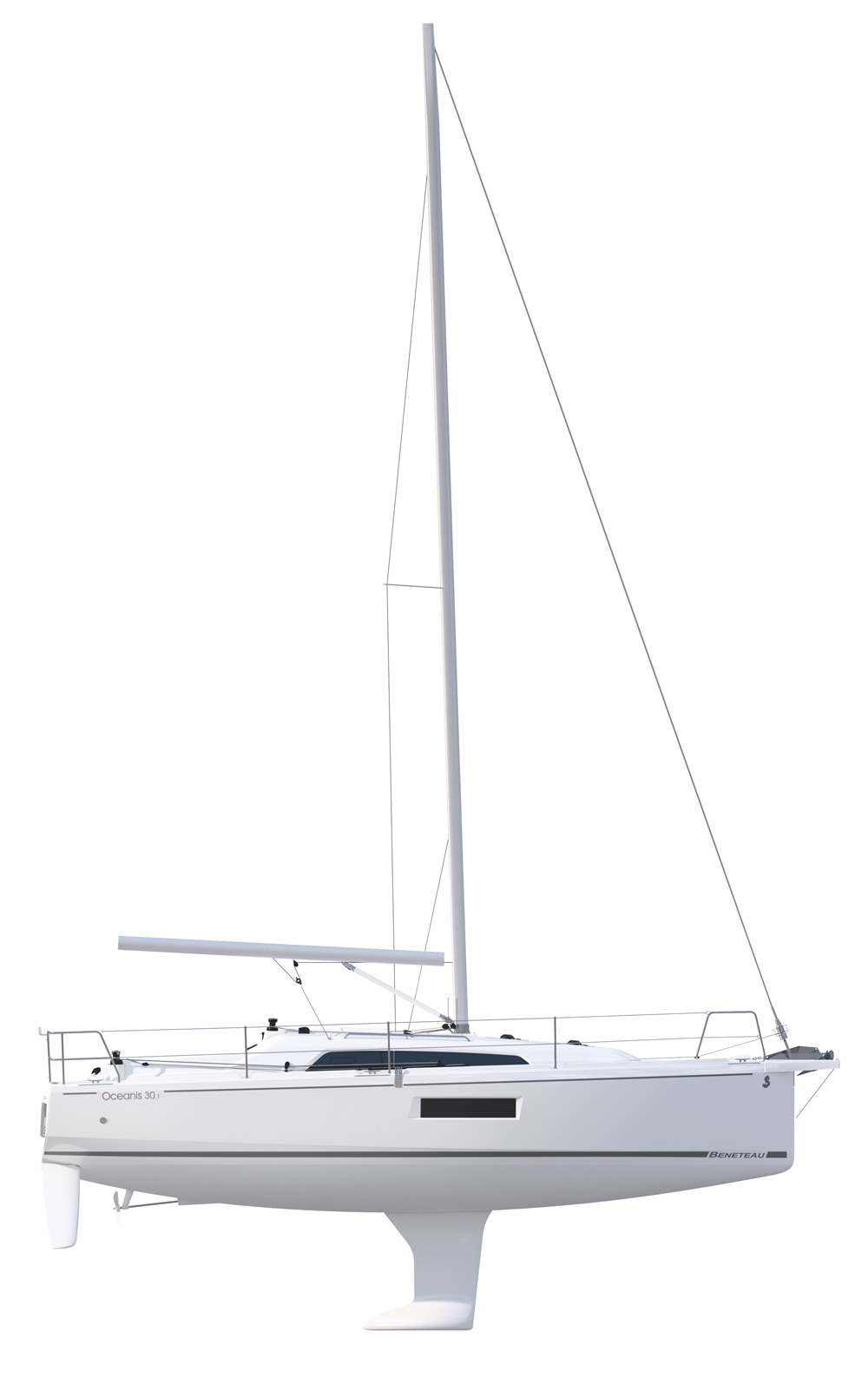 This interior is impressive. Yes it's tight but it's all there. The aft double berth is big and has a hanging locker forward of it. The forward cabin takes advantage of the plumb stem and shows a more comfortable than usual double V-berth. There are two hanging lockers in this space. The settees in the main cabin look a bit narrow to my eye. This works when you are sitting up at the dining table but if you want to relax, I think more depth to the settee top is required. The starboard settee is truncated aft to make room for a small nav table. All you need now for nav gear is a laptop. The head is big, but the galley is not big. But on a 30-footer you would not expect a big galley.
The sailplan uses a square-topped mainsail. This means there is no backstay. Instead, the spreaders are raked by what I measure as 38 degrees. That is a lot. You won't sail downwind wing-and-wing. Instead you'll reach and jibe, but that's the way to get the best VMG anyway. The jib is self-tacking. Using 100% of the square-topped mainsail and the self-tacking jib areas I get a SA/D of 16.28. In addition to the self-tacking track there are deck tracks that would allow you to carry an overlapping headsail that will enhance light-air performance.
The wide stern really shines when it comes to cockpit design. Just think of this area compared to what you would have had on a 1970s IOR half-tonner. There is no comparison. The twin wheels open up the stern for boarding. There is a drop-leaf table for dining. The cockpit seats look long enough for a nap, but are slightly narrow.
All the lines are lead to port where clutches are lined up. There are only three winches on this boat. If you plan on racing, there could be times that your spinnaker handling could use an extra set of winches aft. But I don't see this boat as a race boat. Side decks are minimal but workable. There is a flush anchor locker forward.
Beneteau has packed a lot into this boat. In the 30-foot class in the "Race for Space" this might be the winner.
---
LOA 31'3"; LWL 28'5"; Beam 9'10"; Draft deep 6'2", shallow 4'3", lifting-keel 3'1" to 7'8"; Displ. 8,805 lb.; Ballast deep 2,144 lb., shoal 2,535, lifting 2,865; D/L 171; L/B 3; SA/D 16.28; Fuel 34 gal.; Water 42 gal.; Auxiliary 15-hp standard, 21-hp optional.
---
Beneteau America
105 Eastern Ave. Ste. 201
Annapolis, MD 21403
410-990-0270

---