Bluewater cruiserr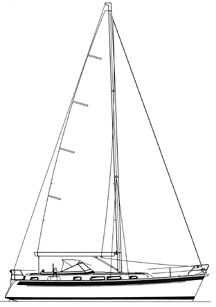 A 40-footer for the serious offshore cruiser.
We have two Frers designs this month, both all out cruising boats. Hallberg-Rassy is the builder of this offshore cruiser that appears to be a little sister to others in the series.
There are few designers in this business with a better eye than German Frers. His sheerlines are usually exquisite. However, I find this 40-footer to be boxy looking and not particularly attractive. It's certainly a subjective call. The freeboard is high, the ends are snubbed off and there is little change in contour to the long cabintrunk. You could take the windshield off and reduce the visual height of the profile, but Hallberg-Rassy loves those hard windshields. In the end the design is probably right the way it is and when you come to an understanding of exactly why certain features are used they can, in time, grow on you. In the end, what works well starts to look good.
D/L is 234 based upon 22,000 pounds of displacement. B/L is 3.25 and I'd call this moderate beam. Just for fun I measured the half angle in plan view at the deck and I got exactly 20 degrees in comparison to the 23 degrees of the Bavaria and the sub-13 degree half angle of a typical America's Cup yacht. Draft is 6 feet, 3 inches and no shoal draft keel option is available. The rudder is mounted on a half-skeg. I draw half-skegs myself but mainly they are for owners who are not psychologically ready to accept a full spade rudder. The half-skeg certainly does not protect the rudder. It allows for a lower bearing and that in turn allows for a smaller diameter rudder stock.
There are two interior layouts. You can have a centerline double berth aft or you can have the double off to port and a single berth to starboard. I think the centerline double will look better and it does offer at least the impression that you can access the berth from either side. In both cases the berths are taken so far aft that there is no volume left for a lazarette and I think big lazarettes are a must on any cruising boat. As with most center cockpit layouts this one has the advantage of offering a separate engine room. The rest of the layout looks fine. The V-berths are a bit pointy at the toe. You can have chairs in the saloon or a settee berth to port. I'd go with the versatile settee berth version.
The shrouds are in line and there are two spreaders. The headstay does not go to the masthead and my drawing shows no provision for a staysail. I think staysails are one of the most abused sails on board but they seem to be considered de rigueur for serious cruising. It's nice to be able to shift gears in a blow and sail under main and staysail, but in many cases this gear shifting takes you from fifth gear down to second gear in one jump. Another benefit of the center cockpit configuration is that it allows for the mainsheet traveler to be aft of the cockpit and the mainsheet can be at the end of the boom. The SA/D of this design is a sedate 16.44.
In terms of efficiency and convenience, the pros and cons of center cockpit deck arrangements are subjective and revolve around your appreciation of the interior layout options. If we eliminate interior considerations, the aft cockpit deck plan, to my eye, is the best in that sheet leads are easier and you sit lower in the boat. Choice of aft or center cockpit boils down to accommodation priorities.
Hallberg-Rassy is one of the few builders dedicated to providing true offshore-suitable sailing yachts. Their boats command high resale prices and are very much in demand. The build quality is first rate and they are very clever with the construction detailing. If you were asked to buy groceries, pack a sea bag and just go, you couldn't go wrong with a Hallberg-Rassy.