This cleverly designed catamaran is ready for cruising
To a monohull sailor, cruising cats can look awkward. But there is a lot of square footage to their footprint and different aesthetic standards need to be applied. I see a lot of interesting styling tricks in this new 45-foot 11-inch cat from Lagoon. The design is a combination effort by Patrick le Quement on exterior styling and VPLP for the hull and rig design. I can't find design credit for the layout.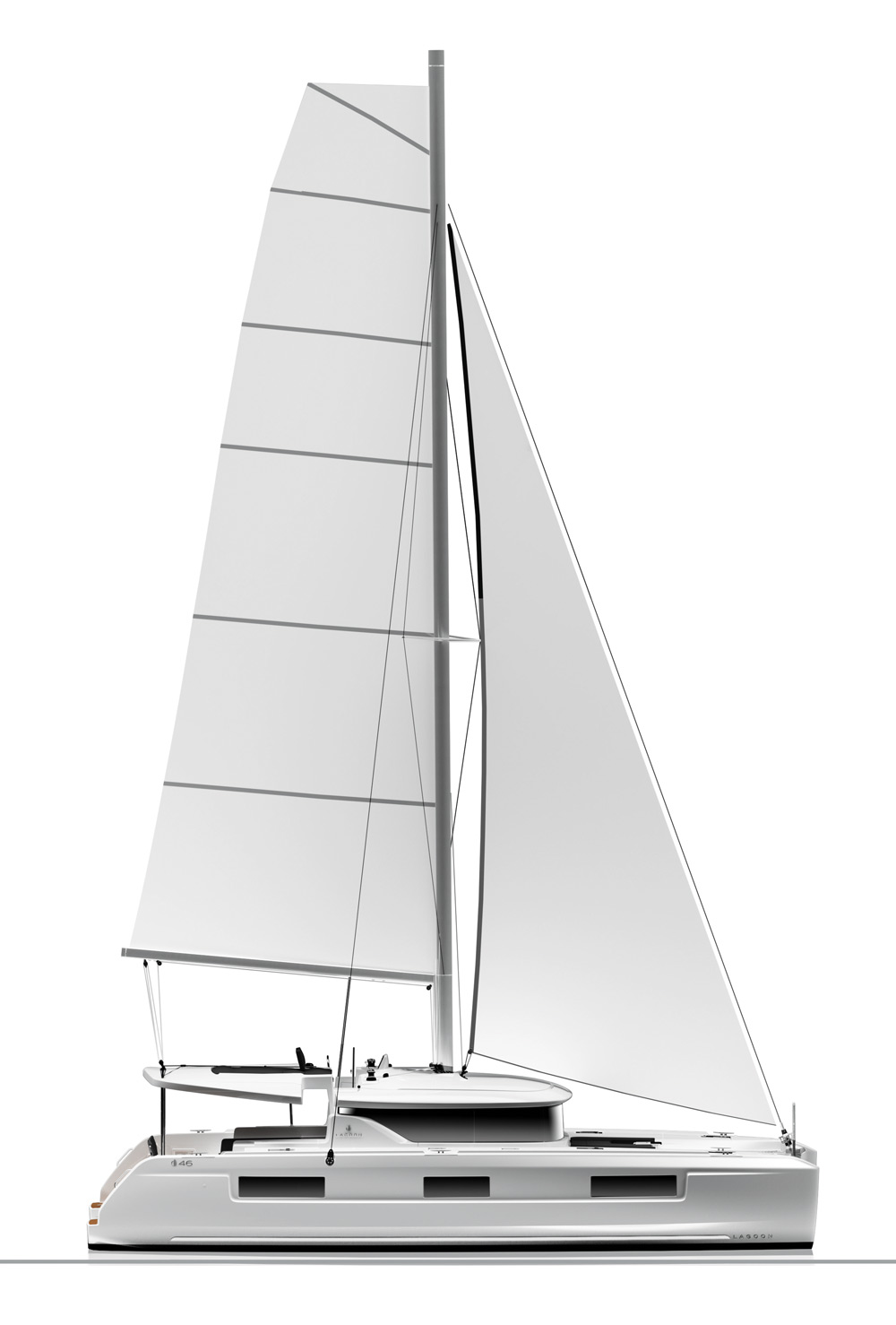 I don't have an underbody profile so we'll just wing it. Freeboard is dictated by the need for headroom in the hulls. You can't reduce this without making the boat heavier and that's never good. The D/L of this cat is 167. The height of the cabintrunk is dictated by the need for clearance between the bottom of the bridgedeck and the waterline. Reduce that clearance and you'll run into slamming problems. I use 30 inches as minimum clearance, which I used on the ADA cat.
I like to know the L/B of the individual hulls but that's not always easy to determine from the artsy drawings I receive. I'll just use overall beam for an L/B of 1.78. I have nothing to define the sectional shape of this cat but I see a sort of longitudinal "bulge" just above the DWL. This could be a chine. Seems like these days the builder's art department let's us see what they want us to see. Draft is 4 feet 3 inches.
The main deck layout is very nice. The galley is big with lots of counter space with plenty of countertop on each side of the sinks and range. I like that. The dinette is functional with room for six to dine in comfort. A nav station is to port of the dinette. There are sleeping cabins for three couples. Two in the port ama and one for the owner in the starboard ama. All sleeping cabins have their own heads and shower stalls. Nothing looks crowded. The starboard ama accommodations are spacious with lots of lockers and a room to dance, at least the way I dance in the head. All in all this is a great looking layout.
The rig is interesting in that the mast has been pulled aft, probably to help reduce hobby-horsing. There is a self-tacking jib and a square-topped mainsail for a SA/D of 21.87.
The deck plan shows a huge cockpit aft with a fly-bridge type steering station flanked by the sail controls. On the main deck level you have what looks like an outside galley or at least food prep counter with sink to starboard. There is a dinette to port and a very wide settee/berth to starboard. There is another settee across the stern. Wide steps lead down to generous swim platforms. Note the forward cockpit area for lounging.
---
This is a very clever design with the comfort elements well-balanced and very functional.
LOA 45'11"; LWL 45'2"; Beam 25'10"; Displ. 36,603 lb.; Sail area 1,507 sq. ft.; Draft 4'3"; D/L 167; L/B 1.78; SA/D 21.87; Auxiliary twin 45-hp; Fuel 274 gal,; Water 158 gal.
---
Our best estimate of the sailaway price: $500,000
Lagoon
email: info@cata-lagoon.com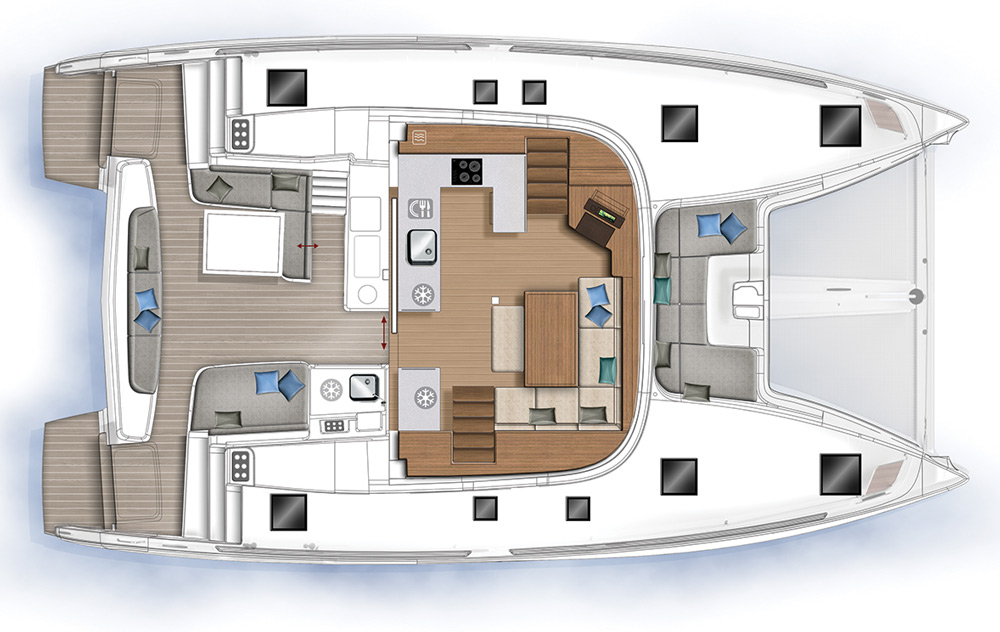 ---