Good looking and comfortable, this cruising catamaran provides excellent performance for island sailing
Let's see what the Leopard group can do with 50 feet of LOA. Design work was done by Simonis & Voogd Yacht Design for the hull and rig. Interior and exterior styling is by Robertson and Caine. This is a handsome cat with more of a traditional approach to the overall styling.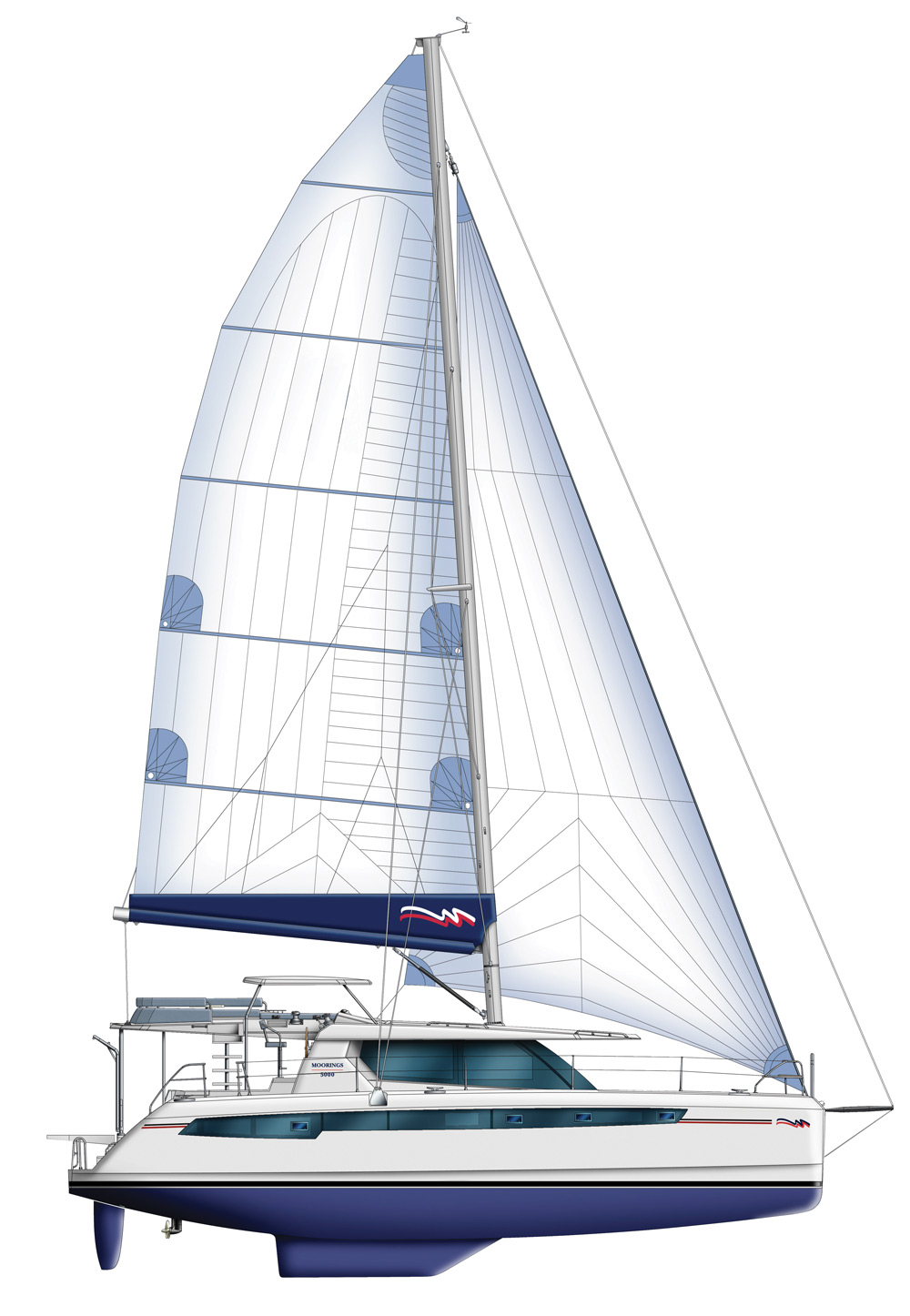 This is a heavy cat at 41,888 pounds that gives us a D/L of 159. That's about the same as a medium-displacement monohull. I don't have much information on the hull shape but I do see a chine about a foot above the DWL. The L/B is 1.9, which is normal for a cruising cat. Draft is 5 feet 3 inches.
The accommodations on the main deck are fixed but you have at least four options for layout in the amas. The main cabin looks great with a big U-shaped dinette aft to port with two comfy corners. I think the human body seeks corners for comfort. To starboard there are two access ways down into the hulls separated by a portion of the galley with the range. The rest of the galley spreads across the front of the cabin.
Forward to port there is a spacious nav station. Aft of that is a single access way to the port hull. The caveat to this main cabin is that the dinette looks big enough for maybe six diners while the layout options show as many as eight crew members. The good news is that there is another dinette in the aft cockpit and it's under the cover of a hardtop.
In the hulls you can have four double-berth sleeping areas and each has its own head with space for a shower, but not a real shower stall. There is an option to replace the port side forward sleeping cabin with what looks like a workshop or general stowage area. One option puts three sleeping cabins in the starboard ama if you get the workshop to port. There is an option for a single berth crew cabin in the port bow. You could sail with nine people. I don't see a lot of hanging locker space in any of these options. But the artsy interior drawings are short on details like that. It looks like regardless of the options chosen this is a very comfortable layout.
The deck plan is interesting as there is a small lounging area forward that is covered by an extended overhang on the house top. This gives the boat an unusual look, kind of like the boat is wearing a baseball cap. But it looks good. The aft deck area is huge and features an elevated and covered fly bridge-style steering station with winches and sail controls mounted adjacent to the wheel. Wide steps lead down to the swim platforms.
Two rigs are offered. You can have a conventional mainsail with what looks like a stack pack-type furling system. Or you can have a square-top mainsail for some extra sail area and a more contemporary look. I like the square-top main. There is a fixed sprit forward for flying an asymmetrical chute. The SA/D for the square-top main rig is a healthy 22.
This is a good-looking boat combining lots of comfort with good performance. You can't ask for much more than that.
---
LOA 50'6"; LWL 48'11"; Beam 26'5"; Draft 5'3"; Displ. 41,888 lb.; Sail area 1,660 sq. ft.; SA/D 22; D/L 159; L/B 1.9; Fuel 243 gal.; Water 185 gal. Auxiliary twin 57-hp
---
Our best estimate of the sailaway price: $975,000
The Moorings • Sunsail • Leopard Catamarans
93 North Park Place Blvd.
Clearwater, FL 33759
888-952-8603
www.mooringsyachtownership.com