This sexy offshore racer-cruiser has plenty of power for racing combined with simple cruising comfort
The latest sportboat from the J/Boats crew is this J/99 designed by Alan Johnstone. It follows on the tremendous success of the J/121 and J/112E models. It's a hot rod but it has comfortable accommodations and it can be effectively sailed by a small crew.
It's very sexy looking and as usual J/Boats has produced a boat that really appeals to me and the way I sail. The company has that knack. I'd like to thank J/Boats for providing me with actual design drawings rather than artsy renderings. I like to see what the designer, not what the advertising department had in mind.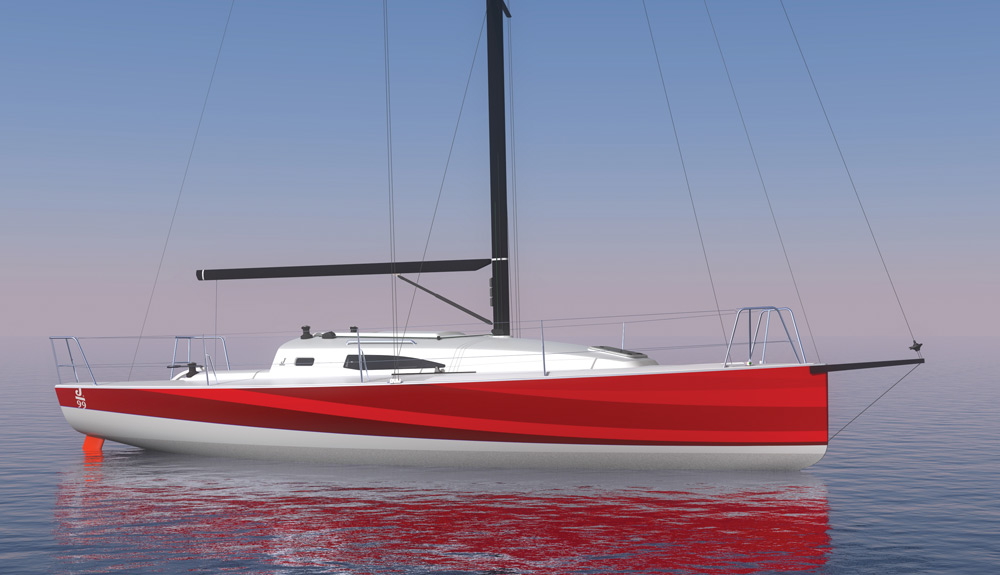 This is a beamy boat with an L/B of 2.91, and a D/L of 160 puts it in today's "medium displacement" category. This produces a stiff boat with an impressive limit of positive stability of 137 degrees. Cruisers would kill for that kind of LPS.
The stern is broad, but it is tapered from max beam. There is no camber to the transom, so no sailing length is given away. I love the subtle but perky sheer spring. This is really a great-looking boat. Twin rudders will provide excellent control. Draft is 6 feet 6 inches with a typical J/Boats bulbed fin. The sectional shape aft is almost flat at centerline arcing up to a tight turn at the bilge instead of the de rigueur chine we see so often now.
There's enough overhang aft to prevent the transom from dragging at low speeds. In these days of exaggerated, high freeboards it's nice to see a new design with low freeboard.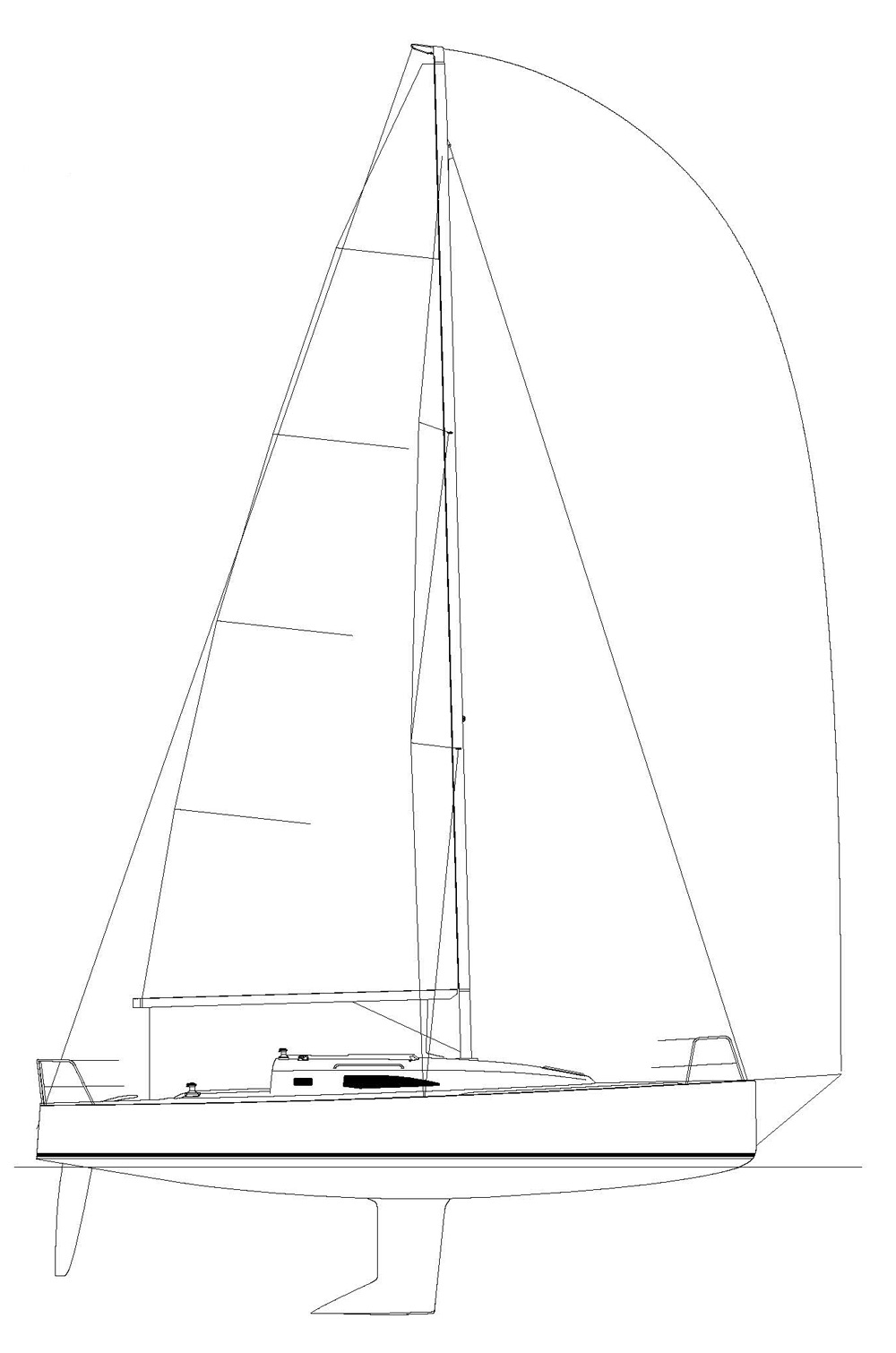 We've established the hull will give you a fast ride. It's a given. Now to the interior. I demand a comfy interior layout. I would definitely cruise this boat, probably by myself or with my grandkids and I want comfort below. There are twin quarterberths that look big but are not quite double berth size. That's fine. My only concern would be how much bending I would have to do to get in and out of the berth. Maybe I'll just sleep on the settee and give the kids the Q berths. There are flip-up pilot berths port and starboard for getting the off watch sleeping on the high side on a offshore race. You could sleep eight people in a pinch. The galley is minimal but I would expect that on a boat like this. There is a nav station to starboard. Forward of the settees is a head that spans the boat and is more than adequate. Forward of this there is a large fo'c'sle. It's a simple, maybe even spartan, layout but I think it will work very well.
The fractional rig gives an upwind SA/D of 25.25 with the mainsail roach. If I use I, J, E and P, I get a SA/D of 22.1. I think with this much roach on the main it makes sense to include it in the SA/D. The spreaders are swept 22 degrees. The backstay is hydraulic and the jib is a floating-lead system that is adjusted from the cockpit. The sprit is fixed with a babystay. If you really want to go hard core there is an optional water ballast system available. If you were going to do a lot of singlehanded sailing that water ballast would come in handy.
J/Boats has always excelled at deck plans. It's function first and comfort second. But as I study this deck plan it looks plenty comfortable to me. I think the most comfortable seat for the helmsman is on an open deck area as shown here. You can sit far enough outboard to see the sails better. The mainsheet traveler is exactly where it should be. Yes, you will have to step over it, but it puts the mainsheet and traveler controls right where the helmsman can adjust them quickly. Side decks are broad and there is an anchor well forward.
I like this boat. It looks like a boat. It's not goobered up with affected styling touches that usually just end up adding weight. I'd be very happy cruising the PNW in this boat. It would be the perfect boat to introduce the grandkids to keelboat racing.
---
LOA 32'8"; LWL 28'8"; Beam 11'2"; Draft, 6'6"' Displ. 8,415 lb.; Ballast 3,350 lb.; Sail area 571 sq. ft.; Water 26 gal.; Fuel 13 gal.; Auxiliary Volvo D1-20; L/B 2.91; D/L 160; SA/D 25.25
---
Our best estimate of the sailaway price: $225,000
J/Boats Inc.
401-846-8410