Crossing oceans in a nutshell was a problem. He solved it.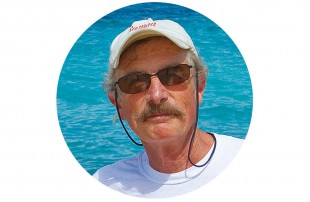 Why do people climb a dangerous mountain? That's easy. We know the answer because George Mallory gave it to us in three words in 1923, one year before his life ended on Mount Everest.
Why do people cross an ocean in a little sailboat? The answer might also be because it's there. But surely there is more to the answer than the idea that a force of nature exists as an irresistible challenge to be conquered by humans. I decided to ask Bernard Moitessier. I had to do this by rereading parts of his classic book The Long Way because he died in 1994.
Moitessier secured his place in seafaring history by sailing in the 1968 singlehanded Golden Globe round-the-world race for seven months before abandoning the race and going on for another three months, ending up in Tahiti after sailing 37,455 miles without touching land, so I expected he would have an answer.
But he wasn't much help. I got the impression he sailed alone farther than any other human being without stopping because, as a person who seemed to qualify as a mystic, he had a lot to think about, and the lonely sea was a good place to do it. Among his interesting but unhelpful thoughts: "I dream of the day when a country of the modern world has an intensely simple president and barefoot ministers. I'd ask for citizenship right away."
Then I consulted a living adventure sailor by reading a few of the many words written about himself by Webb Chiles. The 77-year-old Chiles has sailed alone around the world a mind-bending six times, most recently in a Moore 24, an ultralight racing boat.
Chiles wrote that he braves the ocean alone in small boats because the human race needs a few members "who are original experiments destined to explore and expand the edges of human experience." I think this may be a verbose version of because it's there.
I didn't expect to find the answer in a review copy of a book that crossed my desk the other day, but I did find a clue to what motivated another American sailor who took on epic challenges in a tiny boat. In Marlin Bree's Bold Sea Stories, the chapter subtitled "Gary Spiess sails across the world's largest ocean" rang a bell.
I read Spiess' obituary in the New York Times last year. His death from Parkinson's disease at age 79 rated a prominent obit because he had earned a measure of fame by sailing across both the Atlantic and Pacific oceans alone in a self-built boat that was only 10 feet long.
Bree, a prolific author of sailing tales, was Spiess' chronicler and friend. Together they wrote Alone Against the Atlantic, a book so appealing to non-sailing readers it became a best-seller that made Spiess, a modest Minnesotan with a do-it-yourself ethic, enough of a celebrity to merit an invitation for both him and his boat to appear on the Johnny Carson show.
I asked Bree what moved an electronics instructor with little offshore sailing experience who lived on the edge of the north woods to attempt to sail across oceans in a homemade boat smaller than any vessel that had ever accomplished it.
From his office not far from the garage in White Bear Lake, Minnesota, where the boat named Yankee Girl was built, the author said Spiess "came out of a different camp." He was at once a brilliant, hands-on problem solver and a very big dreamer.
Spiess, a Phi Beta Kappa in college, contrived a boat that could carry everything a detail-obsessed sailor could imagine he needed, including three dozen pairs of shorts and T-shirts and 20 sparkplugs. Deep enough to provide standing headroom, the hull proved capable of carrying 1,500 pounds of supplies.
He built the boat with plywood that had been used as shelving by a lumber company and Resorcinol glue, and fitted it with a sloop rig that carried twin headsails not much bigger than beach towels. In June 1979, with hardly anyone noticing, he set sail from Virginia Beach, Virginia, bound for England.
Fifty-four days later, a crowd of 10,000 greeted Spiess when he sailed into the harbor at Falmouth. When he returned to the U.S., he was given a parade in Washington, D.C.
Two years later, an enormous throng cheered him as a hero again, this time when he arrived at Sydney, Australia, completing another record-setting passage in Yankee Girl, the smallest boat to have crossed the Pacific.
This abbreviated telling should not lead anyone to think Spiess had an easy time of it. He endured the panoply of grim hazards of far ocean voyaging, exaggerated by the smallness of his vessel.
When he was washed overboard in an Atlantic storm, he wrote, it seemed to be "the moment when God finally deserted me—the last act in a terrifying series of mishaps which had dogged me from the moment I set out."
Bree said Spiess knew he would face frightening moments but "managed his fear" by trying to be prepared for any need he might encounter. This may help explain the 20 spark plugs, apparently backups for the backups for his boat's 4-horsepower, 1-cylinder outboard that needed a single sparkplug to operate.
As for all that clothing, Spiess bought 35 sets of shorts and shirts at a Goodwill store, twisted them into tiny shapes and stowed them in plastic jugs. His idea was to wear them until they were dirty, then toss them overboard.
Those mundane details are mere curiosities in the narrative recounted in Alone, which is at heart a bracing man-against-the-sea story that stands as an inspiration for dreaming and acting boldly, well told by the man who lived it with the help of Bree, a newspaper editor by profession.
One of its readers was Carson, the comedian, who was Bree's friend when they were schoolmates in Norfolk, Nebraska. Bree sent Carson a copy, and word soon came that the TV star wanted Spiess and Yankee Girl to be guests on his show.
"There was much dancing" in the offices of the book publisher, Bree said, because an author's appearance on the Carson show could generate 50,000 book sales.
Plans were made to transport the boat to the studio in Burbank, California, but then Spiess balked. Neither he nor the boat would go. The publisher was so infuriated he refused to authorize future printings of the book.
Spiess confided to Bree that he was afraid Carson would make jokes about his stubby little boat. "That's the kind of guy Gary was," Bree said.
That kind of guy was more than a skilled handymen who found satisfaction in figuring out, building and fixing things and assembling a myriad of pieces and parts to do it. He was an achiever who lived to set goals for himself and meet them. He chose surviving the ocean in what he called a "nutshell" as one of them precisely because the challenge was so daunting.
You could say he did it because the ocean was there.