Blending out-of-the-box thinking with custom elements, this daysailer is a super speedster
I've known Tom Wylie for a long time. I once owned a boat he designed, a Wylie Wabbit—24 feet of thrills and spills. Tom has always been an original thinker. When just about every designer was doing the "connect the dots" IOR dance, Tom came out with a boat called Animal Farm. I think it was a half-tonner. There was not a hump or IOR bump anywhere on the hull and the boat was very competitive. Tom produced a long line of successful race boats.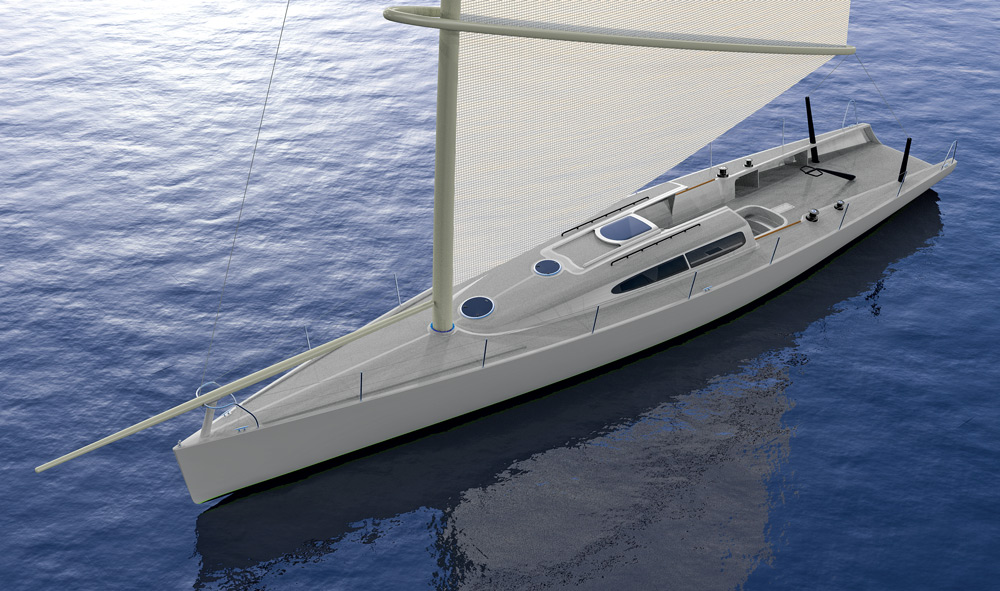 It's darn hard to put Tom in a box in terms of a typical Wylie boat. But today Tom gets a lot of attention for his series of Wylie Cats. No, not catamarans, but catboats with one mast and one sail. They are very popular on San Francisco Bay. After owning a Wylie Cat 44 for 15 years, Charlie Ray decided it was time for a new, bigger Wylie Cat. The result is the Wylie 60.
What is really satisfying for a yacht designer is when a client comes back for another custom boat. Mr. Ray had so much fun with his 44-foot project that he thought he'd have some more fun with Tom and this time he asked for a 60-footer specifically designed for his needs. Essentially the Wylie 60 is a daysailer with frugal accommodations below for two sailors. With 60 feet of LOA to work with, I'm sure a crew of eight or 10 people would be very comfortable on an afternoon sail on the bay. Half of the boat is cockpit.
This is a light boat with a D/L of 49.62 and an L/B of 5.03. You need draft to keep a boat like this on its feet, and draft is 11 feet with a very high-aspect-ratio fin and bulb. The fin is carbon fiber with an outer skin from a female mold. I have hull lines for the boat. I also have the advantage of having two of my own designs being built in the same yard, Betts Enterprises in Anacortes, Washington, a few feet away from where Tom's 60-footer is under construction.
This is an extremely clean looking hull. I don't see any hollow in the entry. Bow sections show a deadrise that fairs out to a fat bottom by about station 5. This tangent at centerline is carried through to the transom. Topsides flare is moderate. To my eye it looks like a fast boat. Not much there to slow it down. The rudder is well forward of the transom.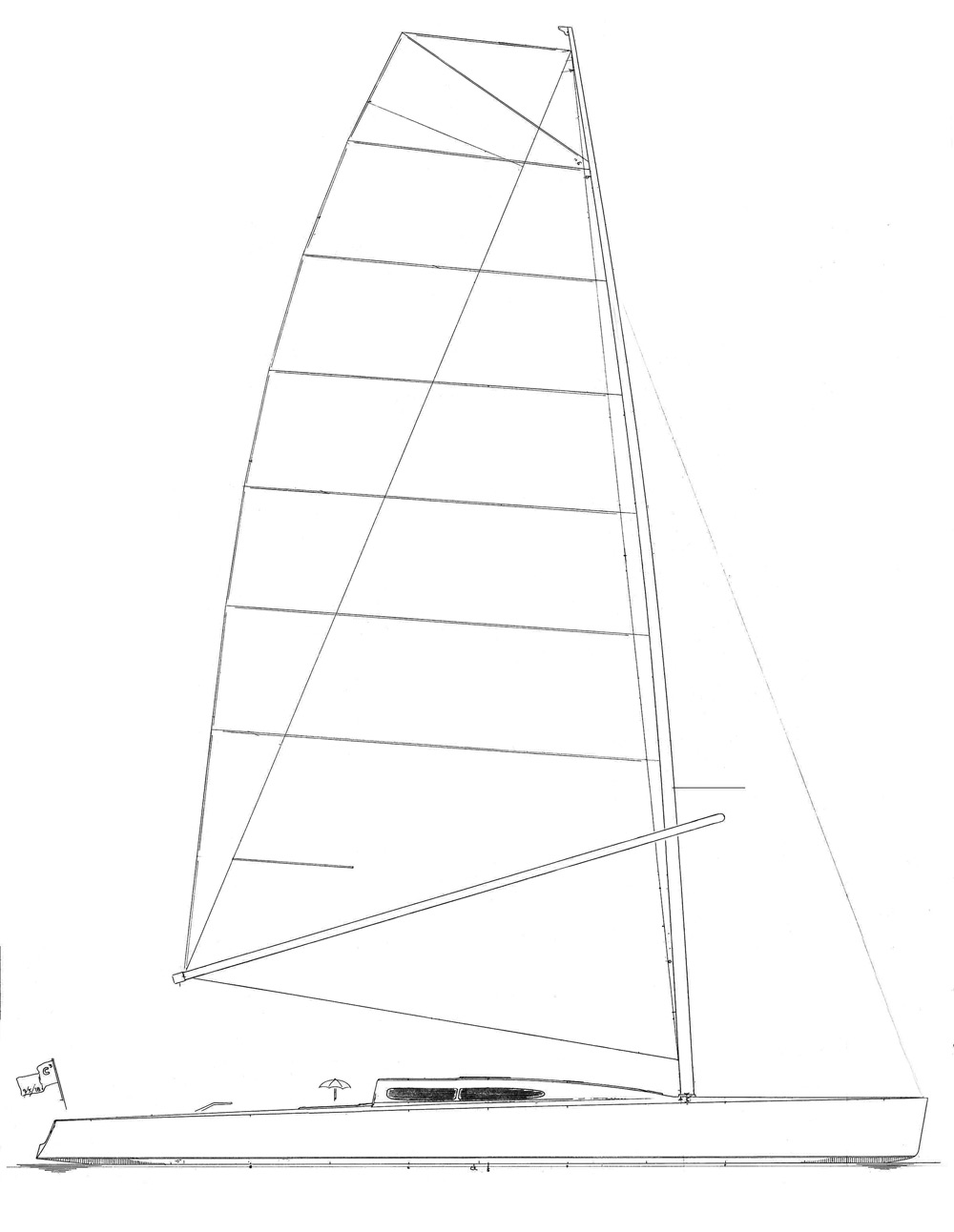 The elephant in the room is of course "Why aren't you seeing Tom's all of drawings here in print?" Tom has a unique drafting style and still draws by hand. Think of him as the yacht design equivalent to the composer Robert Schumann. Schumann is full of surprises. Tom's drawings can be plain and graphically challenging or for the same design, exquisitely composed and detailed. His keel structure drawing is a work of art. I can get pretty geeky over drawings. But as beautiful as Tom's drawings can be they do not reproduce well in this magazine's format. The image you are looking at below was made by my young friend and ex-intern Will Porter. Will's job at the Betts yard on this project has been to turn Tom's 2D drawings into accurate 3D models that will interface with CNC procedures for the structure and replicate exactly what Tom had in mind. I'm sure Will had fun with this unusual job.
Yes, there is an interior, but it's not a place you would want to hunker down in on a cold and wet Pacific Northwest night. It's stark and laid out with a nav station and galley flanking the companionway. Forward of this are settee berths port and starboard and forward of this there is a big open area where I suspect there will be a head mounted.
The very forward end of the cockpit runs under the cabintop to provide a very comfortable protected spot for the crew. I can't tell if the cockpit seats under the cabinhouse overhang are full berth length. It's close. The cockpit is on two levels. Forward you drop down so that the cockpit sole aft becomes the cockpit seat forward. There is a wide-open slot in the cabintop over this area so headroom is unlimited. The cockpit sole very slowly curves down as it goes aft dropping about 10 inches from the companionway to the transom. It looks great on the boat. There are two winches port and starboard just forward of the tiller.
The rig is like a giant windsurfer with a wishbone boom and a giant single sail on a rotating mast. The SA/D is 41. I'm sure there will be provisions for carrying downwind headsails.
Construction is carbon fiber throughout with one-inch Corecell foam. The Betts yard is very skilled with carbon fiber laminates and the carbon detailing is beautiful.
I hesitate to say it, but this might be the ultimate old man's boat. Charlie is a fortunate man.
---
LOA 60', LWL 53'4"; Beam 11'11"; Draft 11'; Displ. 16,860 lb.; Ballast 8,650 lb.; Sail area 1,687 sq. ft.; Auxiliary 22.5 kW electric retracting engine; D/L 49.62; L/B 5.03; SA/D 41
Betts Boats
416 34th Street
Anacortes, WA 98221
360-299-2311
---