This handsome design packs all you need for family cruising
This is the newest boat from the Arcona yard in Gustavsberg, Sweden. I think it is the perfect size for family cruising. Nothing is overwhelming. Space is tight but you can get everything you need in a boat this size for a family of four. I don't see any designer credit in the material, I assume this is an in-house design driven by Torgny Jansson, founder of Arcona.
I don't see any surprises in this hull shape. It's a beamy boat with an L/B of 2.84. Displacement is moderate with a D/L of 154. Max beam is not carried as far aft as we see in many new designs and this gives the hull a nice shape aft at the expense of a small amount of sidedeck area that I don't think makes any difference. I see a small amount of bow overhang and this gives the 345 a slightly less "brutal" appearance compared to a dead plumb stem. You can choose from two keels with 6 feet 5 inches for the deep-draft model and 5 feet 11 inches for the shoal-draft version. The single spade rudder is very deep and freeboard is moderate. I think this is a very handsome design.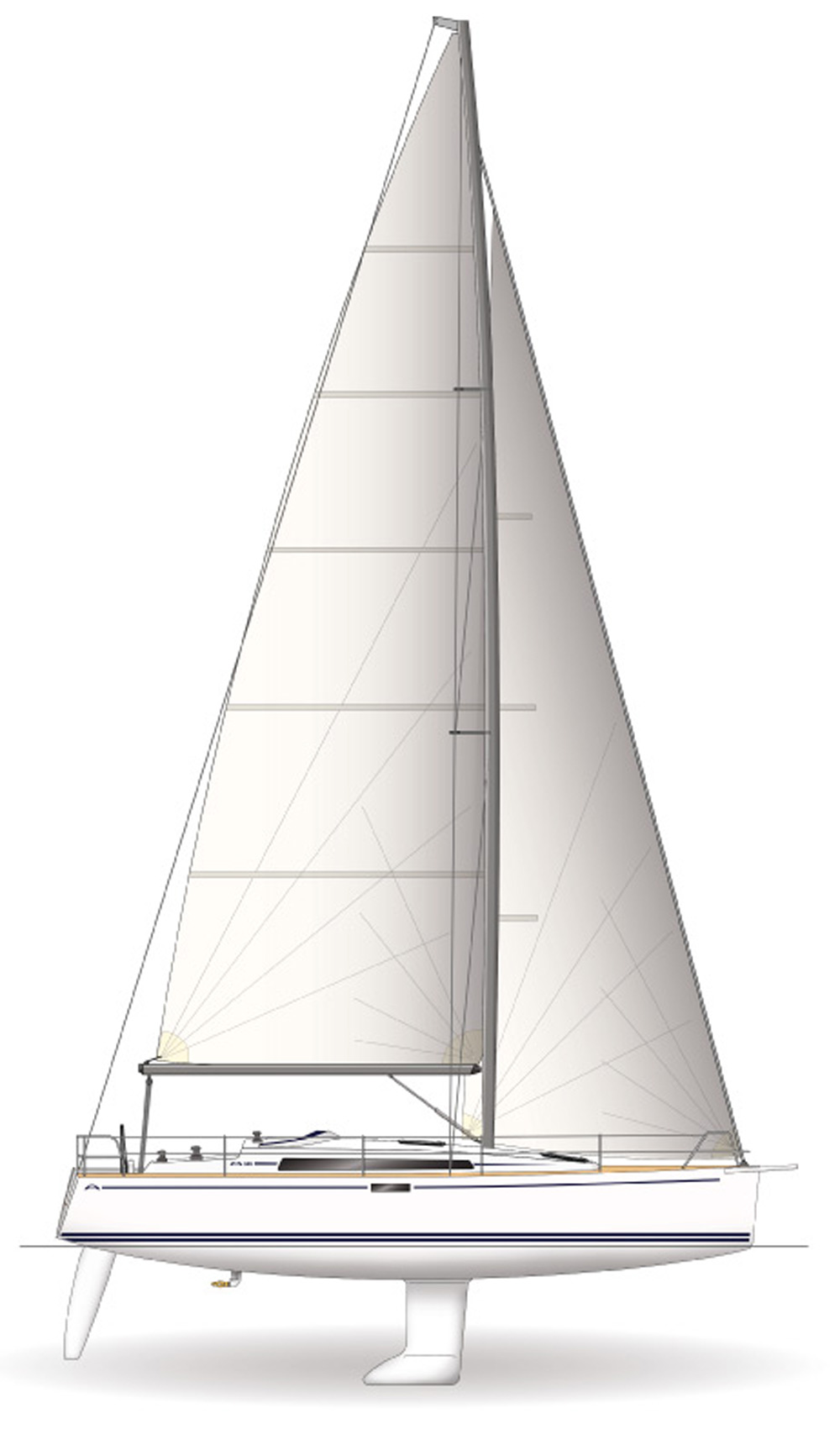 This is a simple and orthogonal layout with a double quarterberth to port and a V-berth double forward. The starboard settee is big enough to use as an additional berth. The U-shaped dinette to port appears to be a bit too narrow for sleeping. The head is large for a boat of this size, and includes a wet locker aft and shower space forward.
The galley is adequate but I don't see any indication of an icebox or refrigerator. Maybe it's outboard of the sinks in which case it would be minimal. There is an aft facing nav station to starboard that uses the settee for the seat. Including the wet locker in the head, there are four hanging lockers on this boat. The lazarette is huge­—for cruising you can never have too much lazarette space.
The deck is nicely proportioned and the sidedecks are broad. There appears to be a teak toerail broken by the cleats. The chainplates are outboard, as is typical these days, which leaves the side decks clean. There is a flush hatch forward for the anchor locker.
The standard boat comes with a tiller. I'm a tiller fan. I just find it more fun to drive with a tiller, and with a tiller extension, aka hiking stick, you can sit farther outboard to get a better view of your sails. The mainsheet traveler is aft of the tiller. If you go with the twin-wheel option, the traveler is moved forward of the wheels. All hardware is by Harken. The transom is wide open making for a very large boarding platform.
This is a relatively tall rig with a SA/D of 21.52. The headsail looks like it's 100% LP and I think that is all you would need. The short sprit will allow you to fly off-the-wind sails clear of the headstay. It's so easy to make a cruiser-racer this size look bulky, that's why I admire the overall look of this design. It's simple, clean and effective.
A 21-horsepower Yanmar 3YM20 with saildrive provides the auxiliary power.
This is a lot of boat with a waterline length of only 32 feet 2 inches and it proves a good design does not have to mean complexity.
---
LOA 34'2"; LWL 32'2"; Beam 11'4"; Draft shoal 5'11", deep 6'5"; Displ. 11,464 lb.; sail area 824 sq. ft.; L/B 2.84; D/L 154; SA/D 21.52, Water 34 gal.; Fuel 26 gal.; Auxiliary 21-hp.
Our best estimate of the sailaway price: $239,238
Green Yachts
graham@greenyachtsales.com
415-755-5858
Gunnar Yacht and Ship
gunnarsyacht@gmail.com
262-893-7028