With customizable options galore, this cruiser will be comfortable for a crowd
The newest boat in the Dufour line is the 530 designed by Felci Yacht Design. When I review a new boat I look for some defining feature that sets it apart from the competition. In this case we have a boat with four interior layout options and three rig and deck layout options. So the defining feature for this design is "options."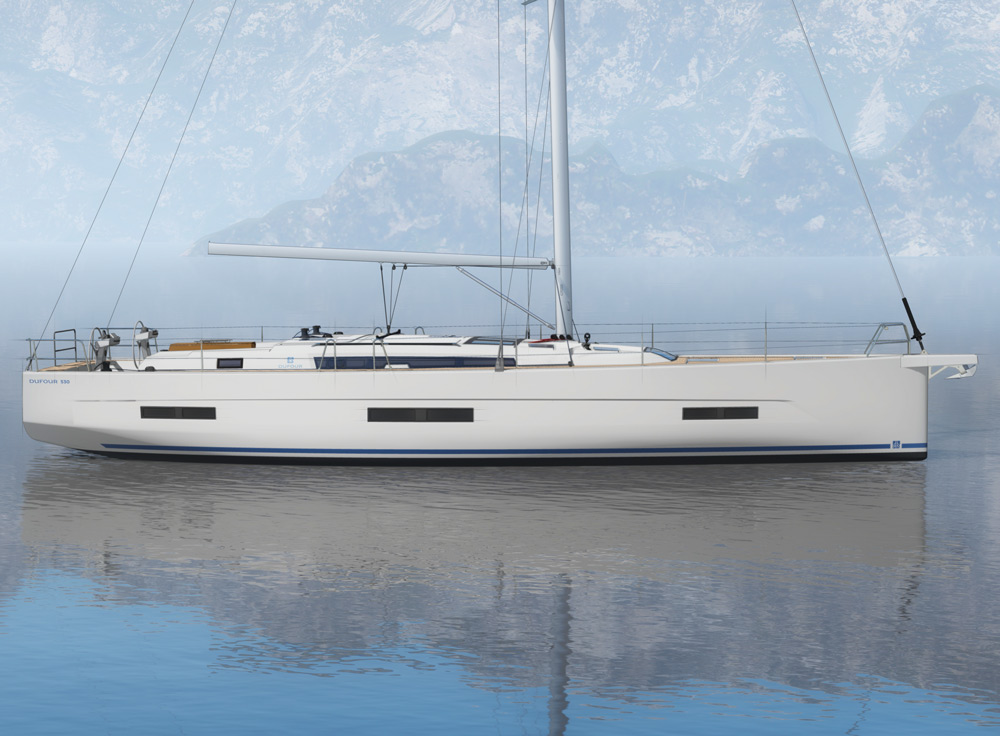 To my eye this hull is all about interior volume and that includes the use of a chine aft. While you could certainly race this boat—there is a performance version—clearly this is no TP5
This is a cruising boat so the focus of the design effort has to be to pack as much usable volume as possible into 50 feet. The result is a hull form that is now familiar when it comes to European production boats. There are three options for keel and draft: 6 feet 4 inches, 7 feet 6 inches and 9 feet 2 inches. There is a single rudder. The D/L is 147.5 and the L/B is 3.1. Note how full this hull is forward at the deck. When this hull heels, a good portion of that ultra broad transom will be immersed, causing drag. It's all about priorities.
I'm not sure where to start with these interiors. There are four. In the blurb it says that "All versions are available with a skipper's cabin." I'm not sure what the that is. There is one option that has a cabin on the starboard side of the saloon with upper and lower berths, which takes room from the saloon. But this means that while you can sleep up to 12 people, only five can sit comfortably to dine at one time. Clearly this is the charter option that packs as many guests aboard the boat as possible.
There is an option for a layout that is quite normal. It has twin quarter staterooms aft with a double berth to starboard and split singles to port. Each quarter stateroom has its own head. The saloon is nice and comfy and the galley is forward. That's right, forward in all layout options. This is unusual but essential to making these layouts work as it opens up the access to the quarter staterooms aft. Forward of the galley is the owner's cabin with a centerline double berth, shower stall to port and head to starboard. Another option within this layout is to have mirror image double berth staterooms with en suite heads instead.
Let's go up on deck. The highlight of this deck design is the way Dufour has treated the opening swim platform aft. It's quite amazing how the transom unfolds to give great access to a machinery space. Engine air intake and exhaust are beautifully blended into the design. I'm serious. If I read the renderings correctly the center portion of the aft seat is fixed and is a counter with sinks and a barbecue. There are three options to the deck layout: "Easy," "Ocean" and "Performance." Basically as you go from Easy to Performance the deck gets more gear and far more sail-handling options. The Easy deck is specifically designed for the charter trade.
You can choose the standard rig or the performance rig. If you go for the performance rig you get more sail area and an SA/D of 18.98. The standard rig has 84 square feet less sail area and an SA/D of 17.8. That's really not much of a difference. Maybe the performance rig has a carbon mast.
I don't have the room to explore all the options in detail. That would have taken three pages. I can hear the dealer now, "But wait! There's more." Suffice to say that there is most probably some combination of features on this boat that will work for you.
---
LOA 53'8"; LWL 49'2"; Beam 16'4"; Displ. 39,185 lb.; Ballast shoal 10,582 lb.; deep 10,362 lb.; extra deep 10,141 lb.; Draft shallow 6'4", deep 7'6", extra deep 9'2" D/L 147.5; L/B 3.1; SA/D 18.98 Fuel 180 gal.; Fuel 116 gal.; Auxiliary standard 75-hp, optional 110-hp
Our best estimate of the sail-away price: $410,278
Dufour Yachts America
240-278-8200