With elan and speed, this luxury daysailer will turn heads
We have two high-performance daysailers to review this month. Both boats are promoted as daysailers, which begs the question: "Exactly what is a daysailer?" Is it a boat you sail during the day? Apparently not. When you look at those two new boats you have to do a mighty stretch on the term daysailer to make both of them fit into the same category. I'm thinking that daysailer is a state of mind. That's the easy way out.
The 68-foot Baltic is also described as a "café racer." I know what a café racer is. It's a motorcycle. Google defines the term café racer as a "lightweight, powerful motorcycle optimized for speed and handling rather than comfort." Fine, I can see how you could apply that definition to a sailing yacht. Of course, "comfort" is very subjective but we can deal with that when we get to the interior layout of this design. The promotional materials say this label is more about "attitude."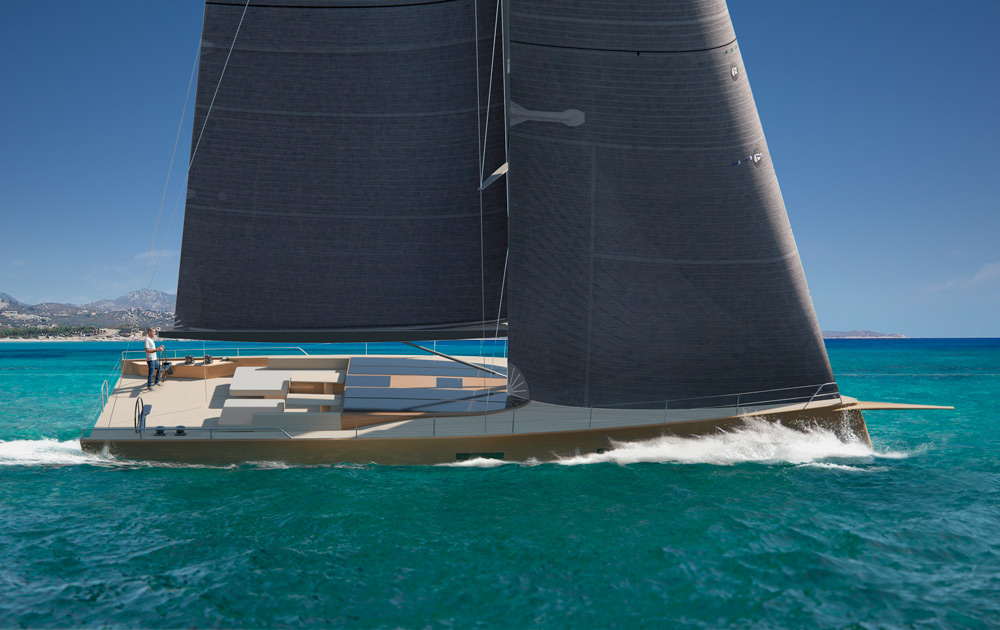 The design is by Javier Jaudenes. This is a new name to me, but I live a sheltered life. Mr. Jaudenes also designed the Baltic 108 Win Win. The hull is interesting in that it looks like there is a chine running from the hard spot in the tomahawk stem profile almost all the way to the stern. From the graphics I have (never enough) it looks like the chine fairs out around station 8.5 and terminates at the transom as a hard turn to the bilge. Usually it's the other way around with the chine being hard aft and fairing out as it goes forward.
The D/L of this boat is 73.56 so it's very light for its length. The L/B is 3.63 and beam max is carried all the way aft. Freeboard is moderate and the sheer is reversed, meaning the freeboard is greatest in the middle of the boat rather than at the ends. There are twin rudders and a deep fin and bulb drawing 13 feet 2 inches. The keel is not retractable. I don't know where you sail but even in deep Puget Sound a 13-foot draft would pose some problems. Of course, upwind that kind of draft is the cat's pajamas. You might check with your local boatyards to see if they can haul this boat before ordering one.
For a daysailer the Baltic 68 has a very comfortable interior. Granted there are plenty of 68-footers with more accommodations but what is here is very nice. There is an owner's stateroom forward with a queen-size berth and an adjoining head with shower forward. Aft there is another sleeping area with a double berth and I suspect this would be for the captain. The saloon features a reasonably sized galley to port, another head with shower to starboard, chairs forward of the head and an L-shaped dining area to port. I would consider this luxury accommodations for one couple. There is no reason you could not cruise this boat. Just check your water depths. My mooring buoy is in 50 feet of water. Swing by any time you like.
This deck is really interesting. It is really in two levels. Forward it is a typical flush deck with no bulwark. But when you get back to just aft of the mast the deck slopes gently down and runs out to the aft winches with what looks to my eye to be a 10-inch-high and 10-inch-wide bulwark. This will make moving out of the cockpit to go forward quite secure. I'm not sure how jib sheets get to those aft winches, the drawing shows nothing. But my bet would be the jib sheets run inside that thick bulwark and emerge right at the aft winches. The cockpit is huge, more than 20 feet long. There are seats forward that expand into double berth sized lounge pads for sunbathing. There are dining tables port and starboard. Aft of this the cockpit is wide open with wheels all the way outboard port and starboard. I see no provision for a mainsheet traveler. I guess the vang will do for leach control. Note the lack of camber to the transom. This boat is 66 feet 2 inches of sailing length. Nothing is wasted on transom camber. What looks like a small cabintrunk is really just an extension of the foredeck so in profile it disappears.
When I look at the rig I am struck by how far aft the mast is. But we have been seeing this trend recently. I don't have any rig dimensions unfortunately but I can imagine a SA/D well over 30 with that square-top mainsail and large foretriangle. I'd like to know how the mainsail is furled. That could be a chore for a couple.
The 68 is promoted as "eco-friendly." There is an option for electric auxiliary power with a 30-kilowatt electric propulsion unit. Hydrogeneration, solar panels and sustainable, modified wood decks are used to "dramatically reduce the environmental impact to meet the challenges of the 21st century."
The next time someone invites you for a sail on their daysailer you might be in for a surprise.
---
LOA 66'3"; LWL 63'1"; Beam 18'3"; Draft 13'2"; Displ. 41,200 lb.; Sail area 2,900 sq. ft.; D/L 73.56; L/B 3.63; Fuel 80 gal.; Water 160 gal.; Auxiliary 30kW electric engine
---
Baltic Yachts USA
70 Essex St.,
Mystic, CT 06355
860-536 7776