The fresh thinking behind this cruising cat results in a good looking speedster
This new catamaran was designed by VPLP with an interior design from Patrick Le Quement. Like almost all cruising cats the profile is a bit brutal and this is a function of pulling all the beam—21 feet 7 inches—into the single plane of a 2D drawing. If 3D modeling helps any design presentation it really helps with big cats. This cruising cat has one unusual design feature that sets it apart and I like it. We will get into that later.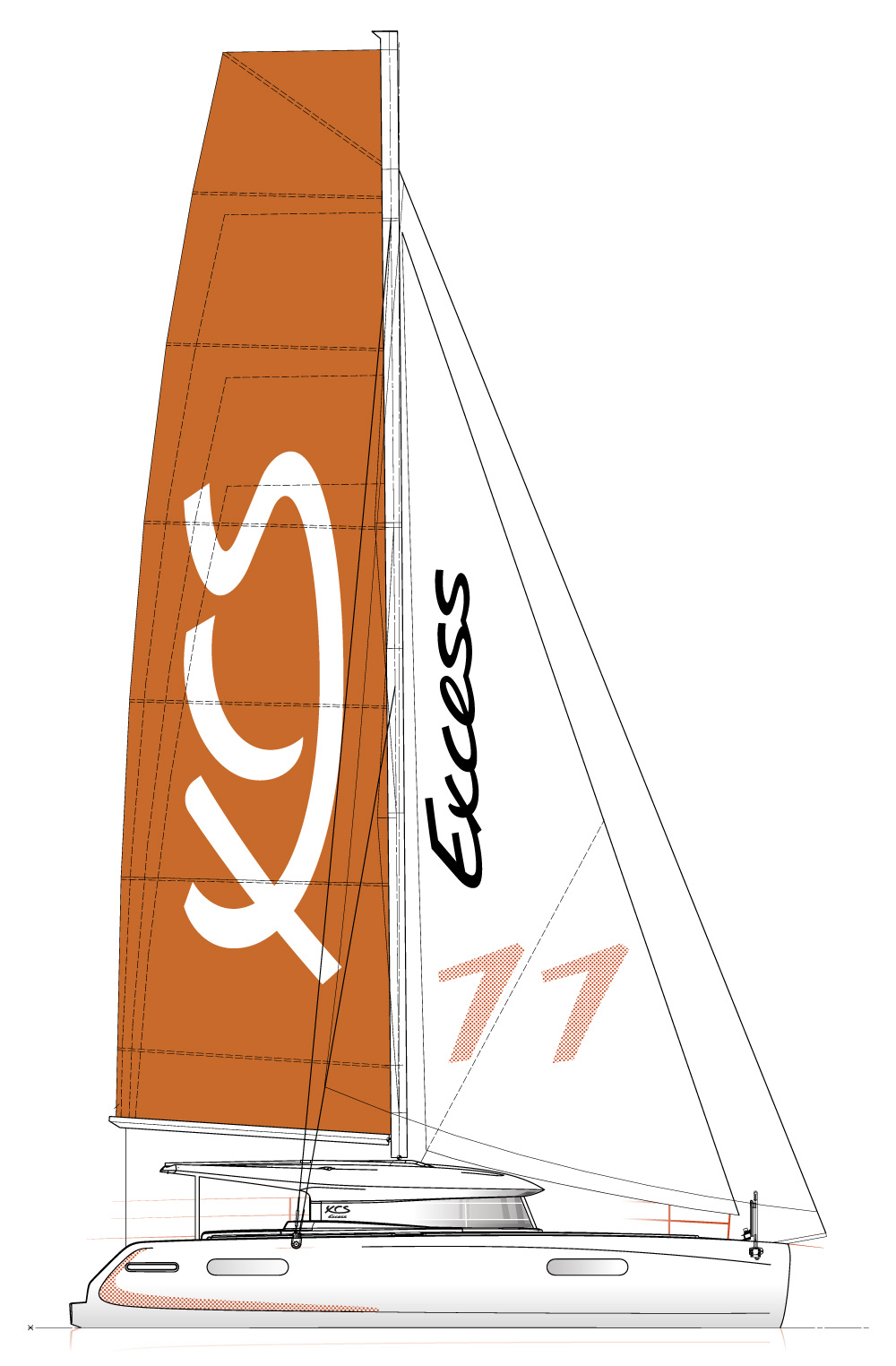 I received nothing on the underwater profile of this design. For all I know it could have a full keel like a Bristol Channel Cutter. But given that the draft is 3 feet 9 inches and the D/L is 186 I think a full keel is unlikely. I would suspect that the keel is a low-aspect-ratio fin keel.
Displacing 19,845 pounds in "light" trim on a 37-foot DWL this is not a light boat. The topsides have been shaved, sliced along what would be a buttock, to produce a sexy looking flat panel that takes up about 80% of the topsides. This feature adds interest to what could have been a very slabby, boring looking hull. I like it. Freeboard is high but that is a requirement of getting headroom in the hulls. That's about all I can tell you about the hull of this cat.
You can choose from two interior layouts: three cabins and two heads or four cabins and two heads. In the three-cabin version you lose the starboard forward double berth in favor of moving the head forward into that space and adding a large shower stall. Aft of the head is the owner's cabin with an athwartships double berth. It's a big double.
If you go with the four-cabin version there is a single head that separates the two sleeping cabins. There are hanging lockers in each cabin. Given the confines of the skinny catamaran hulls the layout options are limited but work well in this design.
The main cabin is adequate, but it would be tight for eight crewmembers. There is a galley to starboard and an L-shaped settee to port with a small bench seat for an additional diner. There is a stand-up freezer to port. I don't see any feature I'd call a "nav station" but with so much navigation done on a laptop these days I'm, not sure that matters. If eight diners can't fit around that table you can move some guests to the dining area in the cockpit where there is plenty of al fresco seating. I would think that if you were cruising where it is warm you'll spend more of your time aft rather than being in the main cabin. I would.
Now to the most interesting feature of this cat. I've noticed recently that cruising cats are using a sort of flying bridge configuration to get the helmsman and sail controls forward and up high so they can see over the cabintrunk. I'm sure this must work but to my eye it looks like an awkward place to drive the boat and trim the sails. It has another limitation also in that you can only have one flying bridge so you are blind on one side when docking. The Excess 11 did the opposite thing. They moved the steering station and sail controls aft and down low. In fact they are as far aft and outboard as physically possible. And, there are port and starboard steering stations. This makes docking a big cat a breeze as you can look right down the sheer and gauge the dock distance precisely. Access to the board step is aft of the fold up helm chairs. There is a large portion of the overhead that slides forward if you want some sun in the cockpit area.
There are two sailplans: Standard and Pulse Line. The difference is 86 more square feet of upwind sail area in the Pulse rig. That doesn't seem like much to me but it increases the SA/D from 18.0 to 19.97 and that is significant. The mainsails are the square-top-type and the jibs are self tacking. This could be a fun boat to sail.
I like the look of this cat. The deckhouse is well aft leaving a long bow look and that suits my eye. It does not look nearly as bulky as some of the other cruising cats. I would like to give this cat a trial sail, for about two weeks.
---
LOA 37'2"; LWL 36'3"; Beam 21'7"; Draft 3'9"; Displ. 19,845 lb.; Sail area 829 sq. ft.; Water 79 gal.; Fuel 106 gal.; Auxiliary dual 29-hp; D/L 186; SA/D 18
---
Our best estimate of the sailaway price: $308,860
Excess Catamarans
email: contact@excess-catamarans.com