This new cruiser has a large array of options sure to please every sailor
Here's a new Beneteau Oceanis model that ticks all the boxes. About the only thing I can see that's not offered is a hard dodger and that would be hard to work in with this deck plan. The thing that immediately jumps out at me with this Marc Lombard design, with interior design by Nauta Design, is the huge interior volume. I can't remember seeing a 40-footer with this amount of layout features.
Much of that interior volume is a function of the hull design. If I use the always suspect "light displacement" I get a D/L of 138. That's not heavy so the usable volume must be coming from the shape of the sections, i.e. firm bilges and no deadrise.
The L/B is 2.86, which is low and indicates a very beamy boat as is clearly seen in the planview drawings. It's a beamy boat with very full ends. The beam at the transom is close to max beam, which is common with today's production boats.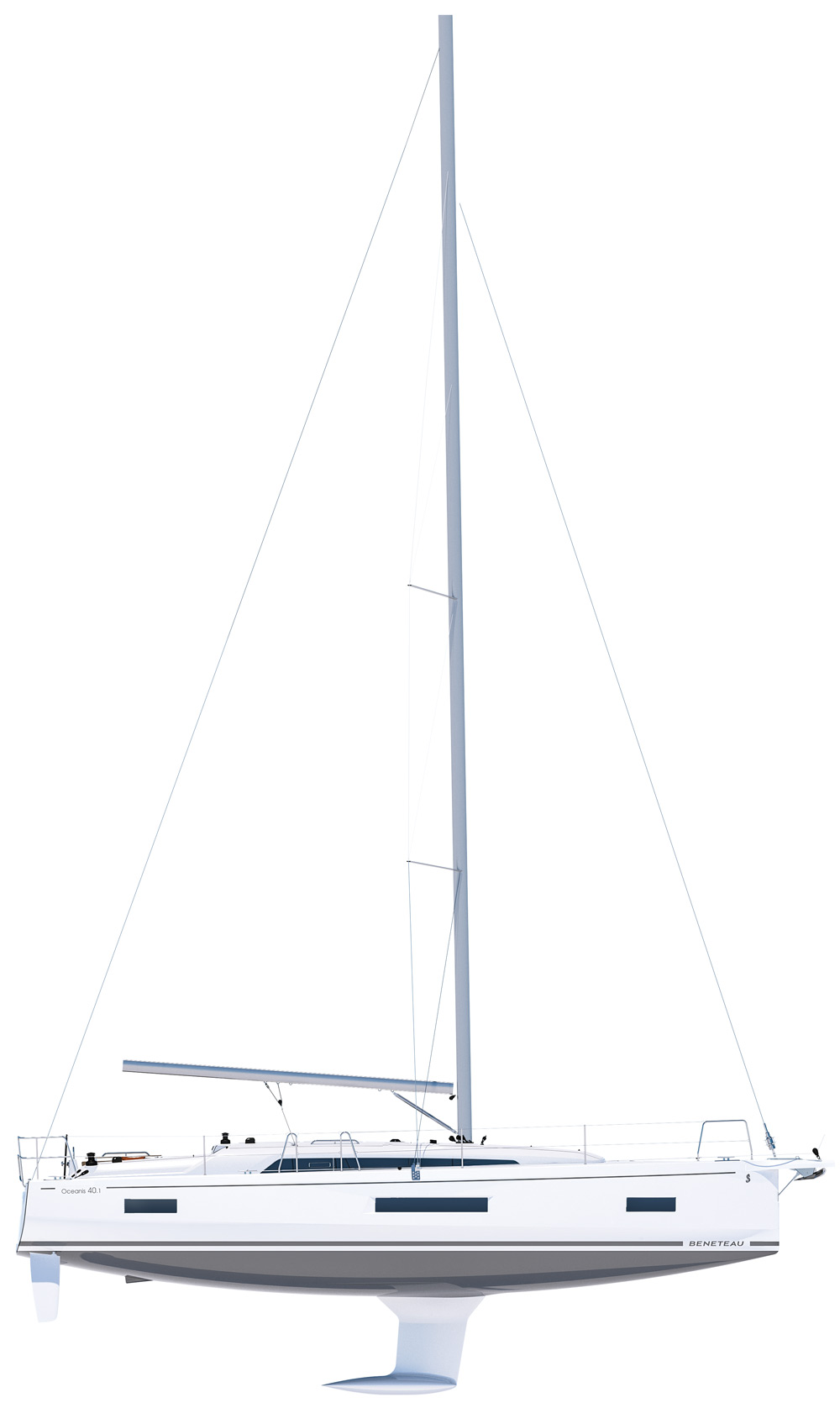 This hull is all sailing length. I can't see any indication of a chine on this hull but I suspect there is one aft. Either a chine or a very hard turn to the bilge aft to create volume for the double quarter berths. There are twin rudders as you would expect with this much beam aft. You can pick from three keel options. There is a shoal keel drawing 5 feet 6 inches and a deep-draft keel drawing 7 feet 1 inch. Both are external, bolt-on, cast iron keels. If you intend on racing, Beneteau offers a performance keel drawing 7 feet 5 inches and I suspect this is a cast lead keel.
There are four interior arrangement options: two cabins and one head, three cabins and one head, three cabins and two heads, and four cabins and two heads. The saloon, galley, central head and nav station are common to all four layout options. For me the two cabins with one head would work the best.
But the four-cabin layout is the most interesting. There is a large double quarter berth to starboard with its own access to the central head. In the three-cabin layout you get a mirror image quarter berth cabin to port but no access to the head from that cabin. The main cabin is spacious with the nav station aft to port and a U-shaped dinette to port. There is a small bench seat near centerline to allow for six diners. The galley is stretched out on the starboard side and it has lots of counter space.
Going forward you have a head to starboard but no shower stall on the four-cabin version. If you go with the three-cabin, two-head interior option there is a shower stall for the forward head. The aft head has a shower stall on all layouts.
The designers have managed to squeeze in two sleeping cabins forward and they have done a good job of it. There is a single berth cabin to port and a double-berth cabin forward. There is access to the forward head from the double-berth cabin. Seven people could sleep on this boat in comfort. You give up a lot of cockpit locker volume when you get both quarterberth cabins. If I had one gripe about these layouts it is that there is no way six crew can spread out in that main cabin. That's OK. I'll sit on deck and enjoy a pipe.
The rig is a fractional type with swept spreaders as is common today. The builder only has two chainplates to install and the sweep angle eliminates the need for any running backstays. If I use the standard furling mainsail and the self-tacking jib I get a SA/D of 18.78. That's a low SA/D for racing but perfect for charter and family cruising. In-mast furling is an option. You can order the "performance" rig and that will up the SA/D to 20.12.
The deck plan shows side decks that start narrow forward and taper down to almost nothing by the time you get to the cockpit. I still work with 24 inches as a minimum side deck dimension. But I'm old. The beauty of the increased size of the cabintrunk that you get with narrow side decks is that all the sailing hardware is off the side decks. Side decks are clear of any obstructions.
Halyards lead to winches flanking the companionway. Sheets lead aft to the twin steering positions. There is no mainsheet traveler. The cockpit is immense. There are generous seats port and starboard with a large fixed table on centerline. The helm position is as far aft as physically possible. The transom opens up for ease in boarding.
This design truly appears to have something for everyone.
---
LOA 42'3''; LWL 38'5"; Beam 13'9"; Draft, performance 7'5", deep 7'1", shoal 5'6"; Ballast, performance 4,417 lb., deep 4,423 lb., shoal 4,930 lb.; Displ. 17,600 lb.;
Sail area, standard 751 sq. ft., performance 851 sq. ft.; Fuel 52 gal.; Water 62 gal.; Auxiliary 45-hp; D/L 138;
L/B 2.86; SA/D standard 18.78, performance 20.12
---
Our best estimate of the sailaway price: $360,000
Beneteau
105 Eastern Ave., Ste. 201
Annapolis, MD 21403
410-990-0270