A cruising couple fall in love with a classic yawl on a charter off the Maine coast
Like most sailors, my husband George and I dream of owning a vintage sailboat with classic lines. Being landlocked in Colorado, we sit around on cold winter nights and scratch out numbers on scraps of paper, working an old boat into our budget and lives. After doing the math, our dream bubble inevitably pops and we decide for the amount of time we would devote to maintenance versus sailing we are better off continuing to bareboat charter. Luckily, there are boat owners in Maine who charter their classic beauties through North Point Yacht Charter.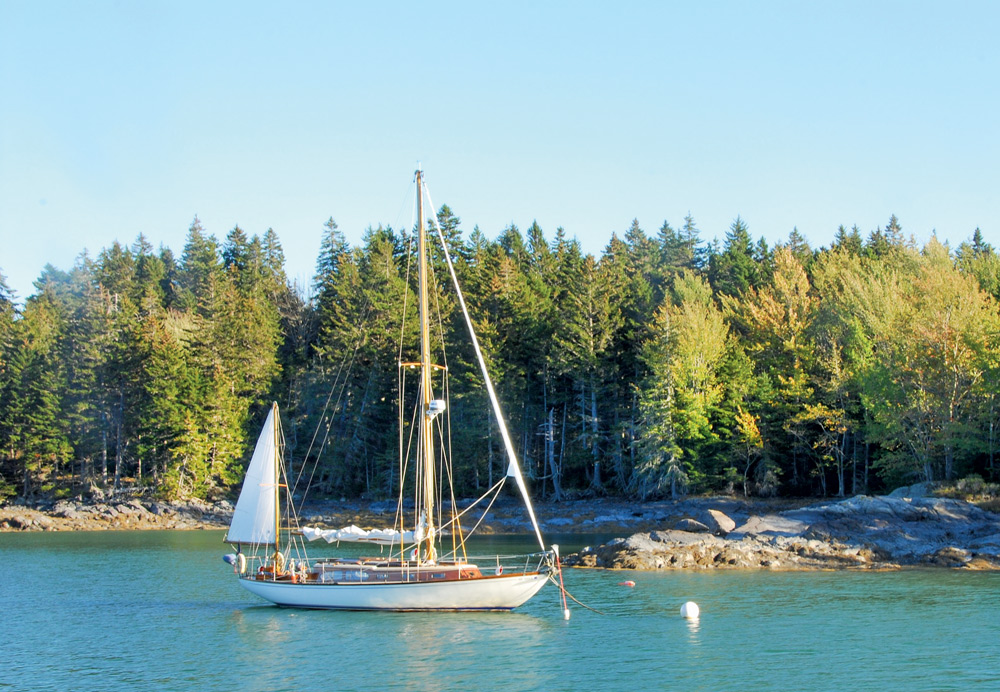 Michelle Hurni photo
Perusing the company's photo gallery is like spending the day at a sailboat show. Aria, a 1962 Challenger Yawl 39, caught our eye and we booked her for a trip. We had never sailed in Maine before and were looking for the challenge of sailing with the tides among lobster traps, cold and fog. We showed up in Rockland just in time for Aria's owner, Peter, to toss us a dock line.
"She's beautiful," I said to Peter.
"No sense owning an ugly boat," he said.
I ran my hand over her freshly cleaned teak.
"I can't believe you let so many strangers sail her."
He fiddled with some lines the previous sailor had stowed incorrectly. "I can't stand seeing a boat spend its life on a mooring ball."
Peter's briefing was filled with love, the most thorough we'd ever received, but vital on a boat from the 1960s. It included things a boat owner will tell you such as why he stows a wench in a specific spot, how to properly fold his charts into the plastic cover for use topside, the secret drawer where the corkscrew is hidden, the idiosyncrasies of raising the main and pushing over the metal halyard so it doesn't bind, He showed us how to use the newly installed shower so it doesn't kink around the oil filter and which cutting board fits between the sink and wooden bread cabinet board so you don't use it as a cutting board.
With a dolphin escort, we set sail toward Pulpit Harbor and quickly realized that Aria was customized for comfort under sail. We noticed the little things, like bamboo covering the spreaders, tables raised without hitting your legs, the charts laid flat in a pulldown table hidden in the ceiling. Even the handholds are set up perfectly for balancing when the boat is heeled.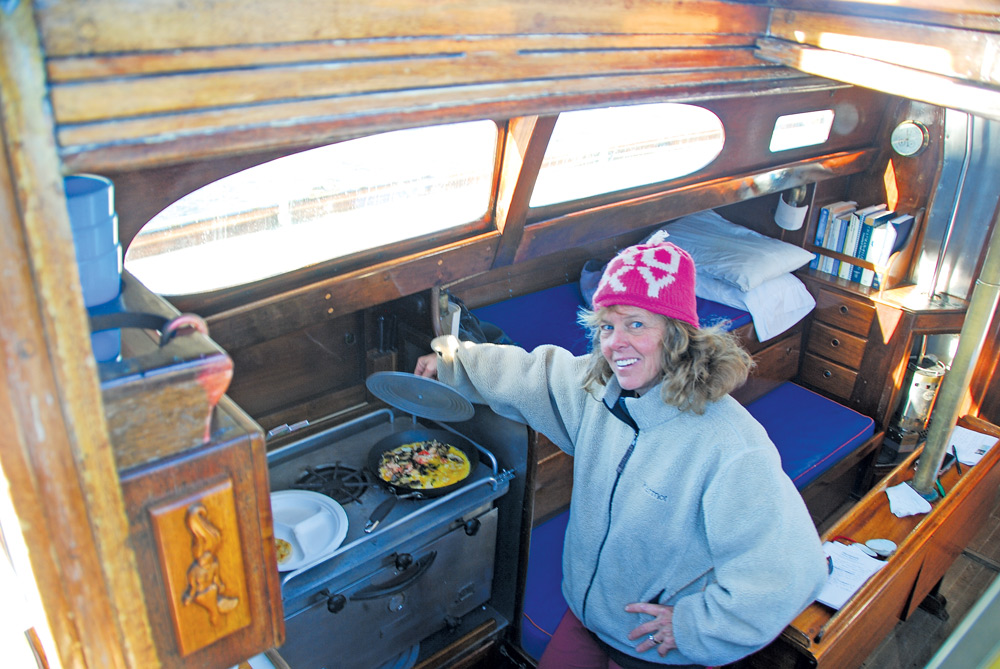 Michelle Hurni photo
As expected, the sun set on our first night aboard Aria and fog rolled over us. We were alone in the busy fishing harbor. Anchored in mud, we knew we weren't going anywhere, so George lit the grill and we enjoyed fresh blackened scallops in the cozy interior.
The mizzen kept the boat more steady than our king-size bed at home, where our two Bernese mountain dogs jump on and off all night. After a 12-hour snooze, determined lobster boats rocked us awake. The only problem was we couldn't see them, the fog was pea soup think. A smooth row aboard the dinghy Ella brought us to the town dock where hand-printed signs pointed the way to lobsters and oysters.
Once the fog lifted, we left Pulpit Harbor under strong sun and brilliant wind. Our goal was to head across East Penobscot Bay toward McGlathery Island. Seagulls flew overhead, bragging about their catch of the day to their buddies, osprey chased off eagles and we learned how to use the center keelboard (50 cranks clockwise) and keep Aria straight with the mizzen.
Just before we entered the menagerie of islands and obstacles in the narrow Deer Island Thorofare, a fog bank rolled toward us. Finding a safe harbor on the chart and GPS, I furled the jib, but by the time the main was doused, we were engulfed.
The forlorn moan of the Mark Island foghorn sounded ahead of us, once every 15 seconds, both foreboding and comforting as we felt our way between the ledges to the north and quarries to the south. Aria, and her GPS, got us safely to the commercial Moose Island, where we could barely see a Billings Marina mooring ball to pick up. The night was rough, and passing lobster and working boats wildly rocked Aria.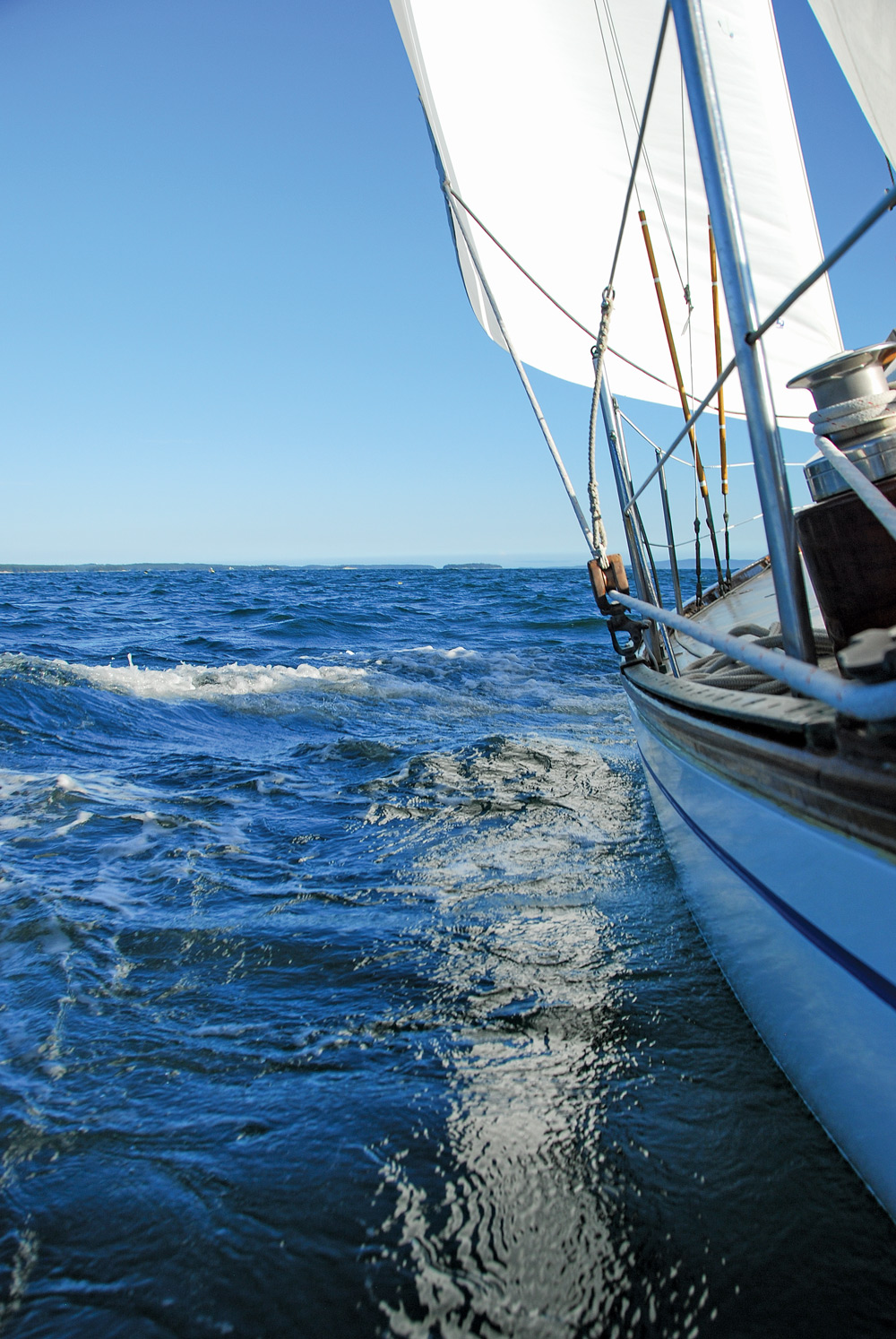 Michelle Hurni photo
We were roused the next morning by fisherman yelling to each other, "I don't know how much you have to pay around here, but I can't get anyone to work on my boat." Heading through the passage we kept an eye out for lobster traps. Aria was designed to roll right over them, but the thought of jumping overboard into the frigid water with a knife to free her rudder kept us vigilant.
As we sailed into the Merchants Row archipelago toward McGlathery Island, a black buoy popped up beside us. There were no other markings and it turned out to be a seal, checking us out. Nestled in the McGlathery anchorage, we hiked around the little point on McClathery, with mussel and oyster shells crunching underfoot, jumping the chasms between stone ledges.
Maine incorporates the best system for mooring we've come across in our bareboat cruising efforts. No mooring hook is needed, just good morals for their honor system rentals. Look for a bike flag, pull it aboard, shove money in the soda bottle taped to the mooring ball and you're secure for the night.
We rowed to the town wharf at Isle au Haut and walked (barefoot for me, having left my flip flops aboard Aria) to the left. We'd planned on lunch at The Lobster Lady trailer, but the season was over, so we popped into the Island Store to find out where we could procure some lobster. One call to Shore Shop Gifts was all it took to find lobsters supplied by a 9-year-old with 10 of her own traps.