Consult Samuel Johnson before you name your boat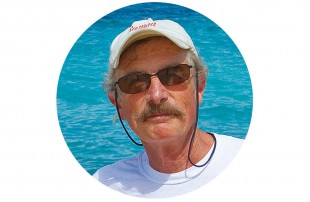 While being mildly entertained reading a novel titled "North of Havana," one of Randy Wayne White's water-based Florida capers, I bumped into this profound observation by the author: "It's one of the curious things about water people. Sailors love their boats—or pretend to; power cruisers almost always hate their boats—but pretend they don't."
This is to be taken with a grain of salt or at least a drop of saltwater. I know powerboat owners who are deeply and truly in love with their boats, and I know from personal experience that boat love is not universal among sailboat owners. For three years, I owned a racer-cruiser I disliked intensely.
Still, White is right that sailboat owners and powerboat owners think differently about their craft. You can tell that from the names they choose.
Sailboat names tend to be serious, often emblematic of admirable human qualities like fortitude and determination, or referring to bold seafaring and natural phenomena related to sailing, such as the names of stars, winds and sea conditions. Powerboat names tend be jokes.
I don't mean that in a disparaging way. The names are not accidentally dumb. Rather, they are intended to be clever. They are so common that it seems the sales contracts for some powerboats must have a clause requiring the boat's name to be a play on words. The results mostly bear witness to Samuel Johnson's deathless declaration in the 18th century that "the pun is the lowest form of humor."
A case in point: When I walk to the end of the pier where my sailboat is moored, I have to pass a powerboat transom on which foot-high letters spell Wasted Seamen.
Let me offer a bit of relief from that atrocity. Not all powerboat transom puns are offensive. The optometrist who named his Grand Banks 42 Seeworthy can be forgiven.
That, alas, is a high point in punnish (or punishing) powerboat names. From there, it's a downhill slide.
I've kept a personal list of offenders and consulted those of other observers of boat-naming sins, and I will share a few highlights with the caveat that, as they say on the nightly news before a particularly gruesome segment, some of what you are about to see is disturbing:
Seanile, Seaduction, Aquaholic, Ship Faced, Cur-n-Sea, Leg-a-Sea, Tax Seavation, Loon-a-Sea, Tip Sea, Wet Dream, Boy and Sea, Bow Movement, Master Baiter, Sea Cup, Port-a-Party.
Sailboat owners rarely stoop this low, but there are exceptions, notably this one that can be seen on a number of otherwise attractive sailing vessels: Breakin' Wind.
Maybe because they consider their boats too dignified to be the butt of a joke, sailors in general resist the temptation to be cute in naming their boats, as the annals of sailing for sport and recreation attest.
Consider the inspirational America's Cup boat names: Intrepid, Courageous, Valiant, Weatherly, Ranger, Endeavor, Britannia, Heritage, Vigilant, Reliance, Liberty, Freedom and Resolute.
And the sailboat names derived from the heavens in tribute to the stars that aid celestial navigators: Orion, Sirius, Altair, Antares, North Star, Southern Cross and Procyon. The last is one of the brightest stars in the sky, but may be better known among sailors as the name of the wildly innovative boat launched by the hardware maker Harken in 1991 with the goal of propelling sailing into the future.
And the names of legendary offshore racing sailboats, the likes of Running Tide, Finestere, Bolero, Escapade and Ticonderoga.
When I hear the thundering crescendo of Maurice Ravel's most famous composition, I picture the 72-foot Sparkman & Stephens designed yawl Bolero parting whitecapped waves with a bone in her teeth and her array of five sails bending to a boisterous breeze.
The name Escapade inspires a memory of the beauty of that 1938 Phil Rhodes design with her elegant sheerline and sculpted counter stern and, for me, something more—a black and white photograph of Escapade graced the cover of the first issue of SAILING dated April 1966 and printed on a newspaper press in the same building where I write these words.
Was there ever a more fitting name for a magnificent American sailing vessel capable of heroic exploits than
Ticonderoga? Named after the first American victory in the Revolutionary War, the defeat of the British at Fort Ticonderoga by Ethan Allen and his Green Mountain Boys in 1775, Ticonderoga evoked strength and purpose while honoring seafaring tradition in pursuit of yacht racing glory.
There was nothing innovative about Ticonderoga. She was designed by L. Francis Herreshoff as a heavy displacement ketch like those that had plied oceans as commercial ships and yachts for decades. The boat was launched in 1936; by the time she sailed the race that made her famous, she was not just classic, but old-fashioned.
That race was the 1965 Transpac, which will forever be remembered for the epic battle for first to finish between two 72-footers, Ticonderoga and the Dutch Stormvogel. Big Ti, as she was known, had no business doing well in that race from Los Angeles to Honolulu, which has a mostly downwind course that favors lightweight surfing boats—boats like Stormvogel, a precursor of today's light, planing offshore racers that was 29 years younger and 60,000 pounds lighter than the 120,000-pound Ticonderoga.
Yet the old ketch prevailed in a dramatic duel fought at one point in 30-foot seas and 40-knot winds. Flying every sail she could set, including a gigantic spinnaker, pushing tons of water, her mahogany planks and oak frames groaning under so much stress that the hull needed a partial rebuild after the race, Ticonderoga finished first, setting an elapsed-time record.
Her rival, by the way, was also well named. Stormvogel is the Dutch word for storm petrel.
Stormy Petrel would be a fine name for a powerboat, say, a sturdy trawler like those owned by former sailors who move on to powerboating and take the sailor's ethic of avoiding silly boat names with them.
If I am fated to own a powerboat someday, I promise I won't name it Prop-a-Sea. Full disclosure: I didn't find that on any list of bad-pun boat names. I just made it up. Apologies to Sam Johnson.