When a designer takes on a crowd as a client, the result is an offshore cruiser that pleases the masses
I was cruising through Facebook one morning and I saw a post that referenced a "Robert Perry Yacht Design Fan Club." I thought it must be a joke, so I did a search. I found a very well-composed Facebook page devoted to my design work. I applied for membership, taking its one question "test" and a few hours later I was admitted to the fan club. At that time there were about 330 members. Today there are 6,216 members. Members enjoy rollicking good discussions about all kinds of boats, music, cooking and dogs.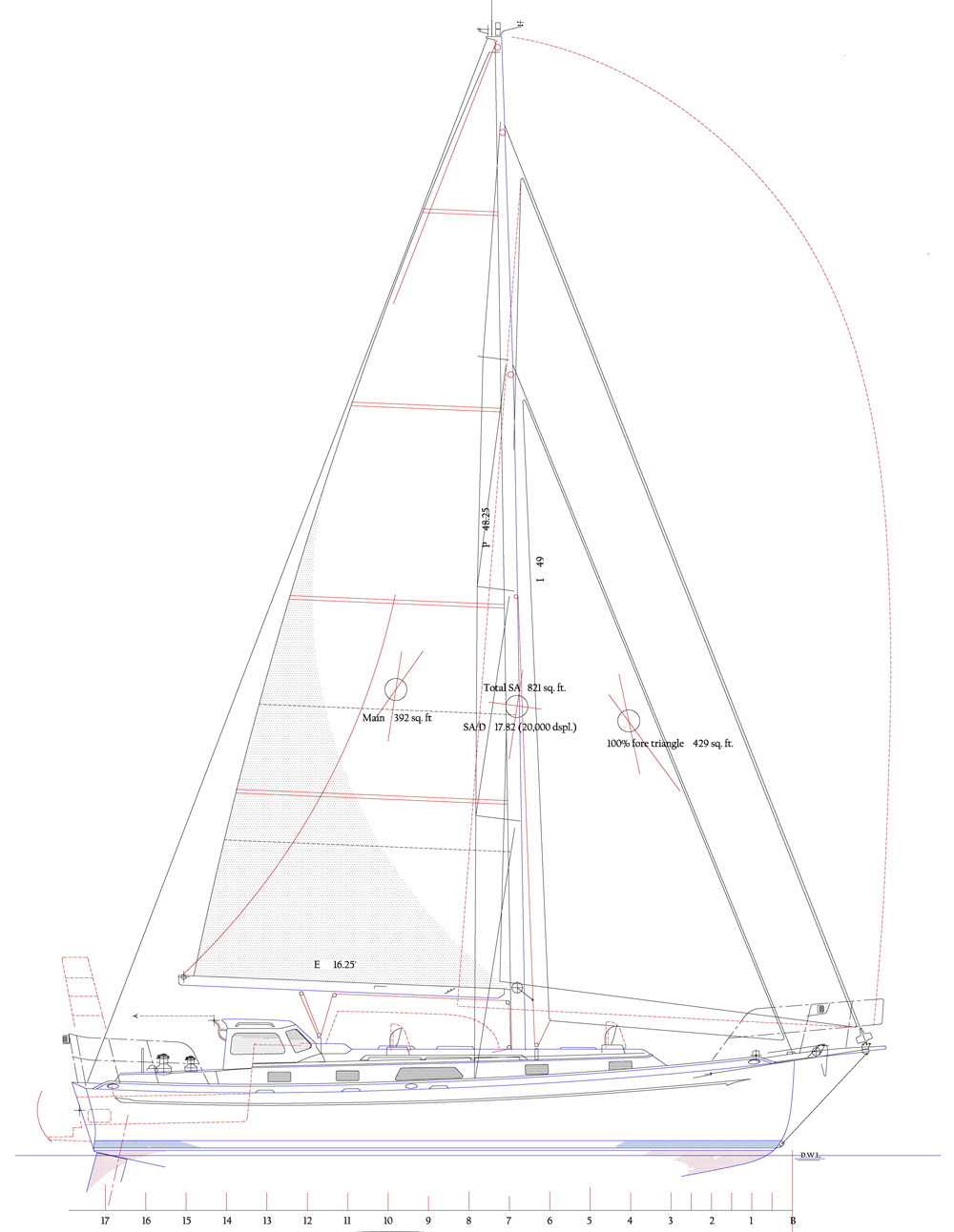 Now, three years later, the discussion of what makes the perfect cruising boat rages on with very little agreement. J Boats continues to dominate the racer and racer/cruiser group but the hardcore cruiser for some reason is ignored. But I had a client who had just bought a defunct boatyard and he was talking to me about a potential project for his yard. I took the bait and went to the fan club and suggested we put our heads and experiences together and come up with a boat designed specifically for the serious cruiser, whatever that is. I limited the LOA to 37 feet. That was a Friday night. By early Saturday morning there were more than 100 responses. I knew it could work.
Imagine the diversity of ideas that were presented. Many suggestions would have fit in the boat if the LOA were 50 feet. But I stuck to 37 feet to avoid mission creep. Slowly a few ideas began to be distilled down to what would make a desirable cruising boat for the sailor who some day might want to sail offshore. A hard dodger was a favorite feature, as was good engine access, a U-shaped galley, easy boarding from the stern and a true sea berth.
Clearly, I needed a boat of moderate displacement in order to get the volume I needed for the requested accommodations. I drew a hull with very short ends but I retained some shape to the stem for aesthetic reasons.
The D/L would be 239. The group was not too keen on outside ballast with pesky keel bolts so I chose a fin of moderate aspect ratio with internal lead ballast and a draft of 6 feet. The L/B was 3.02 for good stability and more usable interior volume. I gave the midsection 10 degrees of deadrise for a deep bilge and enough depth for strong floors. Freeboard would be moderate and the sheer on the perky side. It took some doing to convince the clubbers that a spade rudder was the best rudder I could give them. We went back and forth over the hull shape and appendages but I held my ground and lost some fans. I know what makes a good cruising boat hull. I see this design in the tradition of my earlier design the 42-foot Night Runner.

I had so many requests for different features. I drew a layout with a double V-berth forward, a (relatively) spacious head with a shower stall. The main cabin would have deep settees and a pilot berth to port.
I drew a galley with the sink forward but the consensus from the clubbers was that the sink should go aft and the reefer/freezer should go forward. I've done it both ways, but in this case I deferred to the group. The sink went aft. One of the clubbers found a big sink with a rinsing basin and I used that. Everyone wanted a sit-down nav station. I drew a quarter berth of generous proportions, but left room inboard for access to the engine. I struggled to find a way to have a wet locker aft but there just wasn't enough volume. The group agreed that the shower stall would be used for wet gear.
But there was a very strong contingent for a U-shaped dinette, so I drew an alternative layout that would use the same bulkhead spacing. There was also a group that wanted the quarter berth enclosed. In the end, I drew five different interior layouts including one with the head forward and a Pullman-style double berth to port.
The cockpit is long and there is a door in the transom for boarding. Tiller or wheel steering will both work. Now it was time for the rig. I went with a tall fractional cutter rig. This configuration is very versatile. You can leave the staysail off and sail the boat as a sloop if you like. I used 22 degrees of sweep to the spreaders to eliminate the need for running backstays unless you want to fly a masthead chute. The SA/D is a moderate 17.82. A hard dodger is an option.
We are now talking to our first potential buyer in the Pacific Northwest. Along with the factory-completed yachts, a limited number of hull and decks will be offered initially to satisfy the needs of home builders. Factory assistance with all stages of the construction will be available through the internet.
I think the project was well summed up by this post from one of the clubbers:
"You'd think that designing a boat with the input of 6,000 clients would be a recipe for disaster. However, Robert Perry has managed to distill the opinions of his many fans into an elegant, pragmatic 37-foot yacht that is both unique and widely appealing."
---
LOA 37; DWL 33'5"; Beam 12'; Draft 6'; Displ. 20,000 lb.; Ballast 7,100 lb.; Sail area 821 sq. ft.; D/L 239; L/B 3.02; SA/D 17.82; Auxiliary 37-hp; Fuel 60 gal.; Water 120 gal.
---
Our best estimate of the sailaway price: $465,000
Robert H. Perry Yacht Design
11530 Tulare Way West
Tulalip, WA 98271
360-652-7771
email: bobhperry@gmail.com