On my honor, I will not be a jerk on the starting line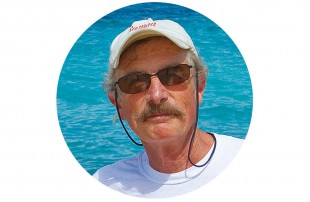 I'm not qualified to fly an F-16 at Mach 2 (or any other speed) or climb El Capitan solo without a rope (or any other way), so I've had to find other outlets for occasional doses of adrenaline. One that has proven quite effective is starting sailboat races.
Folks who view yacht racing as a genteel pastime to fill idle hours not spent on the golf course won't get this, but successfully starting a sailboat race in a large, aggressive fleet can be one of the most fraught challenges in all of sports.
The quality of an individual skipper's start can be rated on a scale that begins on the low end at disastrous and progresses through mediocre, fair and good enough to, at the pinnacle, perfect/spectacular. The stakes, degree of difficulty and intensity of competition are all high.
As for the stakes, a start at the bottom or the top of the quality scale often determines where a boat will be at the finish. What's more, a disastrous start can ruin your day, while a perfect/spectacular one can make you feel like Muhammad Ali standing over the knocked-out body of Sonny Liston.
The odds of seizing the glory of a perfect/spectacular start in a competitive fleet are akin to those of an NFL kicker making a 60-yard field goal at Lambeau Field in a snowstorm—possible but not likely. To achieve the p/s rating, the bow has to be inches from the line when the start gun is fired. The boat has to be moving at close to top upwind speed in clear air while at the same time backwinding and blanketing the air of close competitors without fouling them.
In a fleet of any substantial size, there are only a few places on the line where a p/s start is possible and competition for them is fierce, carried out by means that can include aggression, intimidation, shouting, profanity and adroit use of the racing rules.
It's not surprising then that starting maneuvers often lead to protests. I have been involved in a few and am proud to say I was found guilty in only one. I will have to admit, however, that one was a doozy. It cost me a Rolex watch.
A Rolex Yacht Master watch was the top prize in a metropolitan yacht club's two-day regatta. It was one of my first competitions in a first-rate handicap fleet, and to everyone's surprise, especially my own, my boat was in first place going into the final race. Right after the start of that race, a protest flag appeared on the second-place boat. "Barging, you're protested," the skipper yelled.
I was innocent of the foul (that's my story and I'm sticking to it), but I was also an innocent naif among the sharks in the protest room. Without witnesses to support me, my defense was lame, and I was booted from the race. The protester got the watch.
I didn't care that much about the damn Rolex. I have an aversion to putting bling on my wrist to tell time anyway and am content to replace my $35 Timex Ironman every three years or so when the battery peters out. But the DSQ published in the race results really stung.
Fast forward to 2020 and I found myself in a sailing season that didn't produce much adrenaline, what with so many racing events canceled, but made me a fan of virtual sailboat racing.
I don't mean playing with computer apps like Virtual Regatta and Sailonline that turn yacht racing into a video game. I'm sure this is fun and a good way to pass time while sheltering from the virus. It's also quite popular. After the Newport to Bermuda race was postponed to next year, a fleet of 400 entrants "raced" in the virtual version online. But I vowed to never play another video game after a night in the last century when my 10-year-old son defeated me with humiliating alacrity in 13 consecutive Pac-Man games played on the clunky Atari gizmo wired to our living room TV.
The virtual sailing I like is real sailboat racing with some virtual working parts. First, some context.
The yacht club in SAILING's home port, a city of 11,000, is small but thriving. Besides powerboat owners and friendly folks who do not own boats but enjoy the parties and the bargain prices at the bar, the club has always had a corps of dedicated sailors and has done its best to support a modest racing program. This hasn't been easy.
The club doesn't have the financial and human resources to provide race committees, RC boats, mark-set boats, inventories of inflatable marks and signal flags and protest committees. Over the years, it made do with volunteers, sometimes well meaning powerboaters who didn't always get things quite right, other times sailing fleet members who had to miss races on a revolving basis to do the race management grunt work.
This year all volunteers had to do was drop an inflatable buoy to pair with a fixed mark to make a start/finish line. Everything else was sort of virtual.
There was no committee boat at the start or finish, no starting gun, horn or flags. In place of starting signals, a starting time based on GPS time was set. Boats could cross the line at that moment or any time after. Racers took their own finish times. When one or more of the homemade fixed buoys used as race marks moved or disappeared, virtual roundings of positions defined by GPS coordinates were substituted.
It all worked, and there was a bonus. Yacht racers like to characterize their sport as Corinthian competition exhibiting the highest standards of sportsmanship. That ideal is not always realized, but it clearly was in a racing season that depended entirely on the honor system.
No boats were seen crossing the starting line early. There were no indications that virtual mark roundings were not properly made or that finish times were not honestly reported. Plus, it was probably the friendliest sailing competition I've experienced.
There were no protests, but then, that's the norm for my home yacht club, where the member in charge of a recent race announced: "If you feel the need to protest, the hearing will be held two hours after the race, at approximately cocktail hour, 125 miles away in Chicago."