The modern cold-molded cruiser has speed and style for fast passages
Here's a handsome new design by my friend Kevin Dibley. Kevin is a very good designer and a nice guy. The builder is Lyman-Morse and the company's pedigree goes back many years. I have been to that yard and worked with them and I promise you they are very talented. Again the definition of a cruising boat comes up when you study this design. The LM46 leans more towards the performance side of the scales than does the Jeanneau. Some might be inclined to call this design a racer/cruiser. They are just labels.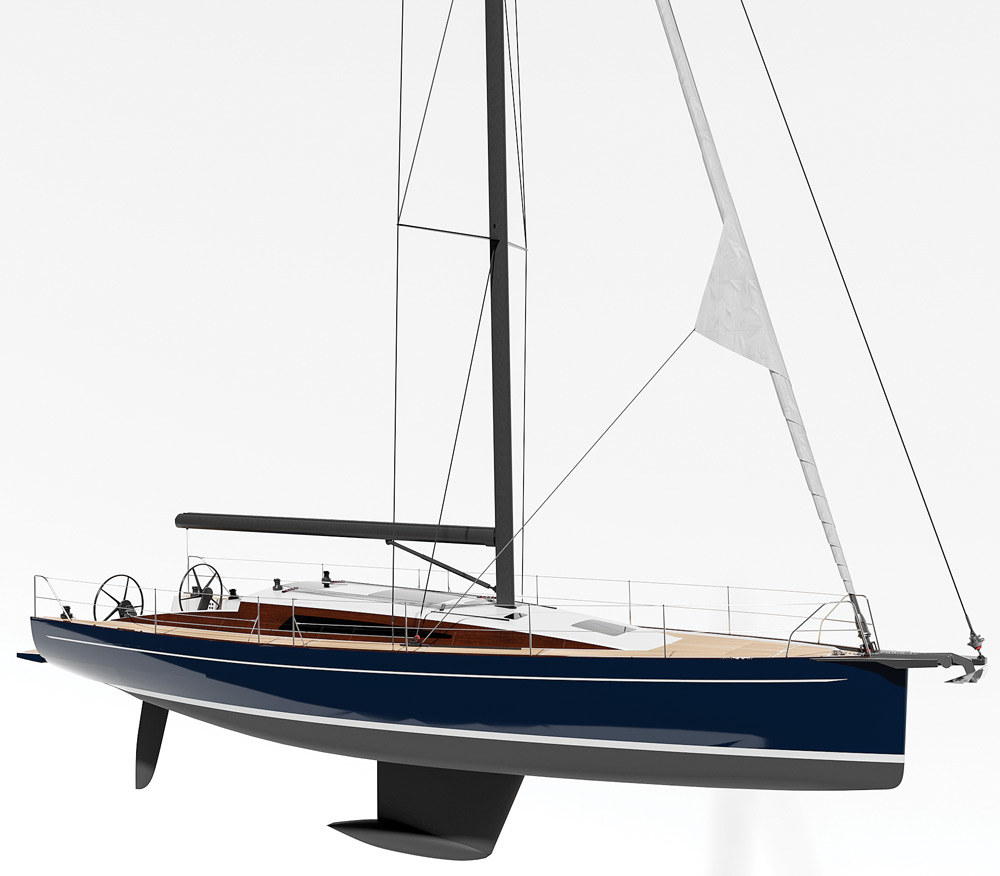 This is a wooden boat. Not your grandpa's wooden boat but a modern, cold-molded boat using Douglas fir and western red cedar with epoxy for a very light and strong hull and deck. The D/L is 126 and the L/B is 3.4. You can add about 3.6 feet to the LOD of 45.66 feet to get an LOA of 49.26 feet, give or take. I like the very subtle spring to the sheer and the relatively low freeboard of this design. Overhangs are minimal and the beam has been tucked in just a bit aft. I'm not sure why. This way they give up some deck area aft, maybe 8 inches per side. It might have been more comfy for the driver if they had more deck outboard for seating. Draft is on the shoal side at 6 feet. That is most certainly done for the cruising sailor. I'd like to see an 8-foot draft on a design like this. Of course I sail where the water is deep and I've never snagged a lobster pot in my life. There is a tight turn to the bilge aft but no chine. Good on ya, Kevin, for bucking the fashion. This looks like a slippery hull to me. The promotional material talks about making 240 miles a day. I can see that, on the right day.
There are three layouts available and something tells me that Lyman-Morse would be open to owner modifications. The options in the three layouts all deal with how you treat the quarterberth area. You can have mirror-image quarter cabins, but with this layout, you get one head and it's forward. Still, this would be my choice for layout. You can give up one quarter cabin and gain stowage space and a second head. You can go with a huge stowage area where the quarter cabin would be and gain an aft leg of the galley counter. But then you are back to a single, forward head. This layout appeals to me because it's very generous to the cook. I like this galley better than the galley on the 15-foot longer Jeanneau. There are advantages to having the galley at the foot of the companionway. "I'm hungry! Throw me up a six pack of lamb shanks."
The main cabin has opposing settees/berths and a pilot berth to starboard. It's not fancy or novel but this orthogonal style of layout works very well. The forward head has a large shower stall. The owner's cabin has a double berth on centerline with lockers port and starboard.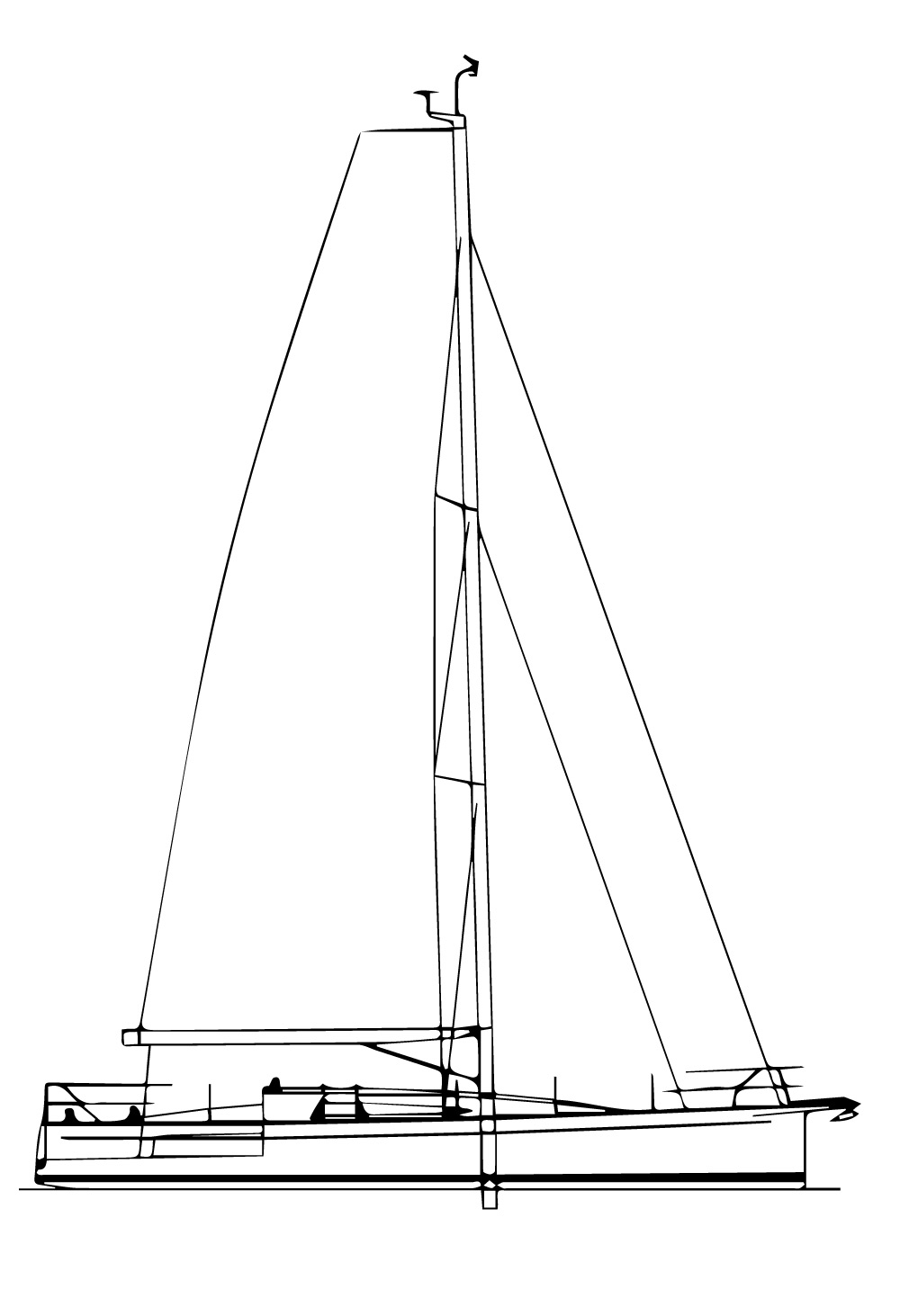 Kevin sent me an amazing drawing of the rig done by Applied Engineering Services out of Tauranga, New Zealand. Kevin's a Kiwi. This drawing of the rig breaks the rig components down into their smallest entities to calculate the loads on everything. I've never seen such a thorough rig analysis. The spreader sweep is 21 degrees. The headstay is pulled aft of the stem about 14 inches. There is an inner forestay shown so I would think this indicates that the boat can be sailed with a staysail, like a cutter in heavy air. The SA/D is 19.3 using I,J, E and P but the square-top mainsail will probably boost the SA/D close to 23. The standing rigging is Dyform wire and running rigging is all Dyneema. You have the option of aluminum or carbon spars.
This deck is very clean. If you like to sail barefoot you'll love this boat. The hatches are flush and all on top of the cabintrunk. There are short jib lead tracks adjacent to the mast. There is a large, flush hatch to access the ground tackle forward. The cockpit area is huge. The port and starboard cockpit settees are long enough to sleep on. There are twin wheels making access to the drop-down transom "door" easy. I'm not sure how you access the lazarette area. I see one smallish flush hatch between the wheels. This is a great looking boat. You'll lose some headroom as the cabintrunk slopes down to the foredeck but I could easily live with that to get this look.
The engine is a Yanmar 4JH80 giving 80 horsepower and there is tankage for 79 gallons of fuel and 144 gallons of water. This boat will do very well with an 80-horsepower engine. Nobody ever called me and said, "My engine is too big."
Nice work, Kevin.
---
LOA 45'8"; LWL 43'3"; Beam 13'5"; Draft 6', deep 7'7"; Displ. 22,860 lb.; Sail area sq. ft.; Fuel 79 gal.; Water 144 gal.; Auxiliary 80-hp.; D/L 126; L/B 3.4; SA/D 23
---
Our best estimate of the sailaway price: $995,000
Lyman-Morse Boatbuilding
84 Knox St.
Thomaston, Maine 04861
207-354-6904