The racer-cruiser is 200% fast and comfortable
I frequently ask my editor Greta to give me something interesting and different to review. Well, I got my wish this month. This new design by Oscar and Haken Södergren is really different. If you believe the promotional material, this boat is unique because it's 100% race boat and 100% cruising boat. More on that later. But for now I'll say that it is a very interesting design that is beautifully executed. If there were any compromises in the build quality, I sure don't see them.
The hull has a reversed bow profile with a sharp forefoot. Fore and aft rocker is minimal as you would expect with a D/L of 75.43. There are staggered "spray knockers" at the bow. I'm not sure about his feature. If the knockers divert the spray or bow wave they must create drag. You can't have something for nothing. The promotional material says the spray knockers will serve as steps when you are working on the sprit. There are twin rudders.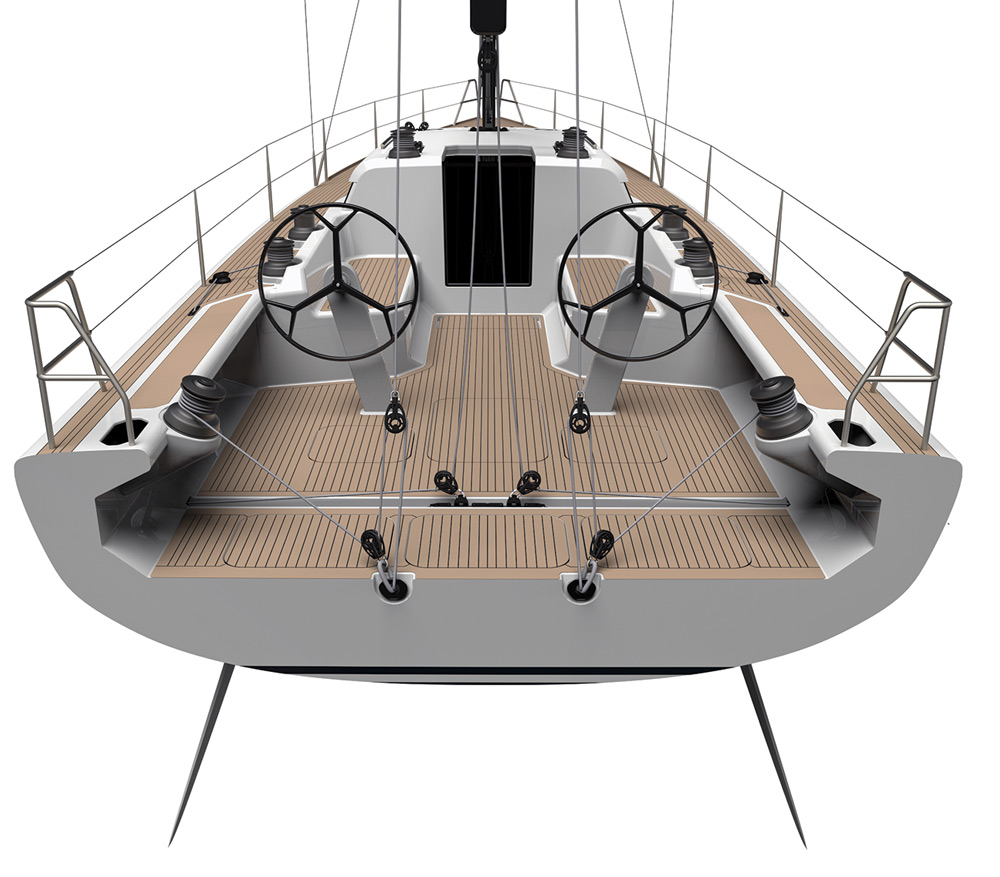 Max beam appears to be carried to the transom or just about. The L/B is 3.92 indicating a narrow boat. The transom has no camber and is vertical, providing maximum deck space with the most sailing length. Draft with the lifting keel is 11 feet 6 inches keel down and 6 feet 7 inches when raised. The keel fin is carbon fiber and pinned into position when it is raised. No question this will be a very fast boat.
The Södergren design team definitely has its strengths. Just look at this hull. But looking at the two interior layouts, I'm not convinced those strengths lend themselves to interior layouts. If the boat is 100% cruising boat, I have some issues with these layouts. The main cabin is small for a 50-foot cruising boat, and the companionway steps look steep. The galley on both layouts is forward of the mast. This is not a real problem, but these galleys are small. There is no counter space on either side of the range and the sinks. I've seen more functional galleys on 36-footers.
The U-shaped dinette is interesting but this is another feature that I don't think works well. Why? Because, who wants to be the first person into that U-shaped dinette? You'll be stuck there until at least half the crew is done with dinner. The promotional material says this U-shape dinette will "increase the feeling of camaraderie." On this layout the galley is spread across the boat and I don't find this efficient for cooking offshore. I'll credit the designers for doing something different.
There is one head to port of the keeltrunk. There are mirror image quarter cabins aft that appear from the drawings to each have double berths. The finishing details of this interior are spectacular. Joinerwork is all carbon fiber over cored panels with carbon and solid wood detailing.
The rig is very interesting. The mast is stepped way aft in the boat. This allows for a wide variety of headsails. There are four adjustable jib tack points on the bow—three on the foredeck and one on the sprit. The square-top main sheets to a traveler well aft of the wheels. The SA/D for this design is 27.2. If this is a 100% cruising boat then it is a very high-powered cruising boat. If this is a two-couple cruising boat it will require two experienced couples.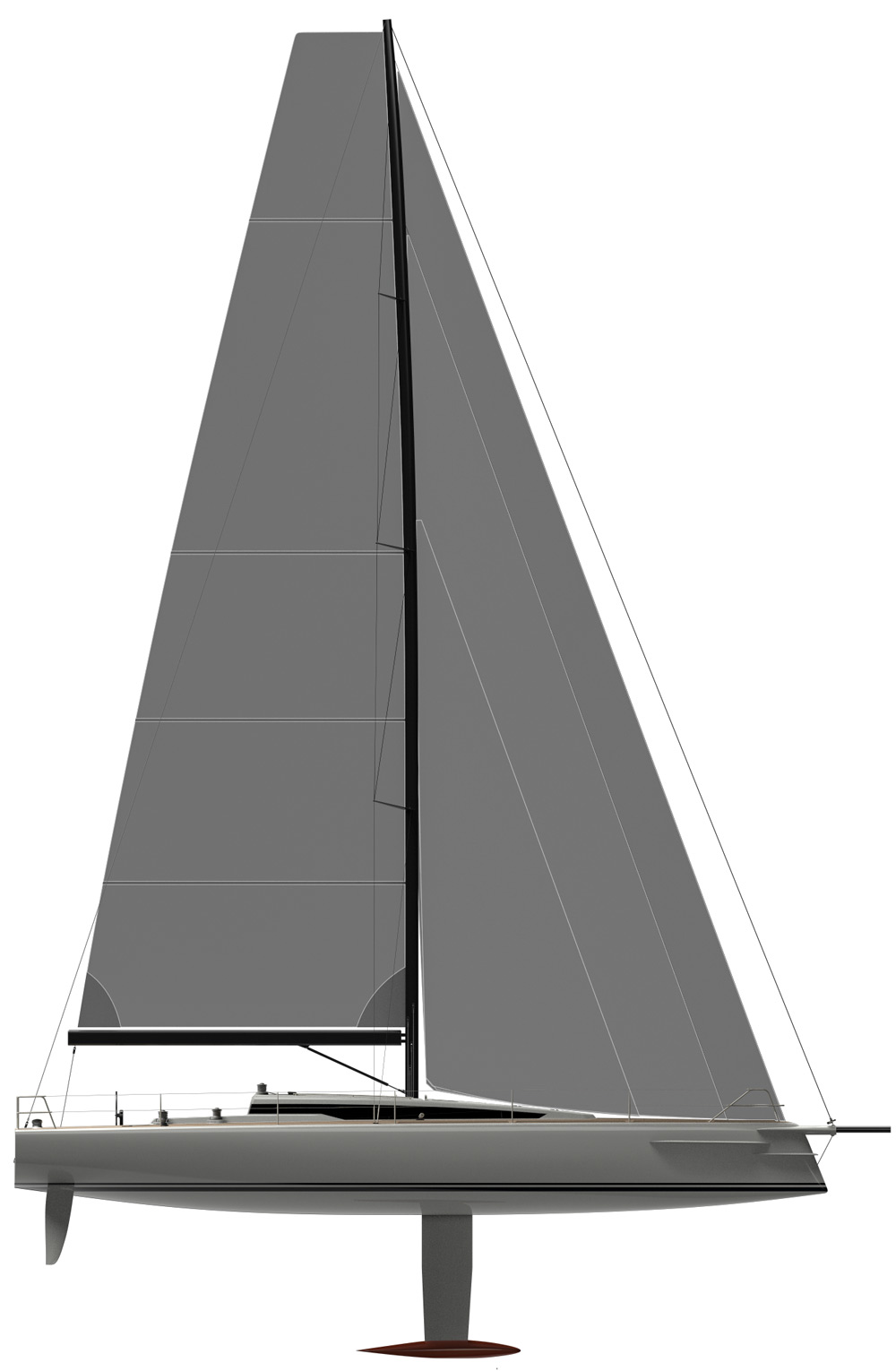 The deck plan shows a big, comfortable cockpit. The cockpit bench seats are big enough to nap on and leave plenty of space for the working crew. Although primary and secondary winches will require that you wake up from your nap at each tack or jibe. This is a beautiful deck design with a low and svelte cabintrunk. It looks like headroom forward will be compromised, but I'm good with that for a look like this.
I've been hard on this design. The 100% cruiser and 100% racer claim kind of bothers me. That aside, this will be an amazing boat for whatever you choose to do with it. And thanks to the designers for giving me such an interesting boat to review.
---
LOA 50'; LWL 46'7"; Beam 12' 9"; Draft keel up 6'7", down 11'6";
Displ. 17,416 lb.; Ballast 7,937 lb.; Sail area 1,453 sq. ft.;
Fuel 50 gal.; Water 80 gal.;
Auxiliary Volvo Penta;
D/L 75.43; L/B 3.92; SA/D 27.2
---
Our best estimate of the sailaway price :$1.82 million
Shogun Yachts
info@shogunyachts.se
+46 725-399 759
Stockholm, Sweden