After 50 years and hundreds of designs, Bob Perry revisits one of his classics and redesigns it for the modern era
It was 1973. I had left my job drawing ferrocement boat plans for Jay Benford and was headed to Boston to work for Dick Carter—my dream job. I never bought into the ferrocement "craze" that Benford championed, but it was work drawing boats and I needed the job. Dick Carter was a leading designer of IOR race boats for international, wealthy clients. This would be the job where "I would learn all the secrets of yacht design." Of course, there were no secrets but there was Chuck Paine, Yves-Marie Tanton and Mark Lyndsay working in the company's "tower" along with Dick so I knew I was in the right place. I was 26.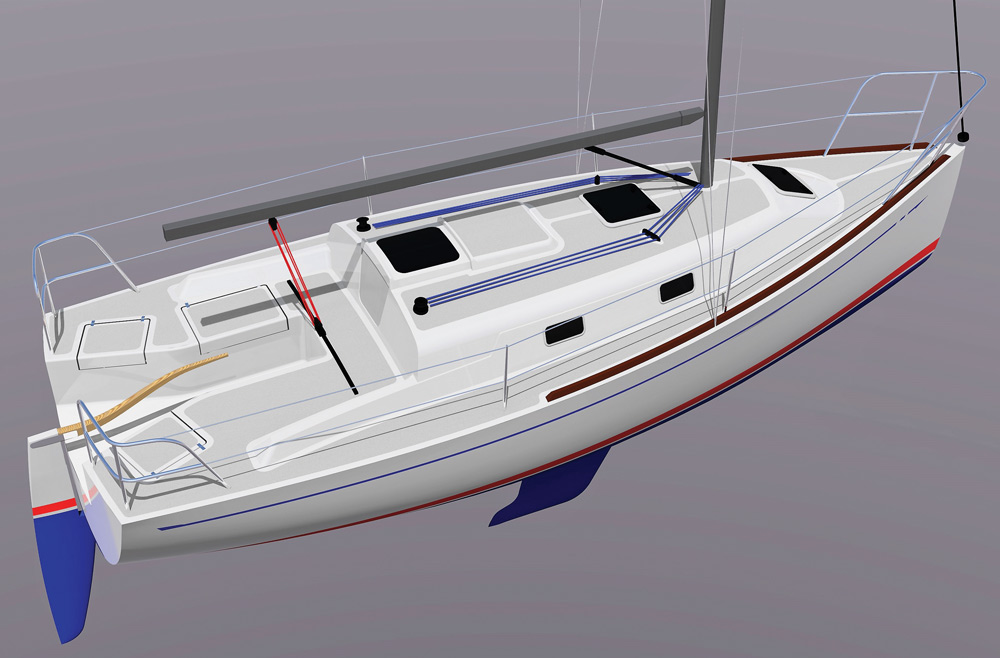 Prior to leaving Seattle, I had already begun the design work on the CT 54 and I was talking to a new company, Valiant, about designing a 40-footer for them. While I was working for Dick I would come home at night after my 32-mile-round trip on my bicycle and work into the night on my own projects that by then also included the Hans Christian 34. I was also working on some side projects for Ted Brewer. I was a busy kid.
One day while working in the tower I got a phone call from Valiant telling me they had a build contract with Uniflite in Bellingham, Washington. It was time to finish the design that would become the Valiant 40. After I finished the design, I got another call from Valiant asking me to fly out to the Long Beach, California, boat show to unveil the new boat to the boating public. I had two weeks vacation time coming up at the tower and I used that time to go work at the boat show.
I flew out from Boston and Nathan Rothman, founder of Valiant, flew down from Seattle. Our carefully designed "display" showed up. We did not have the boat yet but we had a booth on the perimeter of the large auditorium. Our beautifully designed display did not fit in the booth, but we jury rigged it the best we could and for 10 days from 10 a.m. until 10 p.m. we worked the show trying to convince people that it was a real performance cruising boat. We had a nice half model, sales brochures and chutzpah.
Nathan looked great in a white shirt and tie with a dark blue blazer. I looked silly. I did not have a blazer so I wore the closest thing I owned, a red plaid Pendleton "shirt jack" and whatever shirt I had that went with whatever tie I had. I had long hair. I looked silly. But I was eager and convinced that my cruising boat design, a combination of race boat and cruising boat design features, would work and sell.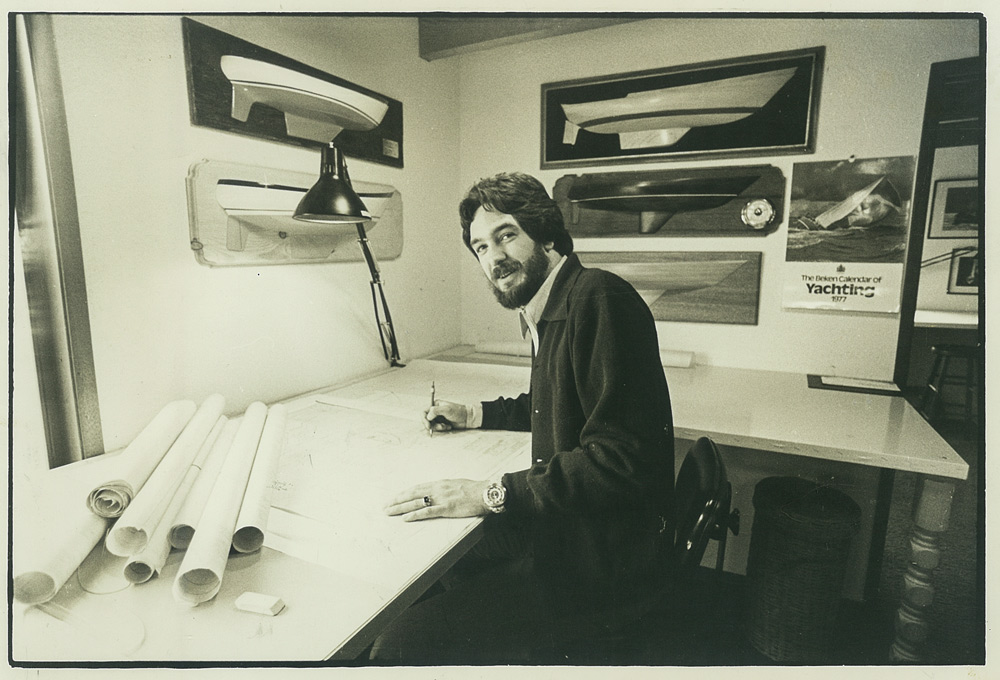 One night, just before closing time three men walked up and began scrutinizing our booth. They introduced themselves: Buster Hammond, president of Islander Yachts, Hank McCormick, marketing director of Islander Yachts and Bob Babson, sales director of Islander Yachts. I was impressed but I was also a smart ass. I said, "You need a new designer." Buster replied that maybe they did. He went on to describe a new 28-footer to add to the Islander line. I answered, "Don't be coy, I'm your boy!" I had a hard time digesting the fact that I was standing on the edge of the beginning of my real career.
I flew back to Boston and began drawing 28-footers and sending them to Islander. I worked hard on the project every night. Islander was impressed and suggested we do a "test project" together to see how we worked together. They asked me to redesign their Islander 40, a Charlie Davies-designed clipper-bowed ketch that had not been a success in terms of numbers sold. I charged Islander $1,500 and redesigned the 41 turning it into the Islander Freeport 41. Islander sold 50 Freeport 41s. The Islander 28 project was a go.
By then I had the CT54, the Valiant 40, a promise for the Valiant 32, the Islander 28, and two Taiwan builds, the Hans Christian 34 and the Tayana 37, as ongoing projects. The time seemed right for me to take the step I had always dreamed of. I told Chuck, Yves-Marie and Mark that I was going to quit and go back to Seattle and start my own office. They told me it probably would not happen because Dick Carter would just raise my salary to a point where I could not afford to quit. I was making $157 a week take home so a nice raise was tempting.
I asked Dick if we could have a meeting. Chuck, Yves-Marie and Mark had bets on how big my raise would be. I met with Dick in his house that was 10 feet away from the tower. It really wasn't just a "house." Dick's family had a lot of money and they lived in a classical Greek-style mansion on the rocks above the bay on the tip of Nahant, north of Boston. I laid out my plan to Dick. He listened quietly and patiently. I finished my spiel and sat back waiting for my momentous raise offer. Dick looked at me and said, "Good luck, Bob." That was that. But armed with the confidence and stupidity of youth I truly believed that I could become an independent yacht designer—a successful one. I loaded my Peugeot station wagon with my earthly goods and drove back to Seattle.
Islander went on to sell more than 600 Islander 28s and I received a very nice royalty. I did four more designs for Islander, but the 28 remains my favorite. It looks good. It sails great and it is much loved by owners. It still looks good after 47 years.